Bec McMaster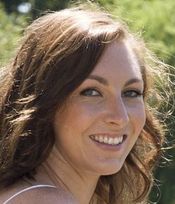 Blogging at Fresh Fiction
Bec McMaster | From Battle to the Bedroom
March 5, 2015
Enemies-to-lovers is such a fun trope for an author to play with, and I have to admit that it's one of my Read More...
Bec McMaster | Are You My Perfect Match?
September 2, 2014
Author: Bec McMaster Writes: The London Steampunk Read More...
Bec McMaster | Little White Lies
October 4, 2013
People tell lies all the time. Harmless little lies. Dangerous lies. Sometimes those don't-look-at-the-credit-card-honey lies. I'll be Read More...
Bec McMaster | How to create a Romance Hero in Five Easy Steps...
May 6, 2013
Maybe I've been reading too many mags lately. How to find the perfect man etc. etc. But I'm a romance writer, which means Read More...
Bec McMaster | Why I love Vampires
September 14, 2012
Vampires. They're a subject near and dear to my heart, whether they be sparkly, terrifying, seductive or I-vant-to-suck-your-blood... I Read More...
Bec McMaster lives in a small town in country Victoria, Australia, and grew up with her nose in a book. A member of Romance Writers of America, she writes sexy, dark paranormals and steampunk romance. When not reading, writing or poring over travel brochures, she loves spending time with her very own hero or daydreaming about new worlds.
Series
London Steampunk
Books:
Of Silk And Steam, March 2015
London Steampunk #5
Paperback
Forged by Desire, September 2014
London Steampunk #4
Mass Market Paperback
The Curious Case Of The Clockwork Menace, August 2014
London Steampunk prequel
e-Book
My Lady Quicksilver, October 2013
London Steampunk #3
Paperback
Heart Of Iron, May 2013
London Steampunk #2
Paperback
Tarnished Knight, April 2013
London Steampunk 1.5
e-Book
Kiss Of Steel, September 2012
London Steampunk #1
Paperback