Jessica Scott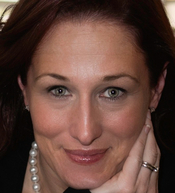 Photo Credit: Buzz Covington

Blogging at Fresh Fiction
Jessica Scott | Identity
April 8, 2015
A few weeks ago, I gave a talk at Unsuitable Duke on Alpha Masculinities in romance and one of the things I talked about was Read More...
Jessica Scott | On Long-Term Relationships
November 10, 2014
My parents split up when I was in middle school. I suppose I might have handled it better but even now, looking back, I can Read More...
Jessica Scott | Introducing A New Voice in Military Romance
November 14, 2011
"Jessica Scott writes with a soldier's heart. Because Of You is touching, authentic and a fantastic read." New York Read More...
Jessica Scott is a career army officer, mother of two daughters, three cats and three dogs, wife to a career NCO and wrangler of all things stuffed and fluffy. She is a terrible cook and even worse housekeeper, but she's a pretty good shot with her assigned weapon and someone liked some of the stuff she wrote. Somehow, her children are pretty well adjusted and her husband still loves her, despite burned water and a messy house.
She's written for the New York Times At War Blog, PBS Point of View Regarding War, and IAVA. She deployed to Iraq in 2009 as part of OIF/New Dawn and has served as a company commander at Fort Hood, Texas.
She's pursuing a PhD in Sociology in her spare time and most recently, she's been featured as one of Esquire Magazine's Americans of the Year for 2012.
Interviews for Jessica Scott
Jessica Scott Talks Military Romance
Back To You
July 31, 2014
Series
Coming Home | Falling
Books:
It's Always Been You, April 2015
Coming Home
Paperback (reprint)
Homefront, April 2015
Homefront #1
e-Book
Before I Fall, March 2015
Falling #1
e-Book
All For You, December 2014
Coming Home #4
Paperback
All I Want for Christmas is You, November 2014
A Coming Home novella
e-Book
Back To You, August 2014
Coming Home #3
Paperback
It's Always Been You, March 2014
Coming Home #5
e-Book
Back To You, January 2014
Coming Home #3
e-Book
Anything for You, December 2013
A Coming Home short story
e-Book
I'll Be Home for Christmas, November 2013
A Coming Home novella
e-Book
Until There Was You, October 2012
Coming Home #2
e-Book
Because Of You, November 2011
Coming Home #1
e-Book