V.K. Sykes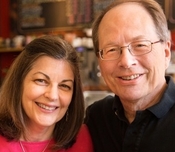 Hot Days And Sizzling Nights!
Social Media:
Twitter - V.K. Sykes
Vanessa Kelly Blog

Pseudonym for Vanessa Kelly.

Dear Reader
As you can tell by our picture, we're a husband and wife writing team. The female half is Vanessa Kelly, who also writes award winning, Regency–set historical romance as Vanessa Kelly. Randy, the male half, likes to fly under the radar, even though he does much of the heavy lifting for the V.K. Sykes contemporary romances.
Lots of people ask us how we do it. How do we spend so much time together, working on the books without killing each other? Well, we're careful to respect each other's boundaries. We usually come up with the concept for a new book together, bouncing ideas around and brainstorming. Once we've fixed on a solid plot idea and figured out who the hero and heroine are, Randy takes over. He does the initial research and writes out a detailed plot synopsis. We have another discussion to refine the story, and then he goes off and writes the first draft. That's the part Vanessa really loves!
Once that first draft is completed, Randy hands off to Vanessa for revisions. While she's working on revisions for that book, Randy is usually doing a thorough read and critique of Vanessa's latest historical romance. That way they're never working on the same manuscript at the same time, which makes life a lot easier. No bumping up against each other, no arguing over small points or details in the manuscript.
It's a genuine team effort, and it really works for us.
Okay, there are occasional glitches. Randy hates working on sex scenes and Vanessa tends to think he worries too much about specific plot points. But that's all minor stuff. We love working together, and we love writing books. Even better, we're thrilled that readers have taken our books to heart, enjoying our sexy, alpha heroes and our smart, capable heroines.
We hope you'll enjoy our books, too!
* * *
V.K. is a wife/husband writing team—Vanessa Kelly and Randall Sykes—who write romantic suspense and single title contemporary romance. When Vanessa's not writing as V.K., she slips into a telephone booth and emerges as Vanessa Kelly, author of sizzling hot Regency romance novels for Kensington Publishing. Her latest novel, His Mistletoe Bride, hit the shelves in October 2012.
Vanessa was born a Jersey girl, but not in Tony Soprano country. Rather, she grew up in a gorgeous little colonial town just across the Delaware River from Philadelphia. After completing her Master's in English literature from Rutgers University, Vanessa headed to Toronto for her Ph.D. and stayed in the frozen north. Eventually, she found her way into the public sector, and spent many years writing reports and briefs.
Randy started out as a prairie boy, with a heritage in the starkly beautiful wheat fields of southern Saskatchewan, Canada. As a graduate student in economics, he migrated east to prestigious McGill University. After completing his Master's in labor economics, he ended up working in the public sector in the nation's capital of Ottawa. Writing endless reports and speeches honed his writing skills, but too often bored him senseless. When he finally turned his pen (or rather his keyboard) to fiction, life changed in a hurry. His "I can do this!" quickly became "Holy cow, this is hard!" And before he knew it, he was immersed in a strange land of romance fiction writers, almost all women, learning why books require such things as emotion and conflict to get readers to actually pay money to read them.
Books:
Meet Me At The Beach, March 2015
Paperback
Playing for Passion, September 2014
e-Book
Payoff Pitch, July 2014
Philadelphia Patriots #5
e-Book
Lethal Confessions, February 2014
Palm Beach Homicide #1
e-Book
Curveball, May 2013
Philadelphia Patriots #4
e-Book
The Philadelphia Patriots 3 Book Box Set, February 2013
e-Book (reprint)
Bigger Than Beckham, October 2012
Philadelphia Patriots #3
e-Book
Hot Number, April 2012
e-Book
Hardball, June 2011
Philadelphia Patriots #2
e-Book
Fastball, March 2011
Philadelphia Patriots #1
e-Book
CaddyGirls, July 2010
e-Book