V.K. Sykes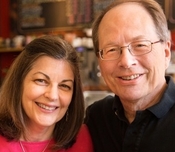 Hot Days And Sizzling Nights!
E-mail me when V.K. Sykes releases a new book.
Blogging at Fresh Fiction
V.K. Sykes| Surprise!
February 24, 2015
There's one thing about VK Sykes that consistently surprises people: we're a husband and wife writing team. While Vanessa writes bestselling Read More...
Pseudonym for Vanessa Kelly.

Dear Reader
As you can tell by our picture, we're a husband and wife writing team. The female half is Vanessa Kelly, who also writes award winning, Regency–set historical romance as Vanessa Kelly. Randy, the male half, likes to fly under the radar, even though he does much of the heavy lifting for the V.K. Sykes contemporary romances.
Lots of people ask us how we do it. How do we spend so much time together, working on the books without killing each other? Well, we're careful to respect each other's boundaries. We usually come up with the concept for a new book together, bouncing ideas around and brainstorming. Once we've fixed on a solid plot idea and figured out who the hero and heroine are, Randy takes over. He does the initial research and writes out a detailed plot synopsis. We have another discussion to refine the story, and then he goes off and writes the first draft. That's the part Vanessa really loves!
Once that first draft is completed, Randy hands off to Vanessa for revisions. While she's working on revisions for that book, Randy is usually doing a thorough read and critique of Vanessa's latest historical romance. That way they're never working on the same manuscript at the same time, which makes life a lot easier. No bumping up against each other, no arguing over small points or details in the manuscript.
It's a genuine team effort, and it really works for us.
Okay, there are occasional glitches. Randy hates working on sex scenes and Vanessa tends to think he worries too much about specific plot points. But that's all minor stuff. We love working together, and we love writing books. Even better, we're thrilled that readers have taken our books to heart, enjoying our sexy, alpha heroes and our smart, capable heroines.
We hope you'll enjoy our books, too!
* * *
V.K. Sykes is really two people – Vanessa Kelly and Randy Sykes, a husband and wife team who write USA Today Bestselling contemporary romance and also romantic suspense. Randy excels at plot and characterization, but tends to fall down on the job when it comes to that pesky old thing called emotion. That's where Vanessa steps in. She usually writes the sex scenes too, since Randy is a bit uncomfortable when it comes to that sort of stuff. Vanessa also writes award-winning Regency-set historical romance for Kensington Zebra under her own name. You can check out Vanessa's bestselling historical romances at her website.
Interviews for V.K. Sykes
V.K. Sykes Talks Dynamic Writing Duos, Family, and Island Communities.
Summer at the Shore
July 10, 2015
Series
Philadelphia Patriots | Seashell Bay
Books:
See You at Sunset, March 2016
Seashell Bay #3
Paperback
Scoring Position, February 2016
Philadelphia Patriots #6
e-Book
Summer at the Shore, July 2015
Seashell Bay #2
Paperback
Meet Me At The Beach, March 2015
Seashell Bay #1
Paperback
Playing for Passion, September 2014
e-Book
Payoff Pitch, July 2014
Philadelphia Patriots #5
e-Book
Lethal Confessions, February 2014
Palm Beach Homicide #1
e-Book
Curveball, May 2013
Philadelphia Patriots #4
e-Book
The Philadelphia Patriots 3 Book Box Set, February 2013
e-Book (reprint)
Bigger Than Beckham, October 2012
Philadelphia Patriots #3
e-Book
Hot Number, April 2012
e-Book
Hardball, June 2011
Philadelphia Patriots #2
e-Book
Fastball, March 2011
Philadelphia Patriots #1
e-Book
CaddyGirls, July 2010
e-Book