Scott Pratt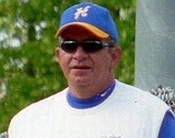 Scott Pratt has been writing for nearly his entire life.
He started as a contributor to a high school publication, then won the McClellan Award for outstanding writing while majoring in English at East Tennessee State University.
He later worked as a newspaper reporter, columnist and editor for daily papers in Johnson City and Kingsport, Tennessee. Scott earned a law degree from the University of Tennessee in 1998 after commuting over two hundred miles a day for three years.
Scott and his wife Kristy have raised two wonderful people, Dylan and Kody, both of whom are currently pursuing their dreams at the collegiate level.
Three dogs now demand Scott's attention at home: a German Shepherd named Rio, a Yorkshire Terrier named Pedro, and a Bichon Friese named Nacho. When he isn't writing, he's reading, watching sports on television, exercising, mowing his yard, or thinking about writing.
Series
Books:
Injustice For All, May 2010
Joe Dillard #3
Paperback
In Good Faith, June 2009
Joe Dillard #2
Paperback