Maria Lima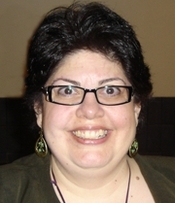 Sometime before the Revolution, Maria Lima was born in Matanzas, Cuba, to a family of voracious readers and would-be writers.
In 1961, when it was clear that the situation wasn't going to change, her family emigrated to the United States, where Maria then discovered the magic of books...lots and lots of books. Starting with the public library, followed by the Scholastic book sales in elementary school, then on from there.
As a child, storytelling was part of family dinner hour, when her father, who dreamt of becoming a writer, spoke of heroes, heroines and battles royale. In this was mixed a love of both fictional and non-fictional worlds, of history and splendor, dragons and them that slayed 'em. It's no wonder that Maria grew up composing stories.
The writing bug didn't get much of a workout in real life, however, as the corporate life only drew on her journalism degree as she cranked out marketing copy, feature stories and book reviews. The fiction muse kept calling and in the spring of 2005, was finally fed as Maria's first published short story, "The Butler Didn't Do It" was published in Chesapeake Crimes I and garnered an Agatha Award nomination for Best Short Story.
In 2007, her novel, Matters of the Blood debuted from Juno Books, an imprint of Wildside Press.
Maria spends most of her days working as a Senior Web Project Manager (a.k.a. Cyberdiva) in the DC area. Her evenings and weekends are spent in her writerly persona.
Series
Books:
Blood Sacrifice, September 2011
Mass Market Paperback
Blood Heat, November 2010
Blood Lines #4
Mass Market Paperback
Blood Kin, November 2009
Blood Lines #3
Mass Market Paperback
Blood Bargain, October 2009
Blood Lines #2
Mass Market Paperback
Matters Of The Blood, September 2009
Blood Lines #1
Mass Market Paperback (reprint)
Blood Bargain, December 2008
Paperback
Matters of the Blood, October 2008
Paperback
Matters Of The Blood, April 2007
Paperback