Sandra Martin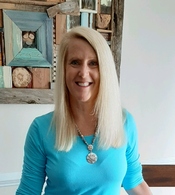 I have always been a voracious reader and I enjoy a good mystery. I am an Investigation ID addict and I hate when a case goes unsolved. I attended the University of Michigan where I earned an English degree, but I currently work for another university in the physical therapy doctorate program. I currently live in beautiful North Carolina where there is plenty of sunshine, smiling faces, and sweet tea. I have one college- aged son, a great husband, and an aging ornery cat. Reading is my passion, but I also write for children and I have been published in several magazines.
Features & Posts
No posts found.
7 comments posted.

Re: Mystery Rider (2:29pm October 9, 2015):

My tough and rugged husband who once hated cats, rescued a
kitten from a worksite, and now my husband fusses over her
and she never leaves his side.

Re: Rescuing the Texan's Heart (2:25pm February 23, 2015):

Love the cover on this book and I enjoy reading about small
towns with lots of charm. Sounds great.

Re: Dead Man Walker (2:22pm February 23, 2015):

I've really enjoyed this series and the Savannah setting.
I'll add this to my TBR

Re: As Gouda as Dead (7:19pm February 7, 2015):

My fave event was a vacation to Maui. Rainbows, sunshine,
and so much beauty everywhere.
The I Love Dogs Jewelry - what a great way to help abused
and orphaned animals.

Re: Meow If It's Murder (9:08am January 15, 2015):

I'm a cat lover and this mystery sounds like a fun read. Love the cover as well.

Re: Billionaire Blend (12:38pm August 25, 2014):

I read the coffee house mysteries for awhile and really enjoyed them. I've missed the last few and have to get back in the swing. I love mysteries with entrepreneurs and Clare's coffee shop is so unique.

Re: Dark Legacy (8:55pm November 18, 2009):

Anna,
I've read your SuperRomances, but not this title yet. It looks great. I'm always interested in a good paranormal.