Reviews
1 - 20 of 66 ( prev | next )
Blood Will Tell
by Heather Chavez
"How Far Would You Go To Protect Your Sister?"
Posted May 5, 2022


Single mom Frankie Barrera has always protected her younger sister Izzy at all costs. Yet, Izzy has become more reckless and secretive over the years causing Frankie to reconsider her choices. When an Amber Alert is broadcast about an abducted teenage girl with a description of Frankie Read more...



The Friend
by Charlie Gallagher
"A Dark Gritty Unpredictable Thrill Ride"
Posted May 5, 2022


Callie Evans cannot take it any longer. That man ruined everything, and he won't leave her alone. Callie tries to take her own life and leaves her family devastated and looking for answers in THE FRIEND.
Read more...



Curfew
by Jayne Cowie
"A Thought-Provoking Dystopian Novel That Tackles Male Violence"
Posted May 5, 2022


What if men were tagged and tracked 24/7 and confined to their homes twelve hours a night? Would this decrease the crime rates? Would women be safer on the streets and at work? In CURFEW, women run the world, but it isn't an Read more...



Colton's Dangerous Reunion
by Justine Davis
"The Coltons of Colorado Series Returns with a Dangerous Reunion"
Posted May 4, 2022


A young boy's life is at a turning point when Dr. Sophia Gray-Jones and Social Worker Gideon Colton step in to protect him from his dangerous father. Sophia and Gideon have an complicated past. Sophia broke his heart long ago, and seeing the beautiful Read more...



The Wild Girls
by Phoebe Morgan
"Four Friends Reconnect For a Weekend of Murder at a Luxurious South African Safari Lodge"
Posted May 4, 2022


Something disastrous happened one night two years ago that made Grace, Felicity, Alice, and Hannah stop hanging out. Something wicked broke their tight bond of friendship, and all of them feel the fallout. When Felicity reaches out with an invitation to her thirtieth birthday party at a Read more...



Insomnia
by Sarah Pinborough
"What Really Happens During The Dark Hours of Too Many Sleepless Nights?"
Posted April 9, 2022


As her fortieth birthday approaches, Emma Bournett Averell is having a hard time sleeping. Emma is afraid she will slip into the madness that claimed her mother at the same age and on the same day. As she navigates the days before her birthday, her world starts Read more...



The Shop on Royal Street
by Karen White
"This Tradd Street Spin-Off Finds Nola Dealing With Old Acquaintances and New Ghosts in The Big Easy"
Posted April 2, 2022


In this spin-off from Karen White's popular Tradd Street series, Nola Trenholm takes the lead as she tackles life and some lingering ghosts in her new cottage in New Orleans. There are secrets to be uncovered and Read more...



Caramel Pecan Roll Murder
by Joanne Fluke
"This Long Running Series Delivers Another Fun-Filled Mystery With Delicious Recipes!"
Posted March 4, 2022


This long running fan favorite series is back with its 28th Hannah Swensen Mystery. CARAMEL PECAN ROLL MURDER takes us back to Lake Eden, Minnesota, where a Walleye Fishing Read more...



The Lying Club
by Annie Ward
"Who Do You Trust When Everyone Is Lying?"
Posted March 3, 2022


At the prestigious Falcon Academy in the Colorado mountains, everyone lies about something. After a startling revelation, three women's lives collide and result in a horrific act of vengeance in THE LYING CLUB.
Natalie Bellman works in Read more...



Shadows of Pecan Hollow
by Caroline Frost
"A Dark & Gritty Southern Thriller Debut"
Posted February 8, 2022


In 1976, thirteen-year-old Kit Walker is on the run after being abandoned by her mother and shuffled through the foster care system. When she collides at a Texas gas station with twenty-something criminal Manny Romero, her life takes a dark and sinister turn into a Read more...



Homicide and Halo-Halo
by Mia P. Manansala
"Delicious Food, Family Dynamics, and a Fun Spunky Heroine Make This Culinary Cozy Shine"
Posted February 7, 2022


Lila Macapagal is back in Mia P. Manansala's second Tita Rosie's Kitchen Mystery. In HOMICIDE AND HALO-HALO, a beauty pageant and a dead judge take center stage.&nbsp Read more...



Up to No Gouda
by Linda Reilly
"The First in The Grilled Cheese Cozy Mystery Series Serves Up a Seriously Gouda Mystery"
Posted January 27, 2022


UP TO NO GOUDA by Linda Reilly is the first in the new Grilled Cheese Mystery series and it delivers up some delectable sandwiches as well as a compelling mystery with memorable characters in a small Vermont Read more...



Something's Guava Give
by Carrie Doyle
"A Fun High Energy Cozy Mystery set in a Caribbean Paradise"
Posted January 25, 2022


The second book in the Trouble in Paradise Cozy Mystery series is a whole lot of fun! Transplanted New Yorker Plum Lockhart now enjoys her days on the Caribbean island of Paraiso where she is building her new career Read more...



The Fields
by Erin Young
"A Thrilling Complex Crime Debut That Tackles Big Agriculture's Effects on Small Town America"
Posted January 21, 2022


A young woman tries desperately to escape through the vast cornfields, but someone is closing in on her. When morning breaks, her mutilated body is found in the stalks, and Black Hawk County's first female sergeant, Riley Fisher, recognizes the young woman from her childhood.&nbsp Read more...



The Sorority Murder
by Allison Brennan
"The Price of Sisterhood is Silence"
Posted December 26, 2021


A popular Sigma Rho Senior goes missing after a spring party on a college campus. Some saw her arguing with a couple of her sorority sisters, while others saw her trying to persuade a homeless man to leave the campus. A week later, her body is found Read more...



The Witching Tree
by Alice Blanchard
"This Dark Atmospheric Mystery Pulls Readers Back to Burning Lake to Solve the Death of a Local Witch"
Posted December 17, 2021


THE WITCHING TREE by Alice Blanchard is the third book in the Natalie Lockhart mystery series set in the historically witchy town of Burning Lake, NY. This dark, gritty, and fast-paced mystery throws Detective Natalie Lockhart Read more...



Death by Hot Apple Cider
by Alex Erickson
"An Enjoyable Holiday-Themed Cozy Mystery"
Posted December 2, 2021


Death by Coffee bookstore owner, Krissy Hancock, is helping the local librarians raise funds by participating in an autumn seasonal fundraiser. Krissy is supplying the apple cider for refreshments and the apple-bobbing station. When a local man, Sidney Tewksbury, bobs for apples and ends up dead Read more...



The Unheard
by Nicci French
"A Child's Disturbing Drawing Makes a Mother Question Everything She Knows"
Posted November 23, 2021


A young child witnesses a horrific crime she cannot comprehend. Now her mother must piece together what really happened during her daughter's weekend visit at her father's house in THE UNHEARD.
Tess Moreau is a newly separated single mother raising her three Read more...



Murder, She Wrote: Debonair in Death
by Jessica Fletcher, Terrie Farley Moran
"A Duplicitous Debonair Gentleman Meets an Untimely Death"
Posted November 11, 2021


In the latest Murder She Wrote Mystery, Jessica is hard at work creating a synopsis for her new mystery novel, when a local art shop owner is found bludgeoned to death in his store with a candlestick. Jessica, Mort, Seth and British Special Agent Michael Haggerty Read more...



The Christmas Killer
by Alex Pine
"A Vengeful Killer Stalks The Small Snowy Village of Kirkby Abbey"
Posted November 4, 2021


In this debut British crime series, a vengeful killer stalks the snowy English village of Kirkby Abbey. A cryptic Christmas card delivered to DI James Walker indicates there are twelve days until Christmas and there will be twelve murders during that time. Can DI Walker stop the Read more...



Sandra Martin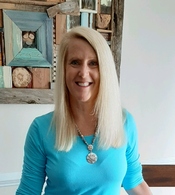 I have always been a voracious reader and I enjoy a good mystery. I am an Investigation ID addict and I hate when a case goes unsolved. I attended the University of Michigan where I earned an English degree, but I currently work for another university in the physical therapy doctorate program. I currently live in beautiful North Carolina where there is plenty of sunshine, smiling faces, and sweet tea. I have one college- aged son, a great husband, and an aging ornery cat. Reading is my passion, but I also write for children and I have been published in several magazines.
Features & Posts
No posts found.
7 comments posted.

Re: Mystery Rider (2:29pm October 9, 2015):

My tough and rugged husband who once hated cats, rescued a
kitten from a worksite, and now my husband fusses over her
and she never leaves his side.

Re: Rescuing the Texan's Heart (2:25pm February 23, 2015):

Love the cover on this book and I enjoy reading about small
towns with lots of charm. Sounds great.

Re: Dead Man Walker (2:22pm February 23, 2015):

I've really enjoyed this series and the Savannah setting.
I'll add this to my TBR

Re: As Gouda as Dead (7:19pm February 7, 2015):

My fave event was a vacation to Maui. Rainbows, sunshine,
and so much beauty everywhere.
The I Love Dogs Jewelry - what a great way to help abused
and orphaned animals.

Re: Meow If It's Murder (9:08am January 15, 2015):

I'm a cat lover and this mystery sounds like a fun read. Love the cover as well.

Re: Billionaire Blend (12:38pm August 25, 2014):

I read the coffee house mysteries for awhile and really enjoyed them. I've missed the last few and have to get back in the swing. I love mysteries with entrepreneurs and Clare's coffee shop is so unique.

Re: Dark Legacy (8:55pm November 18, 2009):

Anna,
I've read your SuperRomances, but not this title yet. It looks great. I'm always interested in a good paranormal.