Reviews
1 - 20 of 84 ( prev | next )
The Crime that Binds
by Laurie Cass
"A Cat, a Crime,and a Missing Conti Sculpture in the Latest Bookmobile Cat Mystery"
Posted November 4, 2022


It's an early spring day in the small Michigan town of Chilson. The weather is still a little blustery and Assistant Library Director, Minnie Hamilton, is packing up her outreach bookmobile to make the rounds with her partner, Hunter Morales. Minnie is planning on catching Read more...



Forced to Flee
by Terri Reed
"A Hgh-Stakes Cross-Country Thrill Ride Where Faith Prevails and Love Protects"
Posted October 5, 2022


Abby Frost is having a bad week. First, she's attacked leaving her job at Pacific Northwest Savings and Loan, and later she learns from a DNA test that the father who raised her is not her biological father. What Abby doesn't know is Read more...



Gone for Gouda
by Korina Moss
"A CELEBRITY VEGAN CHEF IS UP TO NO GOUDA IN THE LATEST CHEESE SHOP MYSTERY"
Posted October 5, 2022


In the second Cheese Shop mystery, GONE FOR GOUDA, Willa Bauer is happy to be hosting a vegan event in her cheese shop with cooking reality star and influencer, Phoebe Winston. It will be great publicity for Read more...



A Death in Door County
by Annelise Ryan
"A Fun New Mystery Series with a Cryptid Twist"
Posted September 16, 2022


A DEATH IN DOOR COUNTY is the first installment in the new Monster Hunter Mysteries featuring oddity bookstore owner and cryptozoologist, Morgan Carter. There have been two deaths in the turbulent waters connecting Green Bay to Lake Michigan, but these are no ordinary drownings. The Read more...



Peg and Rose Solve a Murder
by Laurien Berenson
"A New Senior Crime Solving Duo Takes Center Stage in this Melanie Travis Spin-Off Series"
Posted September 13, 2022


This new spin-off from the Melanie Travis Canine Mysteries puts Melanie's aunt Peg in the spotlight. Peg has never particularly liked her sister-in-law Rose, but Rose needs a new bridge partner and Peg's calendar is quite empty since Melanie Read more...



Wake
by Shelley Burr
"A Well-Constructed Complex Thriller Set in the Australian Outback"
Posted September 13, 2022


Set in the Australian outback, in the Central New South Wales farming town of Nannine, WAKE is a cleverly plotted character-driven novel that shows the struggles one family encounters amidst the grief and suspicion of the disappearance of their beloved child.
It had been nineteen years Read more...



Love in the Time of Serial Killers
by Alicia Thompson
"No Serial Killers, But An Entertaining Rom-Com With A Fun Lead-In"
Posted August 26, 2022


Ph.D. candidate Phoebe Walsh is writing her dissertation on true crime. Obsessed with learning about serial killers, Phoebe cannot help but see potential murderers everywhere, including the barefoot scruffy man who offers his assistance in the dark hours of the night. Read more...



Stay Awake
by Megan Goldin
"A Complex Quick-Moving Thriller That Will Keep You Guessing and Wide Awake"
Posted August 21, 2022


In Megan Goldin's newest thriller, STAY AWAKE, Liv Reese wakes up disoriented in the back of a cab with a T-Shirt and a bloody knife. She's dropped off at her apartment Read more...



A Dark and Stormy Tea
by Laura Childs
"An Elusive Serial Killer Stalks the Foggy Streets of Charleston in the Latest Tea Shop Mystery"
Posted August 5, 2022


It's been a busy spring season at the Indigo Tea Shop. Theodosia is at the Heritage Society finalizing plans to cater their Maritime History Seminar when the dark and fog roll in. As Theodosia heads back to her tea shop down the desolate streets past St Read more...



Are You Sara?
by S.C. Lalli
"A Twisty Ambitious Thriller Where Taking the Wrong Rideshare Leads to Murder"
Posted August 5, 2022


In ARE YOU SARA?, two women with the same name leave a bar late at night. Each order a rideshare. On the way home, Sara Bhaduri realizes she took the wrong rideshare when she is dropped off in the wealthy Read more...



Death by Bubble Tea
by Jennifer J. Chow
"High Marks for this Delightful New Culinary Cozy Series"
Posted August 5, 2022


DEATH BY BUBBLE TEA is the first in the LA Night Market mystery series featuring an introverted endearing heroine and her feisty flashy social influencing sidekick cousin. As Yale Yee gets thrown into a Night Market venture with her Read more...



Donut Disturb
by Ellie Alexander
"The Latest Bakeshop Mystery Delights with a Scenic Wedding, Delicious Donuts, and a Dead Bass Player"
Posted July 17, 2022


Catering preparations are underway as Juliet Capshaw and her staff at Torte Bakery get ready for Thomas and Kerry's wedding. Lithia Park looks beautiful, and the jazz band "Heartstrings" will be playing, but when Kerry's recently incarcerated father shows up Read more...



The House Across the Lake
by Riley Sager
"A Chilling Summer Thriller with an Unexpected Twist"
Posted June 27, 2022


Casey Fletcher has retreated to her family's lake house in Vermont to cope with the loss of her husband, Leonard Bradley, and the consequent demise of her acting career. She finds solace at the lake, but across the dark calm waters, stands a glass house where Read more...



Bayou Book Thief
by Ellen Byron
"A Fun New Vintage Culinary Cozy Mystery Series Set in The Big Easy"
Posted June 27, 2022


Things are not so easy in the Big Easy for Ricki James-Diaz. She left Los Angeles to make a fresh start in New Orleans after the death of her internet sensation husband and after scandal broke out with her former employer. Now she's lying Read more...



The Last Mile
by Kat Martin
"A Non-Stop Thrilling Treasure Hunting Trip Filled With Intrigue & Romance"
Posted June 17, 2022


Filled with high-stakes action and thrills, THE LAST MILE will take you on a whirlwind treasure hunting trip full of intrigue and romance. The danger is real for Gage and Abby and, if The Devil's Gold is found Read more...



The Diva Says Cheesecake!
by Krista Davis
"The Latest Domestic Diva Mystery Is An All-Around Good Time"
Posted June 6, 2022


In the 15th book in the Domestic Diva Mysteries, The Queen of Cheesecake, Bobbie Sue Bodoin, has asked event planner and advice columnist Sophie Winston to plan her Midsummer Night dinner to coincide with Old Town&rsquo Read more...



Murder on Madison Square
by Victoria Thompson
"A Stellar Addition to a Popular Long-Running Historical NYC Mystery Series"
Posted May 26, 2022


The first auto show at Madison Square Garden sounds like an intriguing event! With its assortment of electric, steam, and gasoline powered cars, there is something exciting for everyone. Except one wealthy businessman, who meets his demise under the wheels of his own Read more...



Miss Morton and the English House Party Murder
by Catherine Lloyd
"This Regency England Mystery Debut Includes a Grand Country Estate Filled with Scandals and Secrets"
Posted May 26, 2022


There's a murderer sneaking through the shadows of the lavish country estate called Greenwood Hall. In Catherine Lloyd's newest Regency England mystery series debut, MISS MORTON AND THE Read more...



Blood Will Tell
by Heather Chavez
"How Far Would You Go To Protect Your Sister?"
Posted May 5, 2022


Single mom Frankie Barrera has always protected her younger sister Izzy at all costs. Yet, Izzy has become more reckless and secretive over the years causing Frankie to reconsider her choices. When an Amber Alert is broadcast about an abducted teenage girl with a description of Frankie Read more...



The Friend
by Charlie Gallagher
"A Dark Gritty Unpredictable Thrill Ride"
Posted May 5, 2022


Callie Evans cannot take it any longer. That man ruined everything, and he won't leave her alone. Callie tries to take her own life and leaves her family devastated and looking for answers in THE FRIEND.
Read more...



Sandra Martin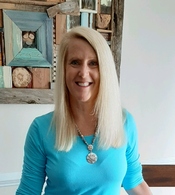 I have always been a voracious reader and I enjoy a good mystery. I am an Investigation ID addict and I hate when a case goes unsolved. I attended the University of Michigan where I earned an English degree, but I currently work for another university in the physical therapy doctorate program. I currently live in beautiful North Carolina where there is plenty of sunshine, smiling faces, and sweet tea. I have one college- aged son, a great husband, and an aging ornery cat. Reading is my passion, but I also write for children and I have been published in several magazines.
Features & Posts
7 comments posted.

Re: Mystery Rider (2:29pm October 9, 2015):

My tough and rugged husband who once hated cats, rescued a
kitten from a worksite, and now my husband fusses over her
and she never leaves his side.

Re: Rescuing the Texan's Heart (2:25pm February 23, 2015):

Love the cover on this book and I enjoy reading about small
towns with lots of charm. Sounds great.

Re: Dead Man Walker (2:22pm February 23, 2015):

I've really enjoyed this series and the Savannah setting.
I'll add this to my TBR

Re: As Gouda as Dead (7:19pm February 7, 2015):

My fave event was a vacation to Maui. Rainbows, sunshine,
and so much beauty everywhere.
The I Love Dogs Jewelry - what a great way to help abused
and orphaned animals.

Re: Meow If It's Murder (9:08am January 15, 2015):

I'm a cat lover and this mystery sounds like a fun read. Love the cover as well.

Re: Billionaire Blend (12:38pm August 25, 2014):

I read the coffee house mysteries for awhile and really enjoyed them. I've missed the last few and have to get back in the swing. I love mysteries with entrepreneurs and Clare's coffee shop is so unique.

Re: Dark Legacy (8:55pm November 18, 2009):

Anna,
I've read your SuperRomances, but not this title yet. It looks great. I'm always interested in a good paranormal.