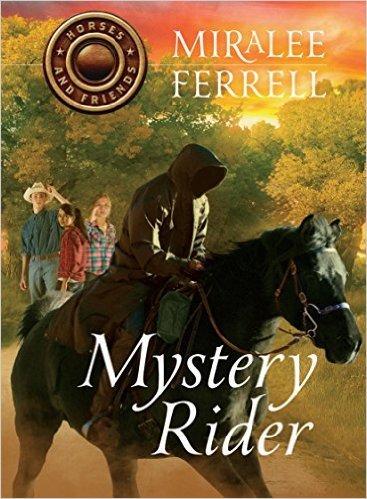 Purchase
Horses and Friends #3
David C. Cook
September 2015
On Sale: September 15, 2015
Featuring: Melissa; Kate Ferris
189 pages
ISBN: 1434707377
EAN: 9781434707376
Kindle: B011JT3CC8
Paperback / e-Book
Add to Wish List

In the third installment in the Horses and Friends series, thirteen-year-old Kate Ferris already has one problem. Snooty, well-to-do Melissa is boarding her horse at Kate's family stable. When Melissa suddenly turns nice, Kate is shocked ... and suspicious.
The last thing she needs is more trouble. So when a hooded rider appears—and then disappears—on a stunning black horse outside her home, Kate isn't sure if Melissa is playing a trick or something more dangerous is going on. Either way, Kate and her friends will need an extra measure of faith and courage to solve this mystery.
Miralee Ferrell is the award-winning author of more than a dozen novels. She and her husband live along the Columbia River Gorge in southern Washington State, where she enjoys riding horses on the nearby wooded trails and spending time with her grown children. In addition to horses and dogs, Miralee once owned two cougars.
Horses and Friends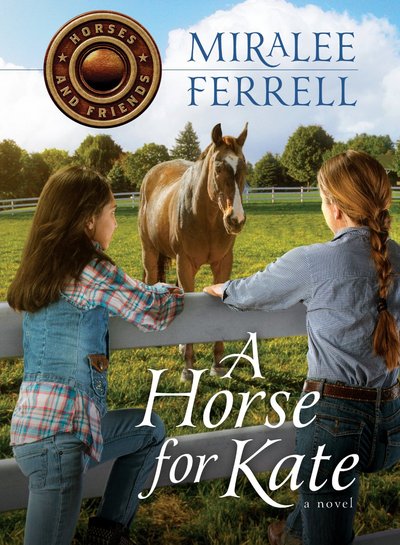 A Horse for Kate
#1.0
Amazon.com | BN.com | | |
Comments
21 comments posted.
Re: Mystery Rider

Birth. A miracle.
(Sharon Berger 12:22pm October 9, 2015)
My tough and rugged husband who once hated cats, rescued a
kitten from a worksite, and now my husband fusses over her
and she never leaves his side.
(Sandra Martin 2:29pm October 9, 2015)
the Aurora Boreallis in Alaska
(Joy Isley 5:47pm October 9, 2015)
What I have witnessed that was hard to believe that some
animals have more love in them than some humans. That is
so awesome!
(Renae Kelly 6:39pm October 9, 2015)
seeing lava flow and realizing it was creating more land. You see it, but then
wonder how does that hot red molten lave turn into a lush green island?
(Diane McMahon 9:47pm October 9, 2015)
My uncle raised large horses, Belgians, Percherons and
Clydsedales. He used them for hayrides and for taking
people out to the convention cabin he built way out in
the woods. There they had weddings and parties. When he
would bring the wagon or carriage back he would have the
horses back up the carriage or wagon into their
designated spots in the pole barn and then he would
unhitch the horses and put them in their barn. I thought
it was absolutely awesome!
(LaCinda Jameson 10:11pm October 9, 2015)
I have not
(Marissa Yip-Young 6:12am October 10, 2015)
My Husband and I live in the country, and feed all the
birds, as well as the strays, and animals that people
so carelessly drop on the property, to get rid of
their so-called problems, and figure that someone will
care for them. We were feeding a cat at the time that
was still a bit bashful, and my Husband had put out a
double bowl of hard and soft food for it. I'll never
forget peeking around the corner, and seeing it eating
side by side with a raccoon!! Yes, they come around
here, too, and my Husband can't resist them, but at
the time we were just getting our feet wet with
feeding them, too!! The longer we live out here, the
more amazing these animals are. Even the deer are
amazing to watch, and I have stories about them that I
could tell you, too!! You and your Husband were
saviors to save that poor cougar!! I can't wait to
read your latest book!! Congratulations!!
(Peggy Roberson 11:44am October 10, 2015)
I have seen animals save their owners.
(Debra Guyette 4:01pm October 10, 2015)
I think cruelty to animals and people. I've seen battered
women and although I've been there before, it's a whole
different thing seeing it on someone else. Harmed animals
are the same for me. I can't believe some people can be
like that.
(Val Pearson 6:27pm October 10, 2015)
The super friendly squirrel outside of our hometown library.
It's so used to people it will come up and sit on your knee if
you sit on one of the benches outside.
(Diana Thomas 10:56pm October 10, 2015)
When I was young I watched my mom shoot someone and wow
that image will never leave me. She also did some other
things that would make a good x rated book but i was
young and those are flashbacks and I hate them. Almost as
much as i hate all that was done to me in my foster home
! Good thing I am 60 and can overlook that but sometimes
it is in my dreams when i sleep then i wake up very
fast.
(Peggy Clayton 12:33pm October 11, 2015)
To see how some people live . My husband was pumping gas in our truck one night , I was sitting in the truck and a young girl came walking up to the store front and started picking up cigarette buttes . My first thought was she was working at the store , but then she got a handful and turned and went back the way she had came to the store . I was in AWE that this young girl was doing this .I wanted to cry . This happened several months ago and I can still see her so plainly .It's so sad , and this was in my hometown .
(Joan Thrasher 9:02am October 11, 2015)
Oh yes...sometimes it's just how people live or it's what people do that just amaze me. Their beliefs are so very different from mine and so is their way of life!
(Bonnie Capuano 11:30am October 11, 2015)
How much our two English Black Labradors love our granddaughter. The
dogs go into withdrawal when she's not around. They look for her to come
in the front door when she's not at the house. When she does come, they
go wild by running around the yard and circling around her and run some
more. They lick her all over. She just giggles at them and loves every
minute of it. While she is at the house, the dogs constantly follow her and
don't leave her side.
(Anita Seymour 2:33pm October 11, 2015)
I saw a video of a lioness protecting a fox cub with her litter from a lion who was going to make a snack out of the fox cub. Nature has a bit of a habit of showing compassion when one least expects it.
(Kai Wong 8:44pm October 11, 2015)
Would love to read.
(Charline Bonham 9:08pm October 11, 2015)
I have been in rescue for almost 20 years. I have had dogs
who were so scared that you could not laugh around them
without the dog flinching. It takes some doing but they can
learn to trust and be friends with people again. That is a
miracle I never get tired of. I usually take in adult dogs.
Whilst they can not speak, after they get used to their new
surroundings and learn that they are safe, they can tell you
all sorts of things about the life they had before.I know
who's been a house dog, was loved and used to a routine in
just a few weeks. How great is that?
(Dagmar Finch 6:11am October 12, 2015)
not yet
(Debbi Shaw 8:07am October 12, 2015)
We have a friend that can befriend almost any animal, they actually seek him out. He can walk up to an untouchable horse and put a halter on, milk a wild cow- everyone else just stands around mouths agape.
(Angela Daffern 12:37pm October 12, 2015)
The birth of my grand-children!
(Denise Austin 4:29pm October 12, 2015)
Registered users may leave comments.
Log in or register now!