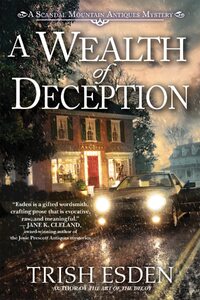 Scandal Mountain Antiques #2
Crooked Lane Books
April 2023
On Sale: April 18, 2023
Featuring: Edie Brown
336 pages
ISBN: 163910254X
EAN: 9781639102549
Kindle: B0B6Z76QTK
Hardcover / e-Book / audiobook
Add to Wish List

Danger, art, and a touch of romance collide in Trish Esden's second exquisitely crafted Scandal Mountain Antiques mystery, perfect for fans of Jane K. Cleland and Connie Berry.

Some people are willing to die for their art. Others are willing to kill for it.

When Vermont antique and art dealer Edie Brown discovers an unsettlingly dark collage by the famed reclusive "outsider" artist known only as Vespa, she opens a Pandora's Box of deception and danger.

Edie teams up with Uncle Tuck and Kala to investigate the background of the collage but only uncover secrets that are more disturbing than the artwork itself. As Edie tracks down the validity of the piece, she stumbles into an art underground where some people are willing to kill to keep their schemes a secret.

Esden expertly crafts a complex cast of characters, a breathtakingly gorgeous setting, and a twisty plot that often poses more questions than answers.
Excerpt
"When I was seventeen, my grandparents died in a plane crash. A single-engine plane. Within sight of our house. The therapist suggested I create a memory box dedicated to them. I didn't tell her I'd already declared the field where they went down a living memorial, at least in my mind. Instead of opening my heart, I bristled and did as she asked, gluing photographs, newspaper articles, and other odds and ends into the craft store box she provided. Then I closed the box's lid and scrawled orange and red flames on the outside, crayons snapping under the ferocity of my grip.
Satisfied, the therapist smiled.
That afternoon, I buried the box in the field. It felt like a hollow tribute compared to my living memorial. Still, the act of creating had left its mark. A few years later, when I was working on my degrees and interning at auction houses, I found my chest tightening when I saw or handled certain pieces, outsider art most often. Art created from pure intentions, emotion without the hindrance that can come with formal training. Sure, the neurons at the back of my brain always went crazy when I crossed paths with any genuine, quality piece of art or antique. But outsider art hit me the hardest.
Love and loss. Pain and secrets. Emotions made manifest."
—Edie Brown
Chapter One

"Whoa, check this out!"
It was late afternoon on June twenty-fifth. Kala and I were sitting in the shade of the front porch, sipping citrus vodka on the rocks while we sorted through a mountain of vintage jewelry, pricing what was sellable and setting the rest aside.
I looked up in time to see her pluck a glittering monkey-shaped brooch out of the pile. I studied the creature, hands raised to cover its eyes. "Is that one of the three wise monkeys?"
"See No Evil. Isn't he wonderful?" She pinned the brooch onto the bandana that held back her curly afro. "Take him off my paycheck. He's mine—and I claim the other two monkeys if they surface."
I laughed. "You can have them all. Call it a bonus for cruel and unusual punishment." I slid plastic pearls off a broken necklace string, letting them dribble between my fingers and patter into a shoebox already half full of odds and ends. "I swear if I look at another piece of junk, I'm going to scream."
"You're nuts, Edie. This is the best job ever." Kala nudged the vodka bottle my way. I took it but only poured a finger of liquid into my glass. "I just wish there were a few nicer pieces mixed in, like some Victorian mourning jewelry."
She gave me a sidelong glance. "The stuff made of human hair?"
"Exactly. Those are real antiques—folk art."
"You mean they're worth more money," she said.
"Well, that too."
As Kala resituated the brooch, I thought back to the first time I'd seen her. About a month ago, I'd come home to help with the family antique business after my mom went to prison for art forgery. I was supposed to meet up with my uncle Tuck at an Antiques Roadshow sort of event and do some appraisals with him. But when I arrived, I found our table staffed by an unfamiliar black woman in her early twenties—aka: Kala. She was a good six years younger than me, and a fair amount shorter. She'd had on overalls and a sleeveless purple T-shirt and was valuing vintage trolls.
The whole situation had taken me aback. I mean, I'm all for comfy clothing, but an appraisal event calls for a certain level of professionalism. And trolls? Our family business—Scandal Mountain Fine Arts and Antiques—had a reputation for dealing in upper-end pieces, not collectables, though that had somewhat fallen by the wayside thanks to my mom's lack of business acumen. Frankly, the largest surprise was that Mom had taken on an employee when she was headed to prison and the business was all but bankrupt. But I'd been wrong to criticize her decision. Kala was fabulous. She worked for room and board, and commission on the stuff she sold. She also came with an intriguing, though rather dubious, set of skills, including lockpicking and a familiarity with the darknet—not to mention that a bartender at the Jumping Café recently declared her ID a fake.
The buzz of my phone pulled me from my thoughts. I glanced at the caller ID.
Start Reading A WEALTH OF DECEPTION Now

Scandal Mountain Antiques

Our Past Week of Fresh Picks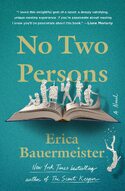 NO TWO PERSONS
by Erica Bauermeister
Featured as Fresh Pick on June 2, 2023
One book. Nine readers. Ten changed lives. New York Times bestselling author Erica Bauermeister's No Two Persons is "a gloriously original celebration Read More »
The character development is brilliant.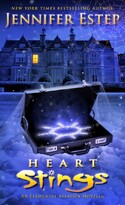 HEART STINGS
by Jennifer Estep
Featured as Fresh Pick on June 1, 2023
Heart stings can be the most dangerous wounds of all . . .Lorelei Parker has had plenty of "heart stings" in her life—moments Read More »
A HEART WORTH STEALING
by Joanna Barker
Featured as Fresh Pick on May 31, 2023
"Unique characters and a fast-paced mystery add flavor to this sweet romance." —Publishers Weekly "An excellent choice for readers who love both Read More »
Surrounded by deception, her heart knows the truth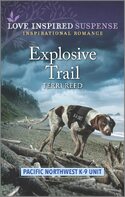 EXPLOSIVE TRAIL
by Terri Reed
Featured as Fresh Pick on May 30, 2023
Can an officer and her K-9 partner survive a bomber with a vendetta? When a serial bomber's explosion in Olympic National Park Read More »
Who knew patrolling a National Park could be this hazardous?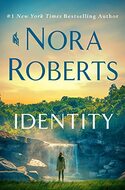 IDENTITY
by Nora Roberts
Featured as Fresh Pick on May 29, 2023
The #1 New York Times-bestselling author's terrifying new thriller about one man's ice-cold malice, and one woman's fight to Read More »
Another Great Nora Roberts Novel
Be prepared to be enthralled and unable to put this riveting book down. 
A thriller that will knock you off your feet!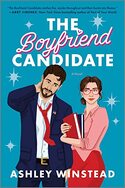 THE BOYFRIEND CANDIDATE
by Ashley Winstead
Featured as Fresh Pick on May 28, 2023
"Charming, swoony, and utterly unputdownable. I LOVE this book!"—LYNN PAINTER, New York Times bestselling author of Better Than Read More »
Fake Dating on the Campaign Trail Rom Com
Totally Swoon-Worthy!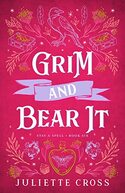 GRIM AND BEAR IT
by Juliette Cross
Featured as Fresh Pick on May 27, 2023
Not even Death can take her from him.Clara Savoie is so confused. She is absolutely positive that Henry Blackwater&nbsp Read More »
Adorable and sexy at the same time!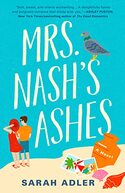 MRS. NASH'S ASHES
by Sarah Adler
Featured as Fresh Pick on May 26, 2023
A starry-eyed romantic, a cynical writer, and (the ashes of) an elderly woman take the road trip of a lifetime that just might Read More »
A light, easy rom-com with a little absurdity!