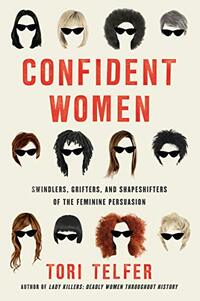 Swindlers, Grifters, and Shapeshifters of the Feminine Persuasion
Harper Perennial
March 2021
On Sale: February 23, 2021
352 pages
ISBN: 0062956035
EAN: 9780062956033
Kindle: B0894WP7NB
Paperback / e-Book
Add to Wish List

A thoroughly entertaining and darkly humorous roundup of history's notorious but often forgotten female con artists and their bold, outrageous scams—by the acclaimed author of Lady Killers.
From Elizabeth Holmes and Anna Delvey to Frank Abagnale and Charles Ponzi, audacious scams and charismatic scammers continue to intrigue us as a culture. As Tori Telfer reveals in Confident Women, the art of the con has a long and venerable tradition, and its female practitioners are some of the best—or worst.
In the 1700s in Paris, Jeanne de Saint-Rémy scammed the royal jewelers out of a necklace made from six hundred and forty-seven diamonds by pretending she was best friends with Queen Marie Antoinette.
In the mid-1800s, sisters Kate and Maggie Fox began pretending they could speak to spirits and accidentally started a religious movement that was soon crawling with female con artists. A gal calling herself Loreta Janeta Velasquez claimed to be a soldier and convinced people she worked for the Confederacy—or the Union, depending on who she was talking to. Meanwhile, Cassie Chadwick was forging paperwork and getting banks to loan her upwards of $40,000 by telling people she was Andrew Carnegie's illegitimate daughter.
In the 1900s, a 40something woman named Margaret Lydia Burton embezzled money all over the country and stole upwards of forty prized show dogs, while a few decades later, a teenager named Roxie Ann Rice scammed the entire NFL. And since the death of the Romanovs, women claiming to be Anastasia have been selling their stories to magazines. What about today? Spoiler alert: these "artists" are still conning.
Confident Women asks the provocative question: Where does chutzpah intersect with a uniquely female pathology—and how were these notorious women able to so spectacularly dupe and swindle their victims?
Start Reading CONFIDENT WOMEN Now

Our Past Week of Fresh Picks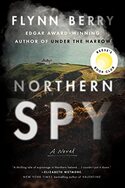 NORTHERN SPY
by Flynn Berry
Featured as Fresh Pick on May 11, 2021
A producer at the Belfast bureau of the BBC, Tessa is at work one day when the news of another raid comes on the air Read More »
Living Among the IRA
A riveting suspenseful novel of two sisters caught up in IRA terrorism!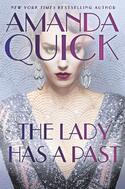 THE LADY HAS A PAST
by Amanda Quick
Featured as Fresh Pick on May 10, 2021
Beauty and glamour meet deception and revenge in this electrifying novel by New York Times bestselling author Amanda Quick. Investigative apprentice Lyra Brazier, the newest Read More »
Another wonderful story by the amazing Amanda Quick!
Intrigue and romance returns to Burning Cove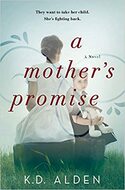 A MOTHER'S PROMISE
by K.D. Alden
Featured as Fresh Pick on May 9, 2021
Based on the true story behind a landmark U.S. Supreme Court Decision, K.D. Alden's debut is a rich and moving story of Read More »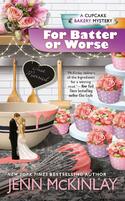 FOR BATTER OR WORSE
by Jenn McKinlay
Featured as Fresh Pick on May 8, 2021
The Fairy Tale Cupcake crew must discover the truth behind a death sprinkled with suspicion before Mel and Joe can say "I do", in Read More »
Catching up with old friends never felt so good
FOR BATTER OR WORSE couldn't be any more irresistible!
This return to Fairy Tale Cupcakes will be the highlight of my reading year!
A case of the culinary forces of good vs evil!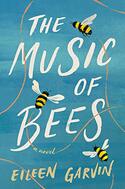 THE MUSIC OF BEES
by Eileen Garvin
Featured as Fresh Pick on May 7, 2021
Forty-four-year-old Alice Holtzman is stuck in a dead-end job, bereft of family, and now reeling from the unexpected death of her Read More »
A heartfelt story about loss, resiliency, friendship, and finding your way...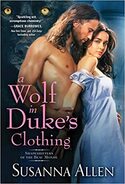 A WOLF IN DUKE'S CLOTHING
by Susanna Allen
Featured as Fresh Pick on May 6, 2021
A Duke in want of a wife... Alfred Blakesley, Duke of Lowell, has long been an enigma. No one dares to give a man of Read More »
She's determined to stay unmarried but now that he's found his mate, he's not letting her go.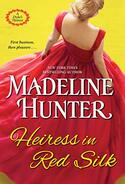 HEIRESS IN RED SILK
by Madeline Hunter
Featured as Fresh Pick on May 5, 2021
In this sparkling series from New York Times bestselling author Madeline Hunter, a mysterious bequest brings a whole new life—and brand-new love Read More »
Light romance and mystery combine to entertain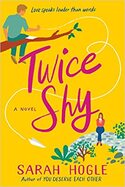 TWICE SHY
by Sarah Hogle
Featured as Fresh Pick on May 4, 2021
If you dream something hard enough, it might just come true . . .Maybell Parrish lives with her head in the clouds, which is the sensible choice Read More »
Two Misfits Find Love