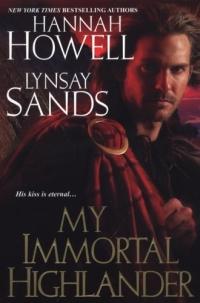 Purchase
Zebra
September 2006
304 pages
ISBN: 0758212925
Trade Size
Add to Wish List

Romance Anthology | Romance Paranormal
The hunt has begun . . .
As identical twins, Bothan and Calum MacNachton share a bond stronger than most brothers, one forged by a terrible secret. Rumors and dark tales have been whispered about their clan for centuries. For they roam the Highlands at night, driven by a savage hunger that can never be sated. Their only hope lies in marriage to Outsiders, mortal women whose pure blood will weaken the hold of their eternal curse. Now, alone and on the hunt for their brides, Bothan and Calum are at the mercy of both the Outsiders and whatever new dangers love brings . . .
Kenna Brodie and Sarra DeCourcey know what it is to stand apart. As strong, proud women, they are determined to prove themselves to their clan no matter what it takes. They've heard the terrible, whispered warnings, but nothing could prepare them for the handsome brothers whose fierce, unyielding desires are beyond any legend . . .
What Bothan and Calum promise is a life unlike any Kenna and Sarra have ever known. Now, as battle lines are drawn and love's most dangerous secrets are revealed, Kenna and Sarra must choose whether to betray their dark lords or stand and fight for a passion that will never die . . .
Comments
No comments posted.

Registered users may leave comments.
Log in or register now!