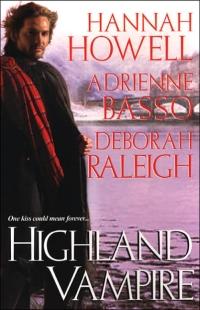 Purchase
Zebra
September 2005
292 pages
ISBN: 0758211554
Paperback
Add to Wish List

Romance Paranormal | Romance Historical
The Scottish highlands echo with legends of great battles, brave heroes -- and, hidden deep in the swirling mists, creatures that belong to the night. In this sensual new collection, meet three vampires whose highland blood drums fierce and hot in their veins...
"Kiss of the Vampire" by Hannah Howell: Seeking the truth of his tortured heritage at court, Jankyn McNachton finds something he never expected -- true desire. Efrica Callan is beautiful, innocent, and possessed of a courageous heart. She spurns the men who court her dowry, but all Jankyn can offer this lovely creature of light is life in the darkness -- and in his arms...
"His Eternal Bride" by Adrienne Basso: Suspecting her of murdering her husband, Callum, on their wedding night, Maev McCloskey's clan has banished her to a remote tower. There, she dreams of her dead love—and the passion they never knew in life. But soon she wonders if the seductive, mysterious Callum of her sleeping mind is real - - and, if he is, whether joining him in his world would be an act of courage or of madness...
"To Tame the Beast" by Deborah Raleigh: In revenge for the curse that has forever banished him to the shadows, the creature called the Beast of MacDonnell demands the firstborn female child of each generation. Isobella's sister is soon to suffer this fate -- unless Isobella can save her. Unafraid, she intends to confront the monster when she finds a strange man instead: a warrior with the face of an angel and mesmerizing silver eyes who tempts her like no other...
Comments
No comments posted.

Registered users may leave comments.
Log in or register now!