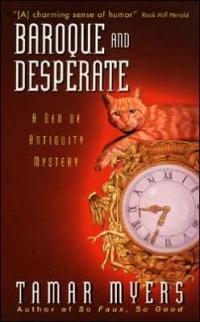 Purchase
Den of Antiquity Series, #5
Avon
March 1999
250 pages
ISBN: 0380802252
Paperback
Add to Wish List

In a Treasure-Laden Mansion
Unflappable and resourceful, Abigail Timberlake, antique dealer and owner of Charlotte, North Carolina's Den of Antiquity, relies on her knowledge and savvy to authenitcate the facts from the fakes when it comes to either curios or people. Her expertise makes Abby invaluable to exceptionally handsome Tradd Maxwell Burton, wealthy scion of the renowned Latham family. He needs her to determine the most priceless item in the Latham mansion and then split the proceeds of it with her. A treasure hunt in an antique-filled manor? All Abby can say is "let the games begin."
It's Tough to Keep Help
Accompanied by her best girlfriend, C.J., Abby arrives at the estate and is met with cool reserve, if no downright rudeness, from the members of the Latham clan. Trying to carry out Tradd's request, Abby finds that she could cut the household tension with a knife. But someone has beaten her to it by stabbing a maid to death with an ancient kris. Suddenly all eyes are on C.J., whose fingerprints happen to be all over the murder weapon. it's up to Abby to use her knack for detecting forgeries to expose the fake alibi of the genuine killer.
Comments
No comments posted.

Registered users may leave comments.
Log in or register now!