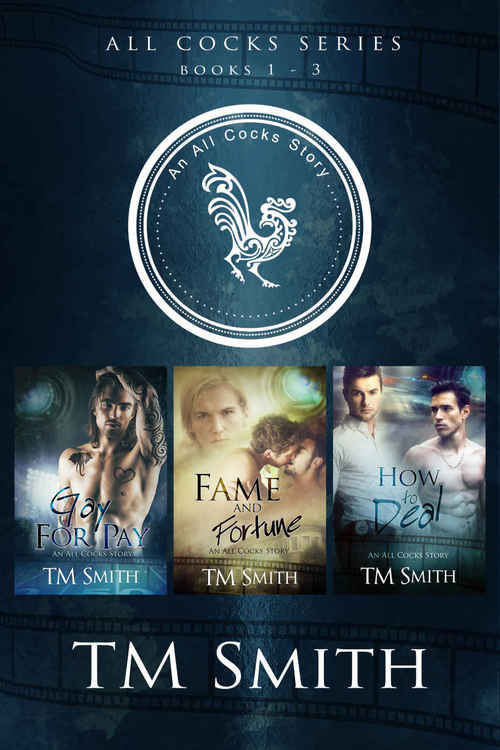 Purchase
All Cocks Stories Box Set V.1
T.M. Smith
All Cocks #1 - 3
Author Self-Published
January 2016
On Sale: December 31, 2015
464 pages
ISBN:
Kindle: B01A2ISQ50
e-Book
Add to Wish List

Romance LGBTQ | Romance Anthology
All Cocks Stories Box Set Volume 1 includes books 1-3 in the All Cocks series...
All Cocks stories is a series of books that will be set within the world of online gay porn. From straight 'Gay for Pay' models, to threesomes and so much more, you are welcome to join us at All Cocks INC for a series of stories about the men that work both in front of, and behind the camera.
Book 1 - GAY FOR PAY
This is the first book in an exciting new series that is set within the world of online gay porn.
Gay for Pay tells the story of a man who has lost his way in life, finding himself outside the doors of All Cocks INC. a trending site in the gay porn industry. What will Chris do when he meets a man that turns him on, even when the camera is off?
*Advisory warning. This story briefly mentions issues such as drinking and driving, vehicular manslaughter, someone being drugged, a very brief mention of a previous sexual assault (no descriptives of said assault) these warnings are for anyone that has triggers. They are not a part of the storyline itself, only mentioned here and there.*
Book 2 - FAME AND FORTUNE
Victor Dimir and Andrew Jones met and fell in love in college. Ten years later their relationship is stronger than ever, they don't even realize there is a piece missing until a broken and troubled young man stumbles into their lives. Matthew Carlson has been violated and abused mentally, physically and emotionally simply because of who he is. Jobless and homeless, Matthew comes across a flyer that will not only change his life, but bring him the love he has always dreamed of, two fold.
*Warning* This book contains a scene of sexual assault.
Book 3 - HOW TO DEAL
Jon Brennan comes from a long line of men in uniform, all born and bred to both bleed and wear blue.
Kory White is cocky and abrasive with most people, but is is all a mirage, a facade he has strategically built around himself to keep his heart safe.
Can these two strong willed men learn how to deal with the demands of each others professional lives, find balance and the happiness they both deserve?
*Warning* All the books in this series are intended for mature audiences only due to content, occasional violence and some oh so hot, steamy, sweaty sex between 2 or more consenting adult males. If this doesn't appeal to you, perhaps continue your search for something more to your liking.
Comments
No comments posted.

Registered users may leave comments.
Log in or register now!