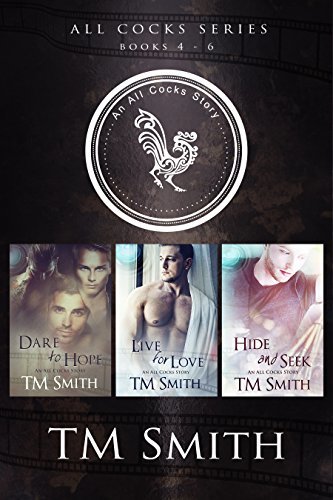 Purchase
All Cocks Stories Box Set V.2
T.M. Smith
All Cocks #4 - 6
Author Self-Published
October 2016
On Sale: September 20, 2016
565 pages
ISBN:
Kindle: B01LX9FFC3
e-Book
Add to Wish List

Romance Anthology | Romance LGBTQ
All Cocks Stories box set Volume 2 (books 4, 5 & 6)
Book 4 - DARE TO HOPE
Tristan Brennan is the only Brennan boy that doesn't bleed blue. He is steadfast in his determination to become a psychiatrist and help people in a way that doesn't require a uniform, a weapon or violence. When he meets Micah, the wounded War Vet, and Gabe, the ex All Cocks model that lost his lover in a shooting... Tristan is no longer looking for that perfect guy. He's trying to figure out if he can have both men, or will he have to sacrifice his own happiness so that Micah and Gabe can have their own happy ever after?
Can three men with from different backgrounds, each with their own demons, possibly come together and learn that love isn't always necessarily a two way street.
Book 5 - LIVE FOR LOVE
Beauregard Boudreaux is a native of N'Awlins Louisiana that moved to New York after loosing his one and only love far too soon. He keeps his head down, convinced that he had his chance at happiness. When William Richards waltzes into Beau's life, the raging cajun is determined to ignore the younger mans advances. But the heart wants, what the heart wants, and soon these two are so entangled in each others lives that there's no going back. But at what cost?
Book 6 - HIDE AND SEEK
Dusty Anderson is one of the original All Cocks models. His alter ego, Ashton Fox, is laid back, easy going and confident. While Dusty isn't that far removed from his alias, he does long for something the glitz and glamour being a gay porn star can't offer. Love.
David Thompson finds himself alone and adrift when he wakes up from a months long coma. Learning that it was his own brother that put him in the hospital after catching David with his boyfriend doesn't help the troubled young mans lack of confidence. The question is, will Dusty's unconditional love and acceptance give David the strength to move on and figure out who he is on his own terms?
*Warning* there are scenes of violence sometimes described graphically and a storyline for an HIV character in one, or more, of these books. For a more detailed synopsis for each individual story, see that books individual page. The All Cocks stories is a series set within the world of online gay porn. But it's not the porn that defines these characters, it's what happens when the camera stops rolling that tells their stories. All Cocks is a contemporary gay romance series.
Comments
No comments posted.

Registered users may leave comments.
Log in or register now!