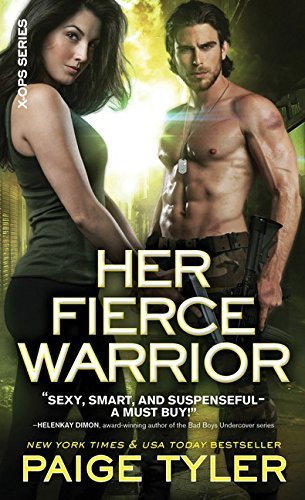 Purchase
X-Ops #4
Sourcebooks
March 2016
On Sale: March 1, 2016
Featuring: Angelo; Minka
320 pages
ISBN: 1492625868
EAN: 9781492625865
Kindle: B017HX13CQ
Paperback / e-Book
Add to Wish List

The woman tensed. As anger and fear ricocheted across her face, her eyes changed from red to green to brown in a dizzying display like nothing he'd ever seen.
Every instinct in Angelo's body screamed at him to lunge for his weapon. Instead he set his feet for impact, blocking her slashing claws. Unbelievably, after a few moments of struggling, she went still, all the fight gone...
Minka isn't sure she should trust the sexy Special Forces soldier who found her. Subjected to horrors, on the run from scientists set on locking her in a cage, Minka is terrified of the monster she's becoming...and somehow, Angelo is the only one who can calm the beast inside her and make her feel safe.
But can she trust the way he makes her feel when she's not even sure she can trust herself?
X-Ops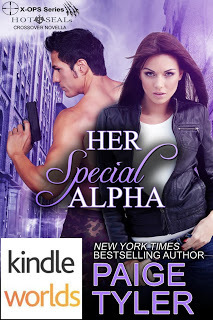 Her Special Alpha
#0.0
Kindle | | | |
Comments
21 comments posted.
My special occasion celebration place tends to be at a dim
sum house. It is the type of thing I don't have time to
indulge in frequently but love to go to with family and
friends.
(G. Bisbjerg 11:51am March 3, 2016)
Anywhere my family is... enjoying my fav foods and time together!
(Colleen Conklin 12:19pm March 3, 2016)
Longview's Lake Sacajewea is beautiful. You can watch the ducks and run around the lake or eat a picnic lunch,
(Cynthia Gaertner 1:20pm March 3, 2016)
How about a hot air balloon ride at twilight over the desert with a candlelit
dinner at the end.
(Joy Isley 3:23pm March 3, 2016)
I'd probably celebrate at a seafood or steak restaurant
with all my family present.
(Janie McGaugh 10:15pm March 3, 2016)
Japanese hibachi and maybe doing a Sake Bombs or two to
celebrate.
(Vanessa Hinman 9:17am March 4, 2016)
Celebrating with family and friends,probably a backyard BBQ or a cookout at the lake .. the where isn't as important as the people who are with you to help celebrate release day
(Ruth Gutscher 3:30pm March 4, 2016)
I would have to say anywhere with family and friends, as that is what makes
the occasion so special. However, a family style bbq on a nice summer day
in my backyard would be perfect!
(Lily Shah 4:45pm March 4, 2016)
It would be typing on my computer, if I was an author.
Another book, another deadline. That or focusing on other
things, like reading a book, doing chores, sleeping in, or
other things.
(Ela Raymundo 2:18am March 5, 2016)
Celebrating a very special occasion in my honor would have to be at my house with all my family and close friends with lots and lots of food for everyone .
(Joan Thrasher 11:21am March 5, 2016)
there's a restaurant my family has used several times with a
great view of Manhattan in the distance.
(Diane Sallans 7:42pm March 5, 2016)
going out and having a steak with everything also a tall drink. All my family would be there.
(Jennifer Beck 1:17pm March 6, 2016)
I would celebrate my special occasion with people who have believed and supported me in my endeavor at a very nice restaurant (Vegas style).
(Kai Wong 5:01pm March 6, 2016)
My special occasion celebration would be any venue large
enough to hold our family! It honestly doesn't matter to me.
What matters are the people.
(Marcia Berbeza 10:58pm March 6, 2016)
My special occasion would be celebrating at a restaurant with my parnets and a few close friends and their spouses.
(Melinda Marks 12:18pm March 7, 2016)
My special occasion is always going to Harry's - a Louisiana
style eatery with family &/or friends
(Sharon Shearouse 2:59pm March 7, 2016)
We celebrate with friends and family but the location
changes
(Donna Antonio 5:35pm March 7, 2016)
I would probably have a family style barbecue or crayfish boil with my husband or son doing the outdoor cooking.
(Anna Speed 5:37pm March 7, 2016)
Outside with a working bathroom nearby.
(Chris Roberts 6:37pm March 7, 2016)
At home. I hate long car rides. I like having friends and family over except
for,the whole having to clean the house thing.
(Laura Gullickson 9:47pm March 7, 2016)
In my family, all celebrations take place over dim sum in chinatown.
(Lisa L. 5:28pm March 8, 2016)
Registered users may leave comments.
Log in or register now!