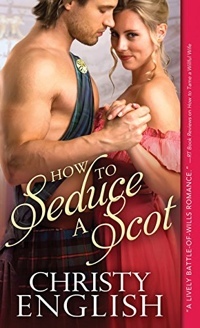 Purchase
Broadswords and Ballrooms #1
Sourcebooks
December 2015
On Sale: December 1, 2015
Featuring: Catherine Middlebrook; Highlander Alexander Waters
352 pages
ISBN: 1492612871
EAN: 9781492612872
Kindle: B011SPAIVG
Mass Market Paperback / e-Book
Add to Wish List

He's the terror of the ton...
The plan is simple:
1. Descend from the Highlands to face the aggravation of a London Season;
2. Foist his wild sister off on some gullible English lord;
3. Retreat before the ladies of the scandalized ton can get any ideas.
Determined to see his hellion of a sister wed, Highlander Alexander Waters is willing to face anything-even the English. He just didn't expect his own rough manners to cause such a riot...or for a blooming English rose to catch his eye.
Gently bred Catherine Middlebrook must find a respectable man to marry or her family will be ruined. She won't allow herself to be distracted by Highland barbarians...no matter how her body may thrill whenever Alex is near.
Catherine wasn't part of the plan, but as their battle of wills escalates, Alex comes to realize this "proper" English girl is as wild as the Highlands themselves...and nothing will stop him from having her.
Broadswords and Ballrooms
Comments
27 comments posted.
How can anyone pick a favorite when there are so many yummy Highlanders to choose from? If I had to pick, or at least narrow it down, I would say either of the MacKeltar twins in Karen Marie Moning's Highlander Series.
(Peg Griffin 12:58pm December 2, 2015)
There is no way to choose a favorite, when each
Highlander has their own merits. Therefore, I'll have
to just say that I'm looking forward to reading your
latest book. The story line sounds really good, and
because of the content, I know I'll enjoy the read!!
The cover of the book is beautifully done as well!!
Congratulations on your latest book, which I'm sure
will do well!! I hope you have a very Merry
Christmas, and I wish you all the best in the coming
year!!
(Peggy Roberson 5:44am December 2, 2015)
Good choice Peg! Thank you for joining me today :) And
Peggy, you make a good point :) I love the cover,
too...Sourcebooks does such a beautiful job with those.
Merry Christmas to both of you and thanks for hanging out
with me.
(Christy English 7:04am December 2, 2015)
I do like Jamie from Outlander. Interesting bit of history they
traded with Nova Scotia. I need to read about Alexander and
Robert and so have added to my TBR list.
(Leona Olson 11:39am December 2, 2015)
I don't really have a favorite. All the ones I have met
have been very nice though.
(Krypton I 1:02pm December 2, 2015)
How would I pick a favorite? It's just too hard---those
kilts just strip your brain of all reasoning power.
(Sue Farrell 1:18pm December 2, 2015)
Oh too hard to choose a fav... I enjoy them all!
(Colleen Conklin 2:30pm December 2, 2015)
I don't really have a favorite I love them all!! Each is so different and wonderful!!! Got to love those Scots!!!
(Bonnie Capuano 4:06pm December 2, 2015)
This book looks great. I don't have a favorite highlander
because I have not read a highlander book. At least not that I
can remember.
(Julie Wingate 4:40pm December 2, 2015)
Thank you so much Leona! I hope you enjoy Alex and Robbie
:) They are my favorite Highlanders :)
(Christy English 6:47pm December 2, 2015)
LOL Krypton I :)
(Christy English 6:48pm December 2, 2015)
LOL Sue! My God you are not kidding :)
(Christy English 6:48pm December 2, 2015)
Bonnie, Julie and Colleen, I have to tell you, I've never
met a Highlander I didn't like :)
(Christy English 6:49pm December 2, 2015)
Thank you all so much for joining me today for this fun
Highland chat :)
(Christy English 6:50pm December 2, 2015)
Jamie Fraser has been my favorite Highlander ever since I
first read Ouylander. I love him because, for all his
faults, he's a great guy. He loves and is devoted to
Claire; he's honorable and dedicated to the people under
his care; he's extremely brave; and he has a great sense
of humor. Oh, and lets not forget that he's tall and
verra handsome!
(Janie McGaugh 10:47pm December 2, 2015)
I have to pick just ONE?! Are you kidding me? Ok then...
Gerard Butler!
(Kelly Braun 2:02am December 3, 2015)
LOL Kelly...I'm with you there! And Janie, I love Jamie
Fraser too :) Thanks for joining in you guys
(Christy English 7:11am December 3, 2015)
I like all of them but Jamie Fraser because he is complex bur simple at the same time.
(Melinda Marks 9:55am December 3, 2015)
No favorite but I love any one in a kilt.
(Pam Howell 11:25am December 3, 2015)
Jamie Fraser is my favorite, but I love them ALL!!
(Mj Chesick 12:27pm December 4, 2015)
Connor and Jamie!
(Ca Boer 11:47am December 4, 2015)
I can't name a favorite , any would do . I'm not hard to please . Thanks for this giveaway .
(Joan Thrasher 12:33pm December 4, 2015)
My favorite Scott...my husband!
(Mary Hay 3:23pm December 4, 2015)
Oh, Jamie Fraser is one of my very book favorites as well.
For real people, Sean Connery and Colin Farrell.
(Sandy Haber 4:05pm December 4, 2015)
Has to be Jamie Fraser. He is my idea of a Highlander.
(Mary Preston 12:06pm December 5, 2015)
Loved the Highlander movies! But my favorite Highlanders have
been in books - Julie Garwood wrote some excellent ones (like
'The Bride') and Monica McCarty's Highland Guard series is
wonderful.
(Diane Sallans 9:28pm December 5, 2015)
Love ALL the Highlanders -- just have to love a man that can wear a kilt and look sexy.!!
(Ruth Chesick 4:44am December 14, 2015)
Registered users may leave comments.
Log in or register now!