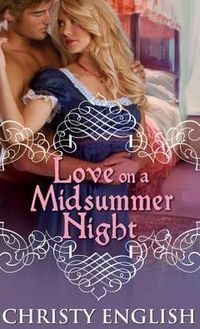 Purchase
Sourcebooks Casablanca
August 2013
On Sale: August 6, 2013
352 pages
ISBN: 1402270488
EAN: 9781402270482
Kindle: B00CA3SHJ6
Paperback / e-Book
Add to Wish List

How to Avoid an Unwanted Marriage:
1. Track down his first love 2. Slap his face when he propositions you to become his mistress 3. Flee the countryside with aforementioned scoundrel 4. Join a traveling troupe of Shakespearean actors 5. Don't fall under the enchantment of a magical midsummer moon...
To escape the scheming, pawing clutches of her late husband's nephew, Arabella Darlington turns to Raymond Olivier, the only man she ever loved, for help. But the sweet Raymond she knew as a girl is now the dissolute Earl of Pembroke—the most notorious rake in London.
When the situation turns deadly, Arabella and Raymond are forced to hide in the country. As she finds herself succumbing to Raymond's puckish charm, Arabella starts formulating a new plan: how to persuade a rake to propose.
Comments
43 comments posted.
Don't we all reflect back on our lives, loves and wishes of what we could have been. This book seems to be just that based on Shakespeare, which is so romantic and more. Thank you for bringing this story to your readers.
(C Culp 7:30am August 8, 2013)
I love the historical romance books they are my favorite and
the book sounds so good thanks so much for the chance to win
your book
(Denise Smith 8:05am August 8, 2013)
Carletta, thank you so much for your kind words. With Arabella and Pembroke, I wanted to give us all a second chance. I hope you love the book.

Denise, thank you for putting your name in the hat. I love historical romance too :) One of my favorite genres.
(Christy English 8:46am August 8, 2013)
Sounds like a great story! Love this type of book!
(May Pau 9:59am August 8, 2013)
Thank you May! I hope you like this one :)
(Christy English 10:13am August 8, 2013)
Loved your views on romance and Shakespeare - a wonderful combination. Your book sounds great. Thanks for a chance to win.
(Nancy Reynolds 10:14am August 8, 2013)
Too funny...never thought of slapping the guy :)
Looks like a good read...thanks
(Bj Gaskill 10:30am August 8, 2013)
I was captivated with this post about Romance And Shakespeare
which is wonderful. The story is beautiful and very special.
(Sharon Berger 10:36am August 8, 2013)
This sounds like a good book to read
(Charlotte Wills 10:40am August 8, 2013)
Like your post. Your 'How to Avoid an Unwanted Marriage' is good advice. I enjoy historical novels and LOVE ON A MIDSUMMER NIGHT sounds like a real winner that I would enjoy and love to read. Thank you so much for this chance to win it and I hope I do. All The Best To You.
(Esther Somorai 10:42am August 8, 2013)
You talk about us looking back (deathbeds), and I think the real thing about HEA is not falling in love BUT making love work after the first rush of falling. Keeping the wonder of true/real love (vs. a crush or just lust) is the real magic of life and what many of us lose. I think that is why romances are so popular (imo).
I LOVE your "How to Avoid an Unwanted Marriage." Too many heroines lately can't figure out how to resist "unwanted" advances. I really want to know why they don't just bite a guy when an unwanted kiss is pressed on them??
(Victoria Colyer-Kerr 10:54am August 8, 2013)
I like your lists!! Mine never work out.
(Beth Elder 11:07am August 8, 2013)
I love Romance novels, and have been reading Shakespeare for as long as I can remember, so this book is right down my alley!! Not only am I in love with this story line, but the cover of this book took my breath away!! The artwork on it is absolutely gorgeous!! Even the script is special, and sets the cover off nicely!! Purple is my favorite color as well, so I'm a bit partial, but I do love the cover, and give my kudos to whomever did the cover. Your book definately goes to the top of my TBR list, and I'm looking forward to being swept away in another Romance - the way Romance SHOULD be!!
(Peggy Roberson 11:13am August 8, 2013)
Looks like a great book to add to my winter reading list.
(Julie Parrish 11:55am August 8, 2013)
I like your take on this. Have you seen/been involved in the
Read a Romance Month blog? It is a wonderful venture.
(Karin Anderson 12:34pm August 8, 2013)
Enjoyed reading your post! Thanks for sharing with us!
(Colleen Conklin 12:36pm August 8, 2013)
I enjoy Historical Romance and this book sounds very
interesting. Love the second chance opportunity - always hope.
Thanks.
(Dianne McVetty 12:47pm August 8, 2013)
This book sounds hysterical. Thanks for the chance to win!!!
(Carla Amaral 1:45pm August 8, 2013)
Never been able to understand Shakespeare, but your new book sounds like a great read.
(Sheila True 1:48pm August 8, 2013)
I love your ways to Avoid an Unwanted Marriage especially the second one--and may I add, when you slap his face---slap it HARD!
(Timothy Younger 3:00pm August 8, 2013)
Your book sounds wonderful!! Congratulations and thanks for the chance
to win!!!
(Linda Brennan 3:06pm August 8, 2013)
Wow!! This sounds like a great read. I would LOVE to win a copy!!
(Betty Hamilton 3:10pm August 8, 2013)
I sure hope I have no regrets later in life. I try to make every day count! Thanks for the giveaway.
(Sue Galuska 3:26pm August 8, 2013)
The start of your post brings to mind my Grandpa at the end of his life. He was in the nursing home and kept asking where Grandma was and when she was coming to visit. We gave up telling him that she was gone. We would tell him that she was at church or outside or visiting with her sister (one row over). Of course he also would tell my Dad to get the cows put away and I don't remember them in my life time. Sad as it was sometimes it was fun to just go with where his mind led.
(Laura Gullickson 4:23pm August 8, 2013)
Sounds like a fun read! Would love to win. thanks for the chance.
(Margaret OConnor 5:14pm August 8, 2013)
I've always enjoyed Shakespeare - can't remember a romance
incorporating it tho.
(Diane Sallans 6:28pm August 8, 2013)
Looks like a good read!
(Vicki Hancock 6:50pm August 8, 2013)
I always liked Shakespeare's "A Midsummer Night's Dream" - This book sounds
great. I'd love to win a copy!
(Becca Luman 7:11pm August 8, 2013)
Thank you all so much! I hope you enjoy the book. I wish you all could win!
(Christy English 8:03pm August 8, 2013)
Wow, Congrats on your new book: LOVE ON A MIDSUMMER NIGHT. I
love your book cover too which is so elegant and beautiful.
Yes, I have always enjoyed Shakespeare too. I would love to
win and read your beautiful romance book this summer. Thank
You very much. Cecilia CECE
(Cecilia Dunbar Hernandez 9:54pm August 8, 2013)
I love the idea of Shakespeare in the Regence era.
(Janie McGaugh 9:55pm August 8, 2013)
I haven't read any of the original Shakespeare stories but I
have enjoyed all of the different versions of his stories
that I've seen or read in movies, TV shows and books. This
world needs some more magic in it, especially the magic of
romance novels. So a huge thanks to you and the other
authors who continue to write them.
(Lisa White 10:18pm August 8, 2013)
I have read Shakespeare and have seen some of his plays modern with today's situation. Some are hilarious and other remains a tragedy.
(Kai Wong 10:34pm August 8, 2013)
Hmmmm, did you mention slapping his face in PUBLIC? Embarrassing a man is a sure way to get him to avoid you...at least I think it is. Sometimes men can be perverse and take that as a sign to pursue. Oh well. I've been married 35 years and gave up trying to understand men a LONG time ago. ;-)
(Marcia Berbeza 11:38pm August 8, 2013)
Lovely cover, I hope your book does well.
(Clare O'Beara 8:34am August 9, 2013)
Keeping my fingers crossed for a win!
(Melanie Backus 11:09am August 9, 2013)
Thank you CeCe, Lisa, and Kai I love Shakespeare so much...I'm happy to be stealing a little from him. LOL

Marcia, you are so right! He propositioned her in private and she slapped him in private. He had been taunting her a bit, and he overstepped his bounds. I normally don't condone violence, but my characters rarely listen to me. LOL

Thank you Clare and Melanie for tossing your names in the hat :)
(Christy English 11:28am August 9, 2013)
Hi Christy!
When you're a Senior Citizen like I am you come to a time in your life when you look back and reflect on "times past". I've found that looking back on the "worst times" in my life were actually an entrance to a brand new world full of wonder instead.

When I was in college I was engaged when suddenly the "love of my life" broke up with me. The devastation I felt at the time I thought would rule my life. Instead I moved across the country to finish my education as far away as I could.

Who knew back then that one decision would bring me to realize that I could determine my own destiny. After realizing that I was the only one who could make myself the person I was suppose to be and that I might remain single for the rest of my life I was able to become my own person instead of a person someone else thought I should be.

Several years later when I met my husband who had gone through a similar experience we were both not only older but wiser and found in each other the perfect match although we had totally different personalities.

This year we celebrated our 43rd Anniversary!

I read my first historical romance back in the 1960's and it was Don Quixote by Cervantes. When I met my husband my own personal "Impossible Dream" came true!
(Jeanne Miro 3:40pm August 9, 2013)
Love historical Romances. Look forward to reading youra.
(Carol Woodruff 4:44pm August 9, 2013)
That was an interesting post and so true.
(Maureen Emmons 6:12pm August 9, 2013)
This books sounds fun. I love historical romances.
(Marcy Shuler 7:01pm August 9, 2013)
One nice thing about books, you can use them to jump into the future or back into the past. A skilled writer can have your mind creating worlds of magic inside your head, and I do love magic (and fairies and princesses too). :)
(Donna Holmberg 1:11am August 10, 2013)
I didn't realize this book came out already since it has been
on my TBR list last year if I'm correct. I love how you
incorporate Shakespeare into your stories. I had never like
him or his stories but they are magical in a sense.
(Sandy Xiong 12:11pm August 13, 2013)
Registered users may leave comments.
Log in or register now!