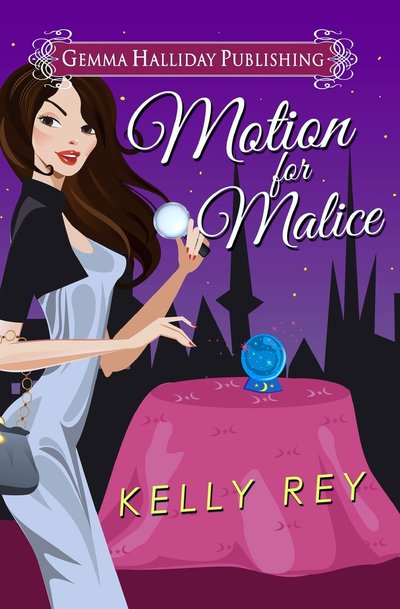 Purchase
Jamie Winters #2
Gemma Halliday Publishing
June 2015
On Sale: June 16, 2015
Featuring: Jamie Winters
232 pages
ISBN: 1514294508
EAN: 9781514294505
Kindle: B00ZY8AWVA
e-Book
Add to Wish List

Mystery Cozy | Mystery Woman Sleuth
From bestselling mystery author Kelly Rey comes the second laugh-out-loud installment in her Jamie Winters Mysteries …
Psychic medium Dorcas Beeber is brash, obnoxious...and dead. Unfortunately for legal secretary Jamie Winters, she arrives at the psychic's studio for a reading only to find the victim apparently killed by a blow from her own crystal ball. And things only get worse when Jamie suddenly finds herself the prime suspect in the murder. It's clearly a setup, but Jamie's only clue to the real killer's identity is a black SUV parked near the scene of the crime.
Desperate and running out of time, Jamie enlists the help of her landlord's eccentric teenaged niece, Maizy, as her unlikely sidekick to help wade through the pool of disgruntled clients, a family with divided loyalties, a creepy ex-boss, and incriminating news reports to find the real killer...before Jamie's future includes a jail cell!
Jamie Winters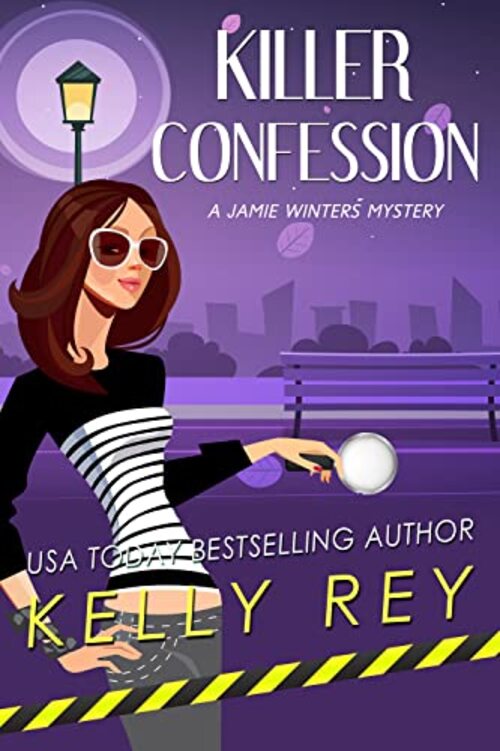 Killer Confession
#7.0
Amazon.com | BN.com | | |
Comments
29 comments posted.
want to read this one
(Jeri Dickinson 12:03pm June 22, 2015)
I READ for fun!!
(Nikki Fournier 1:11pm June 22, 2015)
For fun, I read, cook, and hang out over long dinners with
friends and family.
(G. Bisbjerg 1:23pm June 22, 2015)
I loved working for attorneys (did so for 6 years! lol)
they are a unique and sometimes fun bunch for sure :)

For fun, I love to sit on the beach and watch the waves
crash into shore. Add a sunset and a margarita and well
you've just made me a very happy girl :) I wish I could
do that more often!!

Good luck on your new release and congrats!!
(Nicole Leiren 1:46pm June 22, 2015)
Read.
(Marissa Yip-Young 2:08pm June 22, 2015)
I enjoy walking on the beach which is rare but love it.
(Sharon Berger 2:41pm June 22, 2015)
Sounds like a fun read, Kelly! Good luck on the new release!
(Ritter Ames 3:07pm June 22, 2015)
Congratulations on the new release, Kelly! I really enjoy spending time with
my family and, of course, plotting murder and mayhem!
(Kathleen Bacus 3:29pm June 22, 2015)
I read for fun
(Donna Antonio 5:24pm June 22, 2015)
This book looks interesting. Would love to read it!
(Tiffany Harvey 9:57pm June 22, 2015)
I read books for fun. Or play video games.
(Tiffany Harvey 10:27pm June 22, 2015)
I love books that tickle my funny-bone! People constantly
ask what I am reading when I am LOL while reading! :)
(Sharon Miller 2:48am June 23, 2015)
I love reading, can't wait to read this one.
(Hillary Kaltenbach 8:34am June 23, 2015)
I watch my granddaughter take her kayak and go talk to the
turtles on a log in the lake. She is also talking to the
chipmunks and say they talk to her.
(Leona Olson 9:08am June 23, 2015)
I like to read, bake, go for walks, and play brain games for fun.
(Alice Hunter 1:40pm June 23, 2015)
What do I do for fun? Reading is definitely up there, as is visiting Stately Homes and Gardens (I love flowers but hate weeding, so it's always nice to let someone else do the work!), Cross-stitch/Embroidery and delving into my Family History.
(Lesley Walsh 3:33pm June 23, 2015)
Actually, I'm disabled and have trouble falling asleep, so
I read every night until I get sleepy. I've always been a
reader.
(Janice Santillo 4:27pm June 23, 2015)
For fun I read. I have to read every night before bed.
(Mary Songer 6:22pm June 23, 2015)
For fun, I do things with my grandchildren. We play, take
nature walks and do easy crafts and scientific
experiments. When I can't do that, I'm reading.
(Irene Menge 7:56pm June 23, 2015)
Reading is the best way I know to relax.
(Shelia Bledsoe 9:12pm June 23, 2015)
For Fun, I like to read. Sometimes I dance to music.
(Nancy Luebke 9:38pm June 23, 2015)
I read at night when I get in bed . That is so relaxing to me . I love to go shopping with my sisters are my daughters and I love to talk to people , friends are strangers .
(Joan Thrasher 10:18am June 24, 2015)
Congratulations, Kelly! Can't wait to read this one, too!
(Deanne MacDonald 10:31am June 24, 2015)
I read, play video games, and do counted cross-stitch for fun.
(Becky R 2:37pm June 24, 2015)
Looking for new and fun books to read. I am looking forward to reading this book.
(Cynthia Schwarzer 4:06pm June 24, 2015)
I love to play with my 14 month old granddaughter. Besides
reading I also love to make quilts.
(Vicki Clevinger 8:02pm June 24, 2015)
I'm working on my bucket list. Here's a few: learn to operate a Segway, use a zip line, learn county dancing, and drive a speedboat. At home fun...computing and reading.
(Joanne Hicks 12:21pm June 25, 2015)
Swim, play with grandkids.
(Denise Austin 2:35pm June 25, 2015)
I love to quilt.
(Bonnie H 7:43pm June 28, 2015)
Registered users may leave comments.
Log in or register now!