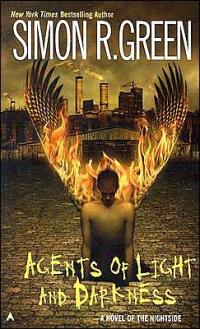 Purchase
Agents of Light and Darkness
Simon R. Green
Nightside Series, #2
Penguin
October 2003
233 pages
ISBN: 0441011136
Paperback
Add to Wish List

I'm John Taylor. I work in the Nightside—the gaudy, neon noir, secret heart of London, where it's always three in the morning, where gods and monsters make deals and seek pleasures they won't find anywhere else. I have a gift for finding things. And sometimes what I'm hired to locate can be very, very dangerous indeed. Right now, for example, I'm searching for The Unholy Grail, the cup that Judas drank from at the Last Supper. It corrupts all who touch it—but it also gives enormous power. So I'm not the only one hunting. Angels, devils, sinners and saints—they're all out there, tearing apart The Nightside, seeking the dark goblet. And it's only a matter of time uintil they realize that the famnous John Taylor, the man with the gift for finding things, can lead them straight to it...
Comments
No comments posted.

Registered users may leave comments.
Log in or register now!