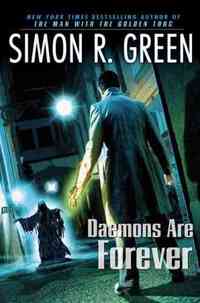 Purchase
Secret Histories #2
Roc
June 2008
On Sale: June 3, 2008
Featuring: Eddie Drood
416 pages
ISBN: 0451462084
EAN: 9780451462084
Hardcover
Add to Wish List

Bond. Shaman Bond.
Actually, that's not quite right. The name's Drood. Eddie Drood. Of the great powerful Droods. You know... the Droods? The clan that's been watching mankind's back since we all dropped out of the trees? The group of hard-fighting, devilishly handsome arse kickers who take on the monsters of the world so that you lot can go about your happy lives? Surely you've heard of us...
No? Well, now you have.
Anyway, there's a new head of the family these days. Because I was the one who exposed--and clobbered--an evil corruption that had infested the Droods for too long, they've put me in charge of the whole kit and caboodle. But it's not going to be an easy gig, mates.
You see, during World War II, the Droods made a pact with some nasty buggers from another dimension. We needed the Loathly Ones to fight some other nasty buggers the Nazis were using. But once the war was over, they decided that they liked this world too much to leave.
We Droods are the only thing standing between them and you. We're the world's last, best hope. But unfortunately, I'm still not keen on trusting some of my own kin--and if I choose the wrong horse to back, everything we know is going bye-bye.
Which means the world is one hell of a lot of trouble.
Comments
No comments posted.

Registered users may leave comments.
Log in or register now!