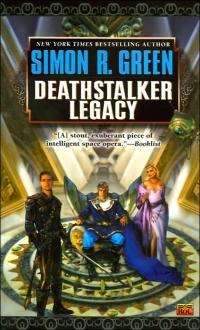 Purchase
Owen Deathstalker Series
Penguin
December 2003
474 pages
ISBN: 0451459547
Paperback (reprint)
Add to Wish List

"Owen Deathstalker sacrificed his life to save all of Humanity. In the two hundred years since his passing, the Empire has prospered in a Golden Age of peace among aliens, humans, and AIs, with hope and liberty for all. Now, on the human homeworld of Logres, a new king is about to be crowned." "Douglas Campbell has no enthusiasm for ascending the throne. As a Paragon, he enforced the King's Justice, and he prefers the path of warrior to ruler. But as the sole remaining heir, he puts aside the desires of his heart and picks up the reins of duty. His first act upon being crowned is to select Lewis Deathstalker - Owen's descendant - as his Champion and Protector of the Empire." "The new regime already has an insurmountable task before it: The AIs of Shub insist on entering the Madness Maze to uncover the secrets of transcendence, which Humanity has failed to do for hundreds of years - and they will not take no for an answer." But even more threatening is one man's desire for revenge against the new order. A revenge that will unite all of the enemies of the Empire in an attempt to bring the Golden Age to ruin.
Comments
No comments posted.

Registered users may leave comments.
Log in or register now!