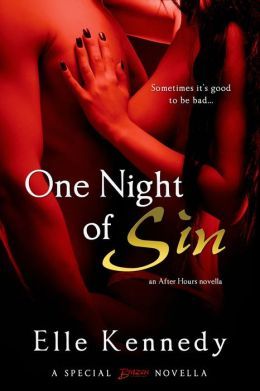 Purchase
Sometimes it's good to be bad
After Hours Book 1
Entangled Brazen
August 2014
On Sale: August 4, 2014
Featuring: Gage Holt; Skyler Thompson
128 pages
ISBN: 1633750485
EAN: 9781633750487
Kindle: B00LRXRO4Y
e-Book
Add to Wish List

When it comes to sex, good girl Skyler Thompson always plays it safe, choosing stable and sedate over wild and thrilling. She doesn't do one-night-stands, but one look at sinfully sexy Gage Holt and she's willing to reconsider. He makes her want to be bad for once in her life, and she's prepared to take what she wants.
Danger follows former MMA fighter Gage Holt like a shadow. Despite his successes as part owner of Sin, an exclusive nightclub in Boston, Gage can't risk getting involved with a woman, especially one as sweet as Skyler. Still, he can't resist a taste—and it's so damn good he has to see her again.
As addicted as he is to her, Gage knows there's no future for him and Skyler—not with his past lurking in the dark corners of an MMA cage. But Skyler's tougher than she looks, and she's ready to fight for her man.
Comments
18 comments posted.
Re: One Night of Sin

must capture my attention.... If I am easily side=tracked from
a story, I might as well hang it up and save it for when I
have nothing to read then I MIGHT try again
(Gina Keitz 12:36pm August 10, 2014)
Have been reading a lot of paranormal and urban fantasy and
world building is high on my list of must haves for a story.
(G. Bisbjerg 2:11am August 10, 2014)
Pet peeve: Don't close the doors/windows after themselves - wasting AC or heating. Little things like this drive me crazy.
(Beth Elder 8:34am August 10, 2014)
Most of the time the story is strong enough to keep my attention and place me right into the book. That's the kind of story I like. I like to live it right along with the characters.
(Bonnie Capuano 8:58am August 10, 2014)
Oh goodness! #2 is my biggest pet peeve in books. I cannot
STAND pointless arguments/non-communication. Every time a
heroine is thinking, "I can't tell him." I throw up my
hands in frustration. I like characters that are strong
enough to do things for themselves, but know when they need
help and ask for it!
(Karin Anderson 10:18am August 10, 2014)
There is a book that I'm in the process of reading. It's
not my normal genre, but I think you might enjoy it. The
name of the book is - Trust A New Beginning by Cristianne
Serruya. I have to say that I have never read a more
smokin' hot book in my life than this, and have had a hard
time putting it down!! Normally, I'm not one to recommend a
book to an Author, of all people, but since you asked about
books, perhaps you would enjoy this one!! I truly hope you
enjoy her writing. She's a Lawyer who lives in Brazil, and
it's my first experience with her writing.
(Peggy Roberson 11:41am August 10, 2014)
I agree with the communication ...if the couple is separated
because of not talking over a problem, I'm sometimes not sure
if I care if they get back together. Also I hate cliffhanger's
... they are OK when setting up the next book but finish this
book completely. Thanks I feel so much better now!
(Annetta Sweetko 11:55am August 10, 2014)
I hate when there's a scene that doesn't really translate into
the book. Make me wonder--was something edited out, did I miss
something, why??? ;)
(Denise Holcomb 3:48pm August 10, 2014)
I don't think the characters always make sense in a romance.
It's the quirkiness and off-beat that keeps my interest the
most.
(Alyson Widen 4:25pm August 10, 2014)
The story has to grab me within the first 25 pages, and all your reasons are mine also..
(Martha Lawson 9:11pm August 10, 2014)
I need likable/relateable characters, humor, good amount of sex scenes
and I need happy endings.
(Vanessa N. 5:37am August 11, 2014)
The mystery of a true romance
(Mary Smith 8:27am August 11, 2014)
The book must capture my attention and hold it to the end. Love series books the best because of the characters. I am like you in regard to staying with a author I enjoy but I do try new authors and have found some good one. Too much sex in a book takes away from the plot and I just won't finish it. Erotic should enhance the book as it is expected but done in a way that adds to the book. Thank you for the giveaway.
(Nancy Wolfe 10:17am August 11, 2014)
This book sounds like my kind of read. Having said that however, my must have in any book is that it has to grab my attention within the first chapter. If I can't get past the first chapter, I'm probably not going to finish the book. I love to laugh & cry with the characters. For that reason, I do have a tendancy to stay with my favorite authors. I do read books from new authors when the blurb on the back of the book appeals to me. Thank you for the opportunity to win One Night of Sin.
(Tonya Coley 11:49am August 11, 2014)
I love strong women, alpha males, an interesting story....but
the most important thing -- fantastic, amusing dialogue!
(Elizabeth Hyatt 12:31pm August 11, 2014)
A plot is very important to me!
(Denise Austin 3:09pm August 11, 2014)
I prefer no cliff hangers. Sometimes I will wait until all parts are out and then read all the books at once.

Try the author Alannah Lynne. Her first nook Savin' Me is currently free on Amazon. I really like her.
(Sue Galuska 5:30pm August 11, 2014)
I can't wait to read this steamy story!!
(Michelle Brown 9:08pm August 11, 2014)
Registered users may leave comments.
Log in or register now!