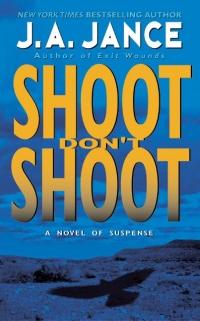 Purchase
Joanna Brady Series, #5
Avon
July 2003
Featuring: Joanna Brady
384 pages
ISBN: 0380765489
Paperback
Add to Wish List

Still mourning her loss, Joanna Brady needs to be strongand supportive for her nine-year-old daughter, Jenny. She also hasresponsibilities to the people who elected her Sheriff. Joanna has thehead and instinct for her new job, but not the experience -- whichis what brings her to Phoenix for a pre-Thanksgiving crash course inpolice training...and into the mystery of an imprisoned husbandher gut tells her did not murder his estranged wife. SuddenlySheriff Brady has a lot more to worry about than classes and thevisiting family pre-holiday chaos. For her impromptu investigationis drawing a serial killer too close for comfort -- and closer,worse still, to Joanna's little girl.
Comments
No comments posted.

Registered users may leave comments.
Log in or register now!