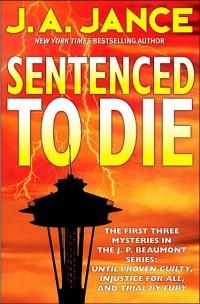 Purchase
Until Proven Guilty, Injustice for All, Trial by Fury
Avon
March 2005
Featuring: Jonas Piedmont Beaumont
644 pages
ISBN: 006077603X
Hardcover (reprint)
Add to Wish List

"Now for the first time in one volume, here are the first three mysteries featuring J. A. Jance's most popular and enduring character, Seattle homicide detective Jonas Piedmont Beaumont. It's a trio of tales steeped in the atmosphere of the Pacific Northwest that is sure to remind everyone that Jance is a master of modern suspense fiction."
In Until Proven Guilty Piedmont finds himself investigating the murder of a five-year-old girl. But his own obsessions and demons could prove dangerous companions in a murky world of blind faith and religious fanaticism as he discovers that he himself is the target of a twisted passion ... and a love that can kill.
In Injustice for All Beaumont's well-earned vacation becomes a waking nightmare as he's forced to comfort a beautiful blonde after she discovers a dead body on a Washington beach. Suddenly a lethal brew of lust, madness, and politics threatens to drag the dedicated Seattle cop into the path of a killer whose dark hunger is rapidly becoming an obsession.
And in Trial by Fury a naked, dead body is found lying in a Dumpster. What's most shocking is the manner in which the man died - he was lynched. The victim, a high school coach, has left behind a very pregnant wife with a very dangerous secret. And a sixth sense developed over twenty years on the job tells Beaumont that this investigation is going to the lethal extremes of passion, lies, and hatred.
Comments
No comments posted.

Registered users may leave comments.
Log in or register now!