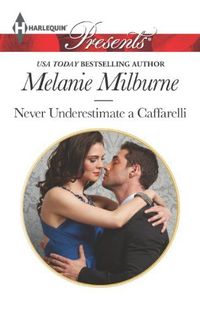 Purchase
Never Underestimate a Caffarelli
Melanie Milburne
Those Scandalous Caffarellis #2
Harlequin Presents
September 2013
On Sale: September 17, 2013
Featuring: Raoul Caffarelli; Lily Archer
192 pages
ISBN: 0373239505
EAN: 9780373239504
Kindle: B00CFX3C50
Mass Market Paperback / e-Book
Add to Wish List

Romance Series | Romance Contemporary
Has this Caffarelli finally met his match? Millionaire playboy Raoul Caffarelli has always lived life in the fast lane. But when an accident confines him to a wheelchair—and to the care of a woman whose beauty taunts him—he's consumed with rage and frustration.
Used to difficult patients, physical therapist Lily Archer won't be cowed by Raoul's arrogance or distracted by his Adonis-like physique. Carrying her own scars from the past, Lily has vowed never to relinquish her power to a man again.
Both underestimate the power of the shared passion between them. Their physical scars may heal, but some wounds run much deeper….
Those Scandalous Caffarellis
Comments
41 comments posted.
Re: Never Underestimate a Caffarelli

I would hate the lack of accessibility to all the places that aren't wheelchair
friendly, like some parks, beaches or historic places
(Gloria Shaw 12:48pm October 27, 2013)
Getting around in the winter. I see all the trouble that wheelchair-bound
people have because others don't clear their sidewalks. I live in the
northeast, and a lot of people don't see how difficult it can be. Thanks for
the chance to win!
(Linda Brennan 12:53pm October 27, 2013)
Hi Gloria,
I hear you! It's crazy how hard it still is to get around even with a pram or
pusher, let alone a wheelchair.
Thanks for posting!
(Melanie Milburne 2:01am October 27, 2013)
Hi Linda,
Good point about winter. Pushing through snow would be no picnic.
Thanks for commenting.
(Melanie Milburne 2:03am October 27, 2013)
I work in a hospital so it's not unusual to see someone in a wheelchair. Most of the time you can stop for a short conversation or just to say "Hello." People like the feel wanted not invisible.
(Sharon Extine 6:04am October 27, 2013)
The limitations of space only being able to access the immediate area around the chair. The inability to move at will whether it be to bend to pick up something or to run to fetch something.
(Laurie Gommermann 6:35am October 27, 2013)
Accepting the physical limitations would very hard and draining on your
resilience. Imagine if had to rely on others just to make your wheelchair
move. It would just sap of your sense of independence.
(Chris Coulson 6:37am October 27, 2013)
Being in a wheel chair would be very
difficult for me. The help needed for
daily activities, the looks of
surprise or pity would also be
unnerving.
(Rhonda Brittingham 8:31am October 27, 2013)
My Mom was in a wheelchair for many years and I know how hard it is to get around stores, museums, parking lots etc. Try going to a Nursery to buy plants...that's the worst.
(Bonnie Capuano 9:15am October 27, 2013)
Wheelchair bound is not something any of us wish for or look forward to
but I look at it this way. It is still a great means of getting around if one is
unable to walk.
(Melanie Backus 9:15am October 27, 2013)
I would hate having to depend on others for some of my daily needs. Because of my health problems, one of my Doctors told me that I would end up in a wheelchair. I already told my Husband that I want one with a motor on it, because I don't want him pushing me around!! :-) I'm also the type of person that, when given a new limitation, I learn how to get around it. If God chooses to put me in a wheelchair, I would find a way to be as independant as I could, although I know it wouldn't be easy. Just getting out to bathe or get dressed would be a major challenge!!
(Peggy Roberson 9:31am October 27, 2013)
I would not like the limitations upon movement. It is much harder to get around town.
(Pam Howell 10:36am October 27, 2013)
It would have to be the everyday challenges. Reaching the counters, stove, cupboards, sink etc.. Also, just getting around in your home would be difficult as most doors and hallways are not wheelchair friendly. In short, I think I'd hate everything about it!!
(Sandie White 11:06am October 27, 2013)
Wow, Congrats on your new book: NEVER UNDERESTIMATE A
CAFFARELLI. I like the book cover too! What would I hate
most about being in a wheelchair? I would not like being
confined to a chair all the time. Many places in life are
not wheelchair friendly and being ignored like a cripple
would be hard for me too. I had hip surgery in 2007 and I
try to be very careful so I never end up that way. I had a
skinny lady that was my physical therapist and she was a
real go getter for a great person in a wheelchair. She has
more strength than most people I know. I Pray for people
like her and others to get well soon. They need miracles and
nice people in their lives always that can help them
overcome the barriers and obstacles in life. I would love to
win and read your new book this Fall. Thank You very much.
Cecilia CECE
(Cecilia Dunbar Hernandez 11:51am October 27, 2013)
I would miss the ease of movement... the locations one could get to.
(Colleen Conklin 1:05pm October 27, 2013)
having freedom to just get in my car and go on my own without any assistance, needing assistance to get into some buildings and not being able to do lots of tourist walks/site seeing due to physical limitations
(Darci Paice 2:06pm October 27, 2013)
I would miss my total independence--I think if you are in a wheelchair there is a certain about of dependence on others.
(Sue Farrell 4:01pm October 27, 2013)
I'm in a wheelchair and I hate being so confined. It's hard to go anywhere and you also lose a lot of your independence.
(Carol Woodruff 6:26pm October 27, 2013)
My DH of 39 years was pretty much confined to a wheelchair whenever we went anywhere. The wheelchair was heavy and hard to wield. It was also hard to get through some doors or hallways. Then there was the terrible time of trying to get around in the winter.
(Cathy Phillips 8:25pm October 27, 2013)
I think being in the wheelchair is exhausting. You will need to ask for assistance to reach for things on the upper shelves in the stores. The wheelchair also takes up so much space especially when public places need to be ADA accessible and people tend to take pity on you.
(Kai Wong 1:06am October 28, 2013)
So many wonderful and insightful comments. Sorry I can't respond to each one
individually.
Thanks for taking the time to drop by!
(Melanie Milburne 2:02am October 28, 2013)
I would feel like I had lost my freedom & independence.
(Mary Preston 8:17am October 28, 2013)
i know i would hate it also i have a servere autistic daughter
and need to beable to walk and talk to her to beable to get
around with out it i would not be able to take care of her
(Denise Smith 9:28am October 28, 2013)
I would hate the problems that I would have doing my job.
(Richard Proctor 10:05am October 28, 2013)
I would dislike being dependent on other people .
(Ron Frampton 10:26am October 28, 2013)
I would miss not being able to go for walks in the park!
(Maria Proctor 10:33am October 28, 2013)
I would miss my sight even more than being confined to a
wheelchair.
(Sandra Boen 10:48am October 28, 2013)
I use a cane now and can't walk very far. I know how hard it is to have a disability.
(Wilma Frana 11:34am October 28, 2013)
Travelling distances would be difficult/limited.
(Elaine Seymour 12:03pm October 28, 2013)
It would be painful for me and mine, BUT you could still read which is the greatest joy in my life. Keep writing!
(Patricia (Pat) Pascale 12:18pm October 28, 2013)
We take for granted what we can easily do at any given time.
To have that taken away is unimaginable, but I know it can
happen, as it does to so many others. Just the ease of doing
what I want when I want is what I'd hate. Which is pretty
much everything. Thank goodness I'd still be able to read,
while trying to figure out how to compensate to keep going!
(Sandra Marlow 12:29pm October 28, 2013)
I worked in a medical office and always felt sorry for those who had to be in a wheel chair. We take for granted how easy some things are in life. Everything about getting a wheelchair in and out of a car,ect.
(Barbara Wells 12:35pm October 28, 2013)
Being dependent on other people for so much of daily activities.
(Sheila True 1:13pm October 28, 2013)
I would hate not being able to run. (I understand this quite
a bit because my uncle was in a wheelchair for 20 years.)
(Lennette Daniels 1:21pm October 28, 2013)
Not being able to chase after my kids
(Michelle Schafer 4:36pm October 28, 2013)
not being able to take a walk on the beach
(Patricia Lambert 4:57pm October 28, 2013)
Not being able. People looking down at you. Not being able to go up stairs.
(Beth Elder 8:07pm October 28, 2013)
I would hate the not being able to reach part the worst. I could accommodate the movement part but some things in this world aren't set up for wheel chair bound people.
(Laura Gullickson 8:23pm October 28, 2013)
I would hate to be in a wheel chair. It takes away you independence,and your freedom to go certain places. I know how hard it must be for people who are in whellchairs. Thanks for a chance to win your book.
(Linda Hall 9:14pm October 28, 2013)
Limitations are always hard to accept at firs
Terri Poindexter 10/28/2013
(Terri Poindexter 10:18pm October 28, 2013)
Being in a wheelchair would slow me down, but I'd figure out
ways to get around the barriers and know my friends would
support me in this and other endeavors.
(Alyson Widen 8:05pm October 31, 2013)
Registered users may leave comments.
Log in or register now!