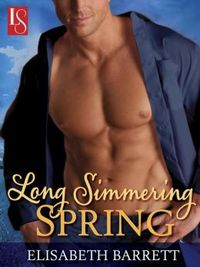 Purchase
Loveswept
May 2013
On Sale: May 13, 2013
ISBN: 0345541642
EAN: 9780345541642
Kindle: B00A9ET4NG
e-Book
Add to Wish List

Spring comes to Star Harbor, bringing unexpected passion for a sexy sheriff, as the next Grayson brother finds love with the town's beautiful doctor.
Julie Kensington grew up in the same small town as the Grayson brothers and remembers when the boys were nothing but trouble. As teenagers, Cole's rugged sex appeal set Julie's heart ablaze, but she did her best to ignore it. Now a grown woman with a medical degree, Julie still can't resist her searing attraction to the roughest, toughest Grayson. He's ex-military, tormented, and sexier than ever, but are his wounds too deep to be healed by her loving, gentle touch?
 
Even back in high school, straight-arrow Julie had a way of making Cole think twice about his bad-boy lifestyle. When Julie decides she's finally ready to embrace her wild side, Cole knows he is just the man to show her the way, unleashing years of pent-up desire. Neither of them counted on falling in love, but when Cole's demons threaten to derail their relationship, it's up to Julie to show him that together, they can overcome the past . . . and build a future.
 
Includes a special message from the editor, as well as excerpts from these Loveswept titles: Deep Autumn Heat, Blaze of Winter, and Along Came Trouble.
Comments
45 comments posted.
love to win..the cover is very nice
(Kimberly Hoefs 12:51pm May 29, 2013)
Great storyline I just love tormented heroes. Thanks for the giveaway.
(Pat Freely 2:39am May 29, 2013)
Everyone has made mistakes, and second chances are always hoped for. Thank you for writing this book.
(C Culp 7:12am May 29, 2013)
Fixable mistakes... I guess I would say when one says the wrong thing and hurts the other... those have been fixable... forgiveness and second chances are wonderful.
(Colleen Conklin 1:05pm May 29, 2013)
Usually its saying something out of anger to the person I love most so Ive learned to take a deep breath before I speak. I make amends by apologizing to him and he always gives me a second chance
(Julie Parrish 1:29pm May 29, 2013)
What (fixable) mistakes have you made? How long did it take
to make amends? Wow, I have made a bunch of mistakes growing
up in my teen years and if I knew back then what I know now;
I would probably go back to my small Kansas town and be
nicer to everyone and fix all the problems that I made for
my family and friends back then. Now, I am states away from
Kansas and I do not even get to go to our 1st all years
Class Reunion in June so I am pretty Sad and wish I could go
visit everyone! When you lose your health and your wealth
then you lose a bunch. Thanks for the great book and the
great contest. I would love to read and win your great book.
Thank You very much. Cecilia CECE
(Cecilia Dunbar Hernandez 3:13pm May 29, 2013)
Let's see. I've made a ton of mistakes, a lot not fixed. I guess it would be
being not as consistent with rules with my kids when they were younger.
Now I try to make them take more responsibility for themselves!!!
(Vicki Hancock 4:47pm May 29, 2013)
As a teen, I ran from someone who cared for me out of fear of being hurt, as I watched my parents separate after many years.
He went on to make a happy life, but I've always regreted hurting him.
(Sharon Mitchell 4:57pm May 29, 2013)
I love the cover!! How wonderful it would be to win!!
(Betty Hamilton 5:30pm May 29, 2013)
What (fixable) mistakes have you made? How long did it take
to make amends? Not lstening to my heart and settling for a masters degree in a field that is slowly erroding into oblivion with the advent of the internet. Still trying looking into going back to college now in my late 50's
(Norma Storms 5:53pm May 29, 2013)
mistakes...make them everyday. Amends...makes them when I can. Lifes not perfect
(Lisa Fitzgibbons 6:05pm May 29, 2013)
Lots and lots of mistakes---many amends, but probably not enough.
(Sue Farrell 6:45pm May 29, 2013)
I have made many mistakes in my life. Usually it has been to say something that has hurt someone's feelings. I have always apologized, but sometimes I wonder if what is said in anger, stays with some people even if you regret it and apologize for saying it.
(Cathy Phillips 9:27pm May 29, 2013)
Love the premise of this book and appreciate the opportunity to enter this contest. I loved the short excerpt I read, and this would be a great opportunity to be exposed to an author I haven't read yet. Thank you.
(Elaine Panfil 11:02pm May 29, 2013)
I have made the mistakes of listening to my mother. My parents have taught me well but my mother has never trusted me in making my decision or be my own person. I have listened to what I should study to my career choices. I have been trying to correct some of those mistakes but it is hard to claim what happened back then. Big lesson learn, my decision would have lead me to my happiness. At least I didn't marry that person, she has choose for me.
(Kai Wong 11:48pm May 29, 2013)
I try to fix any mistakes that I make right away but some mistakes can't be fixed. I regret one friend that I lost because I told her the truth. I don't know the answer.
(Kathleen Yohanna 4:04am May 30, 2013)
This book sounds great and I can't wait to read it! Love the cover too!
(Bonnie Capuano 8:13am May 30, 2013)
What fixable mistake?
Well, I rented a house when I could not get a mortgage, and then stayed renting for four and a half years, after which my landlady told me she wanted to sell and I had a week to get out. I got a solicitor and told her this was not legal, and got my accountant to help with a mortgage advisor, and we got me a house.
Yes, I should have gone sooner, but that house suited me. And it took me the time to build up business cred and personal creditworthiness.
(Clare O'Beara 8:58am May 30, 2013)
I made the mistake of enabling someone by giving them money. I regret it
to this day.
(Susan Falkler 10:21am May 30, 2013)
I still have some mistakes I should fix.
(Wilma Frana 10:28am May 30, 2013)
I think that the biggest of not serious but upsetting mistakes, is saying something that you feel but should have kept inside. It is usually repairable, but sometimes people don't forget as easily as you would like them to.

Would love to win the book. Thank you.
(Cynthia Blain 10:43am May 30, 2013)
Bad Boy turned good. Love the sound of that. Miracles do happen. He sounds like a great character.
(Christina Keach 11:24am May 30, 2013)
Another book I need to read. Sounds good. Would love to win a copy.
(Cathy Thomas 12:56pm May 30, 2013)
Sounds like another tbr book.
(Cathy Thomas 2:30pm May 30, 2013)
Oops I think I commented twice. I'm sorry.
(Cathy Thomas 2:31pm May 30, 2013)
love the cover the book sounds really good
(Denise Smith 5:42pm May 30, 2013)
I have had a fallout with a friend that was so silly, it took about 10 years and then when we reconnected we wondered why we had let a silly fight keep us from speaking. I am trying now to say what I feel and really not sweat the small stuff because it really doesn't matter.
(Darci Paice 10:02pm May 30, 2013)
i guess it is the most common mistake..say things that you should not made..have to work hard to earn people respect back...learn how to bite your tongue
(Kimberly Hoefs 11:26pm May 30, 2013)
I just turned 18 the legal age for anything I signed to be true and valid. Walked in one of these stores that are book clubs (used to be at least one book a quarter for big money) and before I knew I signed a contract. Totally stunned I walked out the store and said to my mom "I just did something absolutely stupid!". She said it happened to my older (and wiser ;) ) brother as well, so we went home and she showed me the legal and expensive way to get out of a contract (within the cooling period).
(Manuela Harris 8:07am May 31, 2013)
I think my fixable mistake would be getting in over my head
financially..more than once:-( better now but it took time.
(Tamara Peterson 9:44am May 31, 2013)
i blew a fuse on the car and replaced it
(Kent Cook 10:13am May 31, 2013)
I had something happen that I tried to fix but the other person didn't want to try as hard as I did. So for that situation, I was flexible and tried, but she didn't. It was a learning experience for sure.
(Cynthia Blain 5:05pm May 31, 2013)
Sounds like a great book.
(Debi Little 5:26pm May 31, 2013)
I've definitely made a few mistakes in my life, and worked hard to correct them
or make up for them, whichever I needed to do. One of the mistakes I made was
getting married young, and trusting that my husband would stay the person I
thought he was. Fortunately, I was able to fix that mistake by ending the
marriage, which was better for me, my son and my ex.
(Barbara Elness 6:10pm May 31, 2013)
Cover looks great! I would love to win!
(Courteney Moore 7:11pm May 31, 2013)
I've made the mistake of accepting being treated like a nobody by someone who
was supposed to be my best friend. Since then, I have ended the friendship after
a lot of heartache, but I am now a stronger person because of it.
(Hyunjin Jeon 3:28am June 1, 2013)
Everyone deserves a second chance, can't wait to read your book.
(Mary Smith 5:31am June 1, 2013)
My biggest mistake was thinking I could fix my ex by proving that not all women are evil. I spent eleven years trying to do just that before I couldn't sacrifice anymore of myself for the sake of my children and me. I wish that I had realized then that I wasn't a miracle worker and couldn't fix someone so broken. The good news is that I got two wonder children out of the bargain and a wisdom that has proven priceless when dealing with people, to never allow someone to take more than they are willing to give, no matter what their baggage is.
Good luck and happy writing!
(Tracie Travis 7:31am June 1, 2013)
Love that cover...can't wait to read the book!
(Bonnie Capuano 8:28am June 1, 2013)
I've made a lot of mistakes. They made me stronger & wiser
though.
(Mary Preston 8:31am June 1, 2013)
I'm a very open person and tend to tell people too much. It drives my kids crazy!
(Sue Galuska 10:07am June 1, 2013)
Sometimes they slap us in the face but good or bad they teach us to do better, to be better, to not follow that road! I think your books sound fab!
(Darci Paice 2:44pm June 1, 2013)
I tried to become a nicer person to my husband and children, and more attentive to my mother - after years and years of allowing her to be horrible to me and to my family. Being nicer to her has not eased the disparities in treatment of her grandchildren, but I am standing my ground as their mother, and she has eased back in her remarks, at least.
(Beth Fuller 3:12pm June 1, 2013)
I MADE SOME MISTAKES AND IT MADE ME A BETTER AND STRONGER
PERSON.
(Shelly Caggiano 4:54pm June 1, 2013)
i still trying to fix some mistakes
(Debbi Shaw 10:42pm June 1, 2013)
Registered users may leave comments.
Log in or register now!