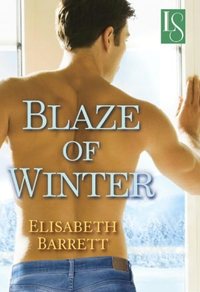 Purchase
Loveswept
September 2012
On Sale: September 10, 2012
ISBN: 0345534344
EAN: 9780345534347
Kindle: B007MDK40E
e-Book
Add to Wish List

Winter heats up in this hot new Star Harbor romance, as another sexy Grayson brother, a wickedly handsome writer, plots his happily ever after with a sweet stranger.

Frustrated with her job in Boston, social worker Avery Newbridge welcomes the opportunity to reassess her life when family asks her to help manage the Star Harbor Inn. Trying to figure out her future is overwhelming enough, but she doesn't count on distraction in the form of one Theo Grayson, the gorgeous, green-eyed author who she knows is trouble from the moment he saunters into the inn.

Not only does he have a talent for writing swashbuckling adventures, but Theo also has a soft spot for big-hearted damsels in distress, especially a woman who's great at helping everyone—except herself. Avery's demons challenge him, but for desire this hot, he isn't backing down. With every kiss and heated whisper Theo promises her his heart . . . if only Avery is willing to open up and accept it.
Includes a special message from the editor, as well as excerpts from these Loveswept titles: Deep Autumn Heat, Callie's Cowboy, and About Last Night.
Comments
21 comments posted.
Re: Blaze of Winter

"No" is another word that we have to learn to say as we grow older.
Blessings,
Marjorie
(Marjorie Carmony 6:06am September 17, 2012)
This looks good. One more for my must read pile.
Cathy
cathyann40@yahoo.com
(Cathy Thomas 8:24am September 17, 2012)
It is good to know who you can count on when needed and sometimes some people suprise you with how generous they can be with their time and support.
(Barbara Hanson 8:26am September 17, 2012)
A must read.
(Kathy Fowler 9:36am September 17, 2012)
You never know who's out there unless you ask. But I agree with Marjorie, there comes a time when you have to say no because you are the one needing instead.
(P Noda 9:55am September 17, 2012)
I try to plan so I don't need major help, like having renter's insurance and a health plan with a savings account so I can save to cover my cobra payments if I ever lose my job. When I do ask for help, I defintiely try to reciprocate.
(Anne Muller 10:33am September 17, 2012)
I like to win the books. That is how I find new author. I
love to read.
(Judy Ferguson 10:42am September 17, 2012)
I've been stranded and had to call a friend for a ride. I reciprocated by making dinner. Everyone needs a hand with something sometimes.
(Sandy Giden 10:52am September 17, 2012)
I've had to ask for help before and it was a difficult thing to do. I think it definitely humbles us but also makes us want to give back in response. Thanks for the wonderful blog and change to win!
(Michele Hayes 10:55am September 17, 2012)
I don't mind asking my husband for help, but anyone else, I
just don't want to put them out. Of course, nobody seems to
have the same trouble when it comes to asking me for help.
And NO isn't a word I tend to use.

I would love to win a copy of your book. Thank you
(Ashley C 11:04am September 17, 2012)
Hi
I have had to ask for help and I was lucky to have those
around me that were happy to help. I love that about
friends and family.

Thanks for the giveaway - I read the first book in the
series and loved it.
(Pam Brewer 11:07am September 17, 2012)
I have always had friends and family to rely on for help...I
am very thankful for them. I find it hard to ask but easy to
give help to others. Thanks for the giveaway.
(Mary Hay 11:38am September 17, 2012)
I am that way to a certain extent. I don't think I am Superwoman, far from it actually. But I do know when to ask for help when it is needed. Usually though I am the one who is asked for help.
(Angelina Daniels-Shaw 1:06pm September 17, 2012)
YES, AND IT FELT REALLY GOOD TO ASK FOR HELP.
(Shelly Caggiano 3:37pm September 17, 2012)
Yes..But it was a really hard thing to do..After I asked for help and felt better knowing that they were there to help me..
(Tina Myers 3:55pm September 17, 2012)
I am a military spouse so there are a lot of times I have had to ask for help! But I have a wonderful military family that I would do anything for and they would do anything to help me! It makes the crazy times better! :)
(Stacy Wright 3:56pm September 17, 2012)
It has always been hard for me to ask for help. My parents are so traditional that if you ask them for help, they own you with all these terms and conditions that you lose your identity. That kind of agreement has pre-procussion that could really messes you up especially when you just a kid.
(Kai Wong 6:41pm September 17, 2012)
Hey, everyone. Thanks so much for the great comments and kind words.

Yes, asking for help is really hard for me, and I don't know why, since like many of you, I have a hard time saying, "no." It's gotten easier as I've gotten older.

Also, as many of you have mentioned, getting help and reciprocating is wonderful. But getting help with strings attached is really tough for me to swallow, and for those who've had to deal with that kind of situation, I'm sorry.
(Elisabeth Barrett 8:13pm September 17, 2012)
Sounds like a great read. Sure wish I could win it. Thanks.
(Linda Hall 9:12pm September 17, 2012)
i did it when i was in school i am delexia and i write back wed all the time and then the professor trued t get me do it better but did not happen so i have to use the spell check when i do reviews etc
(Desiree Reilly 11:13pm September 17, 2012)
Yes, loading two Thoroughbred horses into a horsebox that did not want to leave their field and go somewhere else (to a retirement field which was even nicer, but they didn't know.)
Luckily my boyfriend, now husband, had done a little riding and was able to help handle them.
I never mind asking for help because I freely give help to people who need it, holding doors, helping lift trollies off trains, filling petrol for people in wheelchairs to save them getting out of the car, offering lifts. This does not make me anything special, it is just because I was a Girl Guide and was well brought up. So fair is fair.
- Clare
(Clare O'Beara 7:41am September 18, 2012)
Registered users may leave comments.
Log in or register now!