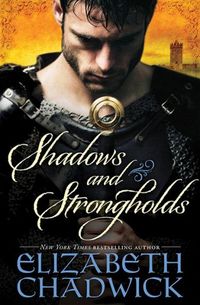 Purchase
Sourcebooks
March 2013
On Sale: March 1, 2013
Featuring: Brunin FitzWarin
544 pages
ISBN: 1402274599
EAN: 9781402274596
Kindle: B00A2XV4BE
Paperback / e-Book
Add to Wish List

Ten-year-old Brunin FitzWarin is an awkward misfit in his own family. As an act of encouragement, his father sends him to be fostered as a knight in the household of Joscelin, Lord of Ludlow. Here he meets the lord's youngest daughter, Hawise, and a strong friendship is formed.
When Brunin aids his lord in supporting Prince Henry in his battle against King Stephen for the English crown, his own land comes under threat. As the war for the crown and the land rages, Brunin must defeat the shadows of his childhood and put to use all he has learned, confronting his future head on.
Comments
38 comments posted.
Seems like everywhere I have ever lived. I lived on what was once part of the Civil War Battlefield near Harper's Ferry - which is an amazing town. I also have visited Cassadaga - a town filled only with mediums and spiritualists. I am planning a Sedona trip later this year.
(Carla Carlson 12:08pm March 21, 2013)
I visited Gettsyburg and Id love to go back again. To walk thru the battlefield and see all the monuments left a life long impression on me. The new museum was also such an interesting trip and we did not leave that area not feeling affected by all we saw.
(Julie Parrish 12:09pm March 21, 2013)
I've always held a fascination for old buildings. Not just any building, but lighthouses, and buildings of significance. I did get a chance to visit a castle once, but didn't get any "feelings" from it, the way I normally would. However, there was this particular lighthouse that I had the chance to visit. When I first saw it from the outside, it had called to me, and I told my Husband that I had to see the inside of it. He patiently waited outside with our dog, while I did just that, and I picked up the most amazing "presence" while inside of there. In the meantime, the women who were working on the inside of the lighthouse, motioned to my Husband to come inside with our dog, and to take a tour of the lighthouse. They said that they would watch the dog for him while he walked around. After he found me, and we walked back to thank them, they showed us a photograph of the original keeper of the lighthouse. He had a dog who looked exactly like our dog!! I must tell you that I adore reading anything that has to do with this period of English History, and would love to read this book!! I find it fascinating, and this particular part of History is beyond comprehension!! I can only imagine what they went through during this period, and am dying to find out what happened!! Thank you for keeping History alive, so that others will know what happened.
(Peggy Roberson 12:12pm March 21, 2013)
I'd have to go with The Grand Canyon. Would like to go back again sometime.
(Sandy Giden 1:05pm March 21, 2013)
You're describing the period of the Cadfael mysteries, and the marvellous book The Pillars of the Earth.
A hugely turbulent time.
I've visited many ancient sites from Newgrange and Stonehenge onwards, including the last home of the Neanderthals at Gibraltar. But no, I don't feel a presence there - yet! maybe I will.
(Clare O'Beara 1:18pm March 21, 2013)
I visited Casa Loma, in Toronto, Canada several years back and its one of the places that
I still think about today. When I walked through the rooms and saw all the furniture, and
just being in the very essence of the castle, it felt strangely comforting. I thought,
this here is where someone, or some people use to live. They use to laugh and play here.
You can feel echos of life that use to be. I love visiting old places.
(Lazydrag0n Puff 2:21pm March 21, 2013)
I love, love historical reads and all genre's. But your book hits the spot for me!! Would love to read it!

Joanne
(Joanne Bozik 2:29pm March 21, 2013)
My husband and I visited Glencoe in 1983, and it still resonates with me to this day.
(Janie McGaugh 4:06pm March 21, 2013)
I love old buildings, I think they are so neat. Would love to win.
(Amy Milne 5:58pm March 21, 2013)
Took a leisurely tour of the Notre Dame de Bonsecours Chapel in Vieux Montreal a couple of summers ago. Amazing, mystifying, sweet place it was,...i'm sure i'm not the only one who felt very "tuned in" to its spirits of the past.
(Kristie Jacobs 6:02pm March 21, 2013)
What a fascinating book! I enjoyed the historical background information. Thanks for sharing.
The Gettysburg battlefield had a very emotional impact on me. The Civil War was a very interesting part of our history.
(Bonnie H 6:56pm March 21, 2013)
I visited the Great Wall of China and heard the history of the manpower it took to build it and what it takes to maintain it in a manner true to its original construction. This history of this ancient country, and viewing some of its oldest parts really made me realize how young our country and our heritage here in the USA really is, and it made me more determined to learn about the history of America and how our nation developed.
(Donna Holmberg 9:02pm March 21, 2013)
,.looks good
(Kent Cook 9:15pm March 21, 2013)
The only place I felt the presence of someone not there happened to be in an apartment in Buffalo that I lived imn for about five months. Believe me it was an eerie feeling. I look forward to reading the book Shadows and Strongholds mostly because I like scottish/english roamnce stories.
(Vivian Jackson 9:19pm March 21, 2013)
I have only been to old Mexico and not England or Ireland
yet. Someday, I pray that I can visit those beautiful
places. I love Mazatlan Mexico that is close to the ocean
and I loved swimming in the pools with the spanish bands
playing close by. There are beautiful old churches in
Morilla and Mexico City and Guadalajara too. Thanks for the
fantastic contest. Thanks, Cecilia CECE
(Cecilia Dunbar Hernandez 10:54pm March 21, 2013)
I would love to go see the castles in Scotland. Thanks for a chance to win.
(Linda Hall 12:04pm March 22, 2013)
Is it hard to maintain historical accuracy?
(Diane Pollock 3:23am March 22, 2013)
About twenty years ago I visited Alcatraz Island in San Francisco and the eerie feeling remains with me today. I don't believe in ghosts but the place made me feel creepy but not at all threatened. A lot of things must have happened there when the federal prison was in operation. It was a wonderful experience and they still give tours so if you have a chance to visit, don't miss it.
(Kathleen Yohanna 4:53am March 22, 2013)
it has to be the national catherdral. The place is serene yet alive with its spirit it resonates.
(Lisa Fitzgibbons 6:09am March 22, 2013)
As much as I enjoy all my modern luxuries I would love to have a chance to go back in time and experience the era...with a fast pass to return to modern times!
(Tracie Travis 6:31am March 22, 2013)
I remember visiting Fort Abraham Lincoln as a child. I remember laughing with my brothers all day.
(Laura Gullickson 7:00am March 22, 2013)
Well, I plan to visit New Orleans next month so hopefully I will get that there. Also, I visit St. Augustine often and it is filled with the "oldest" this and that. Soemtimes I can creep myself out thinking too much about it. Thanks for the giveaway!
(Sally Hannoush 7:44am March 22, 2013)
Went to Ireland years ago and still remember the castles.
(Kathy Sullivan 8:38am March 22, 2013)
When I visited Rome it surpassed what I expected. Historic,
fascinating ans wonderful.
(Sharon Berger 9:55am March 22, 2013)
It would have to be Bryce Canyon...it is truly beautiful and reminds me of the beauty God has given us.
(Bonnie Capuano 10:25am March 22, 2013)
The one place I've visited that I felt a presence is by the ocean. The beauty and the peace lift me up and of course it brings to mind the past ... of tall ships sailing to new worlds and adventure... I would love to have sailed.
(Annetta Sweetko 10:32am March 22, 2013)
I went to Ireland with my marching band in 2006 and we got
to go sight seeing. There were two places that really stuck
with me. The first was the library at Trinity College (go
figure). It was like walking into the library from Beauty
and the Beast. I stood there in shock and wonder for about
a minute.

The second was Glendalough. It is a small monastery that
has one of three remaining, intact spires. The grounds are
absolutely beautiful and SO GREEN! It was wonderful.
(Karin Anderson 10:32am March 22, 2013)
I love visiting historical places - wherever I go. I always just love to stand still for a few moments and FEEL the essence of the place. It's always a powerful memory I take away with me. Your book sounds wonderful - thanks for a chance to win. Best of luck with all you do.
(Nancy Reynolds 10:54am March 22, 2013)
i loved visiting the fountain of youth. a wonderful place in florida. want to go
back again
(Debbi Shaw 11:08am March 22, 2013)
Mountains are absolutely my spiritual center -- my family's
from Appalachia, and I now live in NC: its old, old hills are
full of spirit(s):D! But the ley lines and sacred sites in
Sedona are unforgettable -- not to be missed: there's no other
place the light is the same.
(Kim Burton 12:32pm March 22, 2013)
I visited France several years ago. One of the things I
have always wanted to do is visit the castles in the Loire
river valley. It was a memorable experience and I loved the
beauty and architecture of the castles we visited. Getting
a glimpse into the lives of those who lived centuries
earlier was really amazing!
(Marguerite Guinn 12:55pm March 22, 2013)
timmins,Canada nice place to fish.
(Kent Cook 1:44pm March 22, 2013)
I would love to go to Ireland and explore all the splendor and beauty it offers.
(Sandie White 2:00pm March 22, 2013)
Love historical books especially if the setting is somewhere I
have been or would love to visit.
(Amanda Ray 4:56pm March 22, 2013)
It would be the Sistine Chapel. Although it is always crowded there, I almost could feel that Michelangelo was still there. The strongest feeling was at the Vatican City where Paul was crucified upside down. It did freak me out that I felt a presence there and it was kind of weird to feel something on Holy Ground.
(Kai Wong 10:05pm March 22, 2013)
i would love to win your book as your books sounds great ...thanks for the chance
(Kimberly Hoefs 10:24pm March 22, 2013)
We took our children on the Mission Trail that includes
the Alamo in San Antonio, Texas when they were quite
young. I almost passed out in the Chapel area from the presence, sounds, and voices that I, but no one else,
experienced.
(Patricia Cochran 11:00pm March 22, 2013)
I'm so ~EXCITED~ to read this!
(Kim Burton 1:52pm April 12, 2013)
Registered users may leave comments.
Log in or register now!