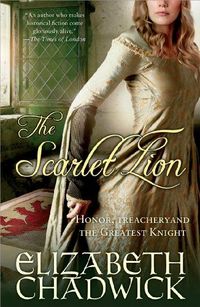 Purchase
Sourcebooks Landmark
March 2010
On Sale: March 1, 2010
576 pages
ISBN: 1402229992
EAN: 9781402229992
Trade Size
Add to Wish List

A page-turning novel of honor, intrigue, treachery, and love, continuing the story of England's greatest knight of the Middle Ages, William Marshal. Bestselling author Elizabeth Chadwick, "an author who makes historical fiction come gloriously alive" (The Times of London), is known as a writer of uncommon historical integrity and accuracy.
By 1197 William Marshal's prowess with a sword and loyalty with his heart have been rewarded by the hand in marriage of Isabelle de Clare—heiress to great estates— and their brood is growing. But their contentment and security is shattered when King Richard dies. Forced down a precarious path by the royal injustices of the vindictive King John, the Marshals teeter on a razor-thin line of honor that threatens to tear apart the very heart of their family.
Comments
42 comments posted.
Re: The Scarlet Lion

I have been reading your books fOR A LONG TIME AND i JUST LOVE YOUR WRITING LOOKING forward to scarlet lion. donna
(Donna Saltzman 6:41pm February 8, 2010)
I love historical fiction. This one sounds like it will be fun to read.
(Alyn Yang 5:01pm February 10, 2010)
I love the cover - its beautiful and the story sounds great too!
(Jennifer Rayment 2:02pm February 11, 2010)
The Scarlet Lion sounds like a great story.
Blessings,
Marjorie
(Marjorie Carmony 5:53pm February 11, 2010)
Wow! This looks like an amazing story. Do you have to research extensively when your writing these types of stories?
(Jane Lange 12:47pm February 12, 2010)
I think that is so funny to have a sound track to a book. My thing is though when I start reading a good book I do not hear a thing. I have no soundtracks to my life. Maybe nature sounds.
(Tonya Atchley 5:40pm March 8, 2010)
I have to agree with the earlier post.
Music does not play a part to my reading
experience.
(Jung Ja Ahn 1:08am March 11, 2010)
I can only listen to soft classical music in the background if I'm reading. As far as a soundtrack to my life...there really isn't one because I have pretty eclictic taste in music though I do lean towards American Classics more than anything else
(Maria Durst 8:51am March 11, 2010)
I think a sound track is a interesting concept and would be open to listening to it while I read.
(Sherry Russell 9:51am March 11, 2010)
Music is definitely a mood changer/enhancer.
(Shannon Scott 10:56am March 11, 2010)
How unique, I have never heard of a sound track for a book. The book sounds very interesting.
(Barbara Hanson 11:17am March 11, 2010)
Love the cover
(Catherine Myers 11:54am March 11, 2010)
I don't like any noise when I am reading. I want the room quite, but when I am in the car I have to have my music!
(Gail Hurt 11:59am March 11, 2010)
I always have a soundtrack playing in my head when I am playing sports. I have to get into the proper mind set and that works every time!
(Erica Paczesny 12:08pm March 11, 2010)
Music works for me no matter what project I am involved in.
Thanks!
Blessings,
Marjorie
(Marjorie Carmony 12:19pm March 11, 2010)
To me music is great for many moods... so I can see how it would fit as a soundtrack for a book... thanks for an interesting post!
(Colleen Conklin 12:24pm March 11, 2010)
God and Music make my day beautiful and blessed each and every day I wake up! Please enter me in your great contest.
Thanks and God bless you,
Cecilia Dunbar Hernandez
[email protected]
(Cecilia Dunbar Hernandez 12:33pm March 11, 2010)
What a creative way to think through your writing! That's great! And EVERYONE should love Meatloaf!
ps - I've been known to read and sing at the same time!
(Kelli Jo Calvert 12:40pm March 11, 2010)
Soundtrack to a book. That's a great idea. I always have soft music playing in the background when I read.
(Kai Wong 12:59pm March 11, 2010)
i cannot wait to read (hear)this
(Debbi Shaw 1:12pm March 11, 2010)
I can't really say I have a soundtrack for my life, but I sure enjoyed reading about your book music. Your book sounds interesting and the cover is beautiful. Thanks for visiting.
(G S Moch 1:29pm March 11, 2010)
Sounds like a great book. I have never heard of a soundtrack to a book before. I love to listen to music, if there is no music I tend to find myself singing or humming something.
(Rebekah Elrod 1:32pm March 11, 2010)
I actually find playing music while reading distracting so I don't usually do that. I have heard of other authors putting together a soundtrack to their books and if they are able to concentrate to do that then more power to them and to you as well.
(Cherie Japp 2:18pm March 11, 2010)
Oh definitely, I have songs to the soundtrack of my life. Certain songs take me to a certain event and time. Of course, when "our" song plays, I remind my husband that it is our song. He always gives me the bewildered look.
(Phyllis Lamken 2:35pm March 11, 2010)
I don't know if I have a soundtrack to my life so to speak, but I have heard a song or watched a video and instantly got an idea for a story to write or it gave me the mood that I wanted to place in a particular scene. Since I'm just a piddly writer (doing it for myself and family members) it's pretty cool to see that a great author does that too!!
(Halona Skaggs 2:45pm March 11, 2010)
I've heard of a few authors who make up a soundtract for their books. I think it's a neat idea.

For my own life? Well, I've never really thought about, but I think it's something worth exploring.

Valerie
in Germany
(Valerie Bongards 3:49pm March 11, 2010)
I always have soft music playing while I read. It just sets the mood to pass a few delicious reading hours.
(Rosemary Simm 6:30pm March 11, 2010)
I enjoy listening to music while I read. It'd be interesting to listen to music specifically for a book. That might make it more exciting. I like the idea.
(Heather Minor 6:39pm March 11, 2010)
No soundtrack here. When I read I read.
(Mary Preston 6:56pm March 11, 2010)
Congrats on the new release, Elizabeth. There are certain songs that I identify with and they're mostly by U2 and Coldplay.
(Jane Cheung 7:22pm March 11, 2010)
I can't wait to read the new book.
(Heather Minor 8:01pm March 11, 2010)
I do listen to music when I read. When I think back I do associate some of the best books I have ever read remind me of a song.
(Danelle Drake 9:04pm March 11, 2010)
I had never considered music as playing a part in writing. I do get songs in my mind and find it almost impossible to get rid of them at times, but I don't believe I do this while reading. I concentrate on what I am reading However, to each his own. Whatever works for you.
(Gladys Paradowski 9:16pm March 11, 2010)
Hope to win.
(Deb Pelletier 9:28pm March 11, 2010)
It wouldn't do any good to play music while I'm reading...I tune everything and everybody out. It almost takes someone yelling at me to get my attention...and a great irriation to my family. Hehehe. But I do think a sound track for a book is a great idea...just like soundtracks for movies.
(Mitzi Hinkey 9:42pm March 11, 2010)
I really enjoy music, but I can't really
enjoy reading with background vocals.
If instrumental music is playing, that's
a different story. While driving, I do
enjoy listening to albums rather than
random songs.
(Molly Wilsbacher 10:52pm March 11, 2010)
I hope to win! Please include me in the drawing!
(Brenda Rupp 11:18pm March 11, 2010)
I actually used to read in the noisy cafeteria in high school right at the peak of lunch time. Now I "need" (well, more like I work better with) music in order to organise my brain. It motivates me, yet the words don't distract me. I can't really explain it, but even when I read, having music will make the experience more immersive. Go figure.

As for a soundtrack to a book... I'm a writer myself (er, unpublished as of yet) and I do use music to help me focus on certain moods or central themes, or to discover a character's drive. Music will surreptitiously nudge me towards writing something in the story or about its people that I might not have thought of before.
(Alexina Paiement 11:34pm March 11, 2010)
I know of several writers who like to write to their own soundtrack. I find that intriguing, especially since for the last 15 years or so I've been very "noise" sensitive and sadly that includes music of any kind. I used to love listening to classical music, i.e., composers like Beethoven, Brahms and Tchaikovsky, not classical pop or rock and roll. I keep hoping that I'll get back my love or music, but I haven't yet clicked again.

Of course, medieval music would go best with the books of yours that I have.
(Sigrun Schulz 11:49pm March 11, 2010)
No music for me, unless it's
in my head. When I'm reading,
everything else around me
blurs. If it doesn't, then
that book gets replaced with
one that takes me away.
(Lisa Richards 4:12pm March 12, 2010)
I'm a Meatloaf fan, too.
(Marlene Breakfield 4:26pm March 12, 2010)
For me it would apcolyptic music, but following pandemics is my hobby. So I guess you could call me exentric.
debp
[email protected]
(Debbie Penny 3:39pm March 31, 2010)
Registered users may leave comments.
Log in or register now!