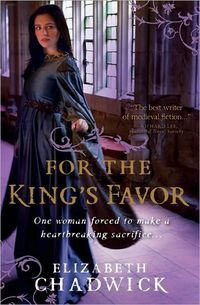 Purchase
Sourcebooks Landmark
September 2010
On Sale: September 1, 2010
Featuring: Roger Bigod; Ida de Tosney
560 pages
ISBN: 1402244495
EAN: 9781402244490
Trade Size
Add to Wish List

When Roger Bigod, heir to the powerful earldom of Norfolk, arrives at court to settle a bitter inheritance, he meets Ida de Tosney, young mistress to King Henry II. in Roger, Ida sees a chance of lasting love, but their decision to marry carries an agonizing price.
Comments
31 comments posted.
I am looking forward to reading this book. I love historical novels, that are based on real people, they are the best books to read. And this book, look like it will be really interesting :)
(Aimee Robison 1:14am September 22, 2010)
It must be quite the balancing act to write accurately about historical figures but make them people we want to read about and care about today.
(Maureen Emmons 6:32am September 22, 2010)
I can't even imagine the amount of research this must take to write a book of this caliber. The cover is just gorgeous and I would love to read the story. Thanks for the contest.
(Karen Gervasi 11:11am September 22, 2010)
My favorite romance novels are those that are linked to historical figures. They don't necessarily have to be a main character but to me it brings realism to the story. I don't mind if occasionally there is a disclaimer at the end when historical facts, i.e. inventions, etc., may be slightly off the actual date as long as the author brings it to the readers attention. I enjoy your stories because knowing facts about the people, politics and values of the time let's us understand the characters points of view.
(Jeanne Miro 1:23pm September 22, 2010)
Your book "For The King's Favor" sounds very intriguing. I've always found the time period of Henry II and his wife Eleanor of Aquataine to be fascinating and that of their children. I'm very curious as to what you've written about him. I love historical fiction because it is the past yet we know that these people had to experience the same emotions that we do today.
(Maria Durst 2:14pm September 22, 2010)
Showing how much you go through to write your books not only shows love of your characters, but also reverence for them. Love them or hate them for what they did, they still deserve a bit of respect for their title, and you showed it by going through such painful research. Your latest book sounds like it will tear at the heartstrings, and I can't wait to read it!! I'm sure it will be wonderful.
(Peggy Roberson 2:32pm September 22, 2010)
must people have some kind of opinion about what and who people are with straight fantasy you can almost just let yourself believe if the stories well constructed. :)
(April Strength 2:35pm September 22, 2010)
I love historical novels about real people. Especially in English history as I'm a Brit...hehe!!

I can imagine the research is fascinating, I think I would get all caught up in that and never get writing...how do you manage that?

Valerie
in Germany
(Valerie Bongards 2:38pm September 22, 2010)
The Cons,too much detail can be boring.Like all the kings relatives ect.. The Pros,getting to know the main characters.This book sounds interesting.
(Deb Pelletier 3:17pm September 22, 2010)
Is all that research fun? I know it's informative and I, for one, can spend hours looking things up online or in a library. Still, it's different when it's for work.

I enjoy reading real people or events in a novel; it adds realism and makes me appreciate the author's research.
(S Tieh 3:28pm September 22, 2010)
Historical novels are my favorite. Fact and fiction intertwined.
Blessings,
Marjorie
(Marjorie Carmony 3:43pm September 22, 2010)
Writing historical fiction cannot be an easy thing, with all the research that is involved in producing an authentic story for the time period. But when the author ties fiction together with fact, it makes for a very stimulating read.
(Aimee Robison 3:51pm September 22, 2010)
I love historical romances, as a mater of fact it's my favorite type of fiction. I'm looking forward to reading this book.
(Joyce Bruner 4:16pm September 22, 2010)
I look forward to reading this book.
(Sharon Engel 4:34pm September 22, 2010)
I too love historical novels. I'm always impressed with a writer how takes real people and writes a story about them.
(Maude Allen 5:28pm September 22, 2010)
History is alive & well. I can never understand why people find history 'dry'. It is vibrant & full of fascinating people. I can't wait to read FOR THE KING'S FAVOR.
(Mary Preston 6:16pm September 22, 2010)
I also love historical romance but think that it would be hard to wright about real people becouse how do you get their personality just perfect? I'm looking forward to reading you book it sounds good.
(Vickie Hightower 7:05pm September 22, 2010)
I consider reading historical romances my favorite hobby. Your book sounds wonderful!
(Pamela Stewart 8:11pm September 22, 2010)
I just happened to be one of these people who would read a historical romances and look it up to see if the history of events and the real famous people are accurate. Whenever I read a fiction book, I expected to learn something from it.

Looking forward in reading your book.
(Kai Wong 8:44pm September 22, 2010)
Lately I've found that I really enjoy reading about real people in the romance novels. Your book sounds great.
(Brenda Rupp 8:45pm September 22, 2010)
I started reading historical novels last year. I haven't read any of your books so I'm looking forward to reading your new book.
(Melissa Rice 9:35pm September 22, 2010)
Really love to read historical fiction about real people.Looking forward to reading For the King's Favor. Thanks for the contest!
(Teresa Ward 10:10pm September 22, 2010)
I very much appreciate your attention
to detail and accuracy. I choose
historical fiction to read because I
want to learn something about the
time and people as well as have a
story to read. The details are
important. Part of the reason I read
historicals is to learn something. If
the author can't take the time to make
sure he or she is correct in the details,
there will be a lot of misinformed
people out there.
(Patricia Barraclough 12:31pm September 23, 2010)
imho the decision to marry always carries a price...
(Debbi Shaw 11:39am September 23, 2010)
I like historical fiction, mostly older history though. It works better in my opinion.
(Pam Howell 12:23pm September 23, 2010)
I really enjoy reading historical romances. It's interesting to read about other times and places.
(Cheryl Lynne 1:17pm September 23, 2010)
I always wonder how accurate some of the historical fiction really is--and I like to hear that you approach writing with as much acuracy as possible.
(Sue Farrell 3:26pm September 23, 2010)
I also like to be able to associate Historical Fiction with real places. It more realistic that way Thank you for the great books your write
(Cj Swier 4:26pm September 23, 2010)
Sounds like a great read, love historical romance
(Sheila True 10:34pm September 23, 2010)
I love to read Historical romances.Thanks for giving me a Chance to win it.
(Linda Hall 11:56pm September 23, 2010)
Having people you know in your writing is tricky, because they seem to only want to pay attention to their assets, yet it's the conflicts and struggles that move the plot along with some kindof action. I do like historical fiction.
(Alyson Widen 3:54pm September 24, 2010)
Registered users may leave comments.
Log in or register now!