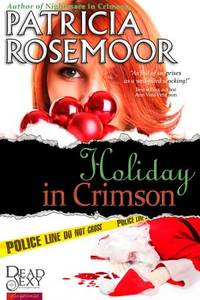 Purchase
Entangled
November 2012
On Sale: November 13, 2012
Featuring: Shelby Corbin; Rand McNabb
ISBN: 0015728730
EAN: 2940015728736
Kindle: B00AAK28JQ
e-Book
Add to Wish List

Westbrook Department Store's Christmas party wasn't that wild--until, that is, Santa ended up dead. Now window designer Shelby Corbin is the prime suspect in his murder, and the holidays are anything but festive. If Shelby doesn't figure out who killed Santa, she'll be ringing in the new year behind bars.
Westbrook's impossibly sexy co-owner and CEO Rand McNabb's romantic attentions both thrill and frighten Shelby. But is he really helping her search for the truth about that fatal night? Or does Rand have a deadlier motive for courting the only possible witness to the crime...?
Comments
50 comments posted.
love the cover and it sounds like a great read
(Kimberly Hoefs 12:18pm November 24, 2012)
Watching our girls (5 & 7 years old) on Christmas morning. They try to be so good and on their best behaviors and wear their "Itchy" clothes so grammy can take pictures. And then finally we let them tear into the gifts. We've taught them it's better to give than recieve, so they're so excited when other people open the gifts that they specifically picked out for them. Then after all the excitement and the big dinner, I love rocking them to sleep (they still let us) by the light of the Christmas tree.
(Joelle Beebe 7:20am November 24, 2012)
Wow, that's an interesting theme and cover! I suspect a dead Santa will attract a few Grinches as well as Christmas fans.
My husband and I love to go walking on the nearby beach outside Dublin city on Christmas Day and watch the windsurfers and kite surfers trying out all their new gear. They are kitted up in neoprene outfits so they don't feel the cold. We do and the sea looks very cold to me!
Another thing we like to do is to invite someone who would otherwise be alone that day to have dinner with us. One year we had a girl from Latvia who was in college with me to dinner and for a few days, as she was renting a flat. It is great to have company.
(Clare O'Beara 7:39am November 24, 2012)
Christmas is magical when we see the smiles on the faces of the elderly that we visit every year. We make small purchases throughout the year so that we can give these folks without family gifts. Their eyes light up with excitement when we arrive carrying gifts for all. This small gesture makes our holiday celebration truly magical.
(Beth Charette 7:54am November 24, 2012)
Christmas is always a joy because we have family around. This year, we have our first great grandchild. Next year will be even better with him because he is only 4 months old now.
(Linda Howell 9:47am November 24, 2012)
I'd love to read this book!!!
(Bonnie Capuano 9:47am November 24, 2012)
Sounds like a great read. Thanks for the chance to win.
(Mary Hay 10:19am November 24, 2012)
Thanks, Kimberly -- this is one of my favorite covers ever. It makes me smile every time I look at it.

Joelle -- I love the "itchy clothes" comment. :)

Clare -- I loved Dublin. My late husband and I spent ten days around Thanksgiving in Ireland in the mid-nineties. Of course when we got to Dublin and Temple Bar, it was raining. But rain couldn't spoil our mood. We had such a great holiday vacation!

Beth -- that sounds really great. I was my aunt's person when she had to be moved to a nursing home. So I know how important little things are to the elderly who don't have anyone to care for them.

Linda -- enjoy your new grandson!

Bonnie & Mary -- good luck!
(Patricia Rosemoor 10:30am November 24, 2012)
The sparkling lights and decorations, plus the music gets me
all excited! :) And it just wouldn't be the same without all
the beautifully wrapped presents and a cat climbing the
Christmas tree ;)
(Xandra James 11:25am November 24, 2012)
Hi, Patricia! I really liked the cover and the blurb for Holiday in Crimson. You are a new author for me, and this sounds like a must read.

I love the Christmas tree, presents under it, and all the family gathering for Christmas Eve and Christmas Day. I can remember one Christmas that my brother and I were searching for our Christmas presents and found them in a closet by the washer and dryer. We were so excited until we found out on Christmas that those were the only presents we were getting. Needless to say, it was a big letdown, and we never tried to snoop for presents after that. We didn't tell mom and dad about that until we were adults. Lol!
(Cathy Phillips 12:31pm November 24, 2012)
I,too, buy a special ornament each year. I already got the new one for 2012. It is a beautiful silver bell. Good luck on your new book and have a wonderful holiday season and a very special Christmas.
(Kathleen Yohanna 12:33pm November 24, 2012)
Sounds like a good book - thanks for the chance to win
(Nancy O'Brien 12:45pm November 24, 2012)
Xandra -- believe it or not, one of our radio stations has been playing non-stop Christmas music since the beginning of November!

Cathy -- I think all kids snoop before Christmas, trying to figure out what they're getting. And I'll bet most parents know it because they did it, too. Hope you like Holiday in Crimson.

Kathleen -- thanks for the good wishes. Happy Holidays to you, too.
(Patricia Rosemoor 12:48pm November 24, 2012)
My special memories are of watching the excitement and happiness on the faces of my young sons on Christmas morning.
(Anna Speed 12:49pm November 24, 2012)
Nancy, good luck! The prize is one of my backlist books.
(Patricia Rosemoor 12:50pm November 24, 2012)
What makes Christmas magic for me... the decorations, the music, the smiles on my family members faces when they open their gifts...
Happy Holidays!
(Colleen Conklin 1:04pm November 24, 2012)
Fun hearing how you integrated your experiences into the
book. I love making my own Christmas ornaments. I suppose I
started when the kids were young and cats used to climb the
tree and bat at the ornaments. I started making ones that
were less likely to break when they crashed to the floor. I
keep a Norfolk Pine in the living room all year round. It's
got lights I can turn on and ornaments that are painted and
decorated cardboard cats that the grandkids and I made.
Rebecca York
(Ruth Glick 1:15pm November 24, 2012)
Anna & Colleen -- I hope you have many such memories to come.

Ruth -- When I had my first apartment, I put my friends to work with glue and glitter and plain ornaments and got some really pretty ones. I still have a few that the cats didn't bat around and break :)
(Patricia Rosemoor 1:35pm November 24, 2012)
Really enjoyed reading your blog. All my special memories are around a time when all members of my family were here to celebrate.
(Sheila True 1:41pm November 24, 2012)
My grandchildren's happy faces, watching the grands
sing "Happy Birthday" to Baby Jesus, seeing the con-
gregation enjoy the sing-along at Midnight Mass!

My heart fills and overflows with the joy of the season!
(Patricia Cochran 1:44pm November 24, 2012)
Going back home is what makes Christmas magic to me. And seeing the nephews.
(Pam Howell 2:39pm November 24, 2012)
Going to visit Santa Claus with my Grsndfather.
(Mary C 3:17pm November 24, 2012)
LOVE YOUR BOOKS THEY ARE MARVELOUS. EXCELLENT GIVEAWAY LOVE TO
WIN....
(Shelly Caggiano 3:37pm November 24, 2012)
Family makes Christmas magic for me
(Cynthia St. Germain 4:16pm November 24, 2012)
Christmas is magic. Every Christmas eve Santa would visit with a bag full of toys for my cousins and I. It was the best that he choose to visit our home. Now I can pass this tradition on to my children.
(Victoria Kondovski 4:21pm November 24, 2012)
Sheila, Patricia, Pam and Cynthia - enjoy the holidays with your families!

Mary - I know I saw Santa because there's a photo of me at 2 or 3 on Santa's lap, but I don't know who brought me.

Victoria - one of my aunts was married to a twin. So the twins pulled a fast one on the kids. One would be Santa and the other one would take turns playing the two brothers. I figured it out but never knew which one was doing what. :)

Shelly - I'm so pleased you enjoy my books. Good luck!
(Patricia Rosemoor 5:55pm November 24, 2012)
What makes Christmas magical for me is being with family - and reminiscing about holiday adventures past! :-)
(Felicia Ciaudelli 6:00pm November 24, 2012)
Christmas is the magic you see in a child's eyes on Christmas morning.
(Diane Chenier 7:32pm November 24, 2012)
Being around family and friends makes Christmas magic for me
(Shirley Younger 7:37pm November 24, 2012)
i really enjoy creating a new christmas cookie every year. love the experimentation. just everything that leads up to the 25th puts me in the mood and i love it all.
(Julie Barett 7:40pm November 24, 2012)
Everything about Christmas is magic. Family is ALL.
(Mary Preston 7:44pm November 24, 2012)
Sounds like a great read. Thanks for the chance to win!
(Kathy Fowler 7:57pm November 24, 2012)
It was that one year when tragedy struck in the family during the Holiday. God has revealed himself that he exist. He kept his promise to me that my Mom will be OK. That was one Christmas that I will always remember.
(Kai Wong 8:04pm November 24, 2012)
I remember when my twin girls were little we went to the children's mass
with them. It was fun because all the children had bells and were allowed to
ring them during the service. They loved it and it was the best Christmas
Eve, since the children were all in such great moods, not tired and cranky.
(Ann Sheiring 8:15pm November 24, 2012)
Felicia, Diane, Shirley and Mary - I hope all the people you love are at your side on Christmas.

Kai - I'm glad your mom is okay, and I know that Christmas will always be in your heart.

Julie -- you just made me hungry for Christmas cookies. I used to do dozens and dozens and give them out as small gifts. Then I used to make several kind...and now I don't make them at all. How many points in one cookie???

Kathy - good luck!

Julie -
(Patricia Rosemoor 8:19pm November 24, 2012)
Ann -- this reminds me of the Unitarian church where I was married. They used to do a Christmas Eve program and hand out candles. So for part of the service, everyone in the church had a lit candle.
(Patricia Rosemoor 8:21pm November 24, 2012)
Christmas Eve services and spending time with family and
friends. This always warms my heart on Christmas.
(Cindy Olp 10:29pm November 24, 2012)
Like you (and Shelby), my husband and I had collected an electic array of ornaments over the past 25+ years. Those were added to ornaments that I had from childhood, many of them made by me. BUT, in April, we had a shed fire that destroyed EVERY single holiday item we owned--2 trees, lights, stockings, Christmas cards, ornaments, wreaths, etc. A lot of our traditions were wrapped up in those "things." Fortunately, we will still enjoy watching our favorite Christmas movie together--The Bishop's Wife with Cary Grant.
(Catherine Lee 10:34pm November 24, 2012)
My favorite Christmas memories are of my kids when they were really small waking up early to open presents from Santa. They are teenagers now and Christmas is not near as fun as it was when they were small. Thank for the giveaway, your book sounds really good!!!
(Christine Mead 11:30pm November 24, 2012)
Cindy, Catherine and Christine -- Happy Holidays and thanks for commenting. Catherine -- how awful all your holiday treasures are gone. Enjoy your movie with Cary Grant :)
(Patricia Rosemoor 1:24am November 25, 2012)
I collect thimbles and a while back Hallmark had a thimble ornament each
year that I collected. When the children were grown and on their own we got
a very small artificial tree and when we decorated it for the first time I
discovered I had just enough thimble ornaments to cover it. My husband gave
me a thimble shaped jigger to top our "Thimble Christmas Tree". The only
other ornament we use is a sleeping Baby Jesus on a curled wood shaving that
we put Front And Center. After all we would not have this holiday without
Him!
(Sandra Spilecki 8:56am November 25, 2012)
Each of our children received a Christmas ornament that recalled a special memory of the past year. Now our children have started that tradition with their children.
Fun to see and happy they enjoy a simple joy.
Patricia Pascale
(Patricia (Pat) Pascale 9:44am November 25, 2012)
It was our tradition to give our children an orniment for the Christmas tree that recalled something special that happened that year. A chef ornament, when our son had to take home economics; a ballet dancer when our daughter took ballet lessons. Now, married, they do the same with their children.
(Patricia (Pat) Pascale 10:18am November 25, 2012)
I have ornaments that my mother made for me---and my husband has ornaments that he made as a child----it's just wonderful to take them out each year and put them up.
(Sue Farrell 11:58am November 25, 2012)
Sandra --Your thimble Christmas tree sounds really neat.

Patricia and Sue -- love the ornaments that have memories :)
(Patricia Rosemoor 12:06pm November 25, 2012)
Our first Christmas after getting married is one we'll never forget. It was
during the Vietnam war and my husband was on a B-52 crew on Guam. I was
there, but leaving for his mom's with him scheduled to leave and be home by
Christmas. We were just getting ready to head out for dinner then have him
take me to the airport, when his pilot's wife showed up informing him all
crews were being recalled and restricted to the base. No dinner and a quick
good-bye. We did a quick gift exchange before he left - pearls for me and
the sales slip for a canoe for him. They started bombing Hanoi the next day.
His mom and I waited and worried as B-52's were being shot down.
Wonderful man that he is, he called every time to assure us it wasn't him. We
did get to celebrate Christmas when he got home in January. MY best
Christmas/birthday present ever.
(Patricia Barraclough 12:18pm November 25, 2012)
Usually Santa doesn't get into so much trouble. My favorite Christmas memory was the time mom decided our dinner would be at a park. We had New England Boiled Dinner in an empty Metropark and ate quickly with gloves on and you could see your breath. Food always tastes better outside.
(Alyson Widen 1:55pm November 25, 2012)
Patricia -- what a fascinating story. I'm sure it's a Christmas you'll never forget.

Alyson -- Sorry, but Santa gets into trouble with me again. NIGHTMARE IN CRIMSON will be published in early December. This time he gets run over by 8 tiny reindeer :) Okay, I'm horrible, I know. I'm laughing.
(Patricia Rosemoor 2:35pm November 25, 2012)
There were little scenes in hut like things ringing the court house square.
Kind of like the Macy windows. There was also a sleigh that Santa sat in.
This was when I was very small.
(Penny Mettert 9:05pm November 25, 2012)
Christmas has always been a joy to celebrate in my family . Togetherness with each other and the lord is always a blessing to celebrate
(Danielle McDonald 9:28am November 26, 2012)
Registered users may leave comments.
Log in or register now!