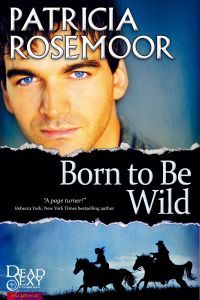 Purchase
Entangled
October 2012
On Sale: October 10, 2012
Featuring: Isabel Falcon; Micah Wild
ISBN: 0015598896
EAN: 2940015598896
Kindle: B009QNR2AI
e-Book
Add to Wish List

It's been twelve long years since Western rancher Micah Wild gave up all hope of being with his forbidden high school love—and the child they created together. When she tells him that their daughter has been kidnapped, they must reunite to convince their stubborn families to set aside a generations-long feud and help save their little girl.
As old emotions are churned up—and love is rediscovered—Micah doesn't know how he's survived without Isabel Falcon in his life. After so many years and painful betrayals, can he win her heart again, rescue their child, and find a way for them to finally become the loving family they should have been all along?
Comments
33 comments posted.
Re: Born To Be Wild

No scary stories but I broke my knee in an accident and the doctors don't want me to ride anymore. I was never as good a rider as you are but I sure enjoyed horses.
(Kathleen Yohanna 3:11am October 15, 2012)
wow what a great prize to win

only scary thing ive had to overcome was when I was 18 had a
rollerblading accident (was learning to rollerblade
progressing from skates) when another learner fell over
behind me and ON me and onto my knee and popped my ligament
and took many years to get it right
many years later (when i was now 34) I finally got back on
skates for the first time and was scared as hell and yes im
still only slow gliding ... but took alot to even get me ON
skates after what happened and still have nightmares of that
day then
(Rachael Kennedy 4:06am October 15, 2012)
No real scary stories but I sure would like to read this book.
(Bonnie Capuano 4:28am October 15, 2012)
My scariest story came about when my husband suffered a heart attack. Fortunately after open heart surgery and 5 bipasses he is doing quite well and has been able to return to his favorite activity....hiking.
I have not been fortunate enough to have read any of your books, but I know I would enjoy reading Born to be Wild.
(Beth Charette 8:06am October 15, 2012)
Kathleen, I can't speak to your injury, but just after I started riding, I had an accident (not riding) and needed major knee surgery -- this was right before arthroscopic surgery. When I asked the doctor when I could ride again, he didn't want to hear about it. But horse crazy as I was, I did anyway and he was shocked at my 6 month visit when I wasn't limping. He thought my knee was done. That took another 20some years. Yes, I did have a knee replacement. And now I want to ride again, but don't know if I will.

Rachel, I get your fear after an accident like that. It's the way I felt about getting back on a horse after that accident. But Suicide Hill gave me the courage to jump again :)

Bonnie -- glad you're interested in the book. Very exciting for me to start a new venture with Dead Sexy.

Beth -- been there, too, with my husband. Good for him that he's hiking again.
(Patricia Rosemoor 9:04am October 15, 2012)
I'm afraid of heights and was almost defeated by a
suspension bridge over a terrifying river gorge in Canada. I
tried to cross it four times. On the fifth try, I finally
made it. I did it by telling myself that any of my romantic
suspense heroines could do, and I'd better be able to do it
too.
Rebecca York
(Ruth Glick 9:22am October 15, 2012)
Well done to keep riding. I was a showjumper on my own horses but never owned land so it was very costly to keep them.
I skydived and had no trouble at all getting out of the plane and climbing along the wing. Then I was told to let go. No way! Let go a perfectly good plane!
Eventually I did decide to trust my harness and lessons and it was brilliant, proving that it is worth challenging yourself. I was also jumping for charity.
(Clare O'Beara 9:37am October 15, 2012)
I *love* horses too. Although my one attempt at riding ended in disaster, a torn ligament in my knee that's still healing, I cannot wait to get back on & ride again.

A fear...I fear being run over by one of these beautiful horses. My mother in law was kicked in the head by her horse, which resulted in quite the scare for her safety, so I think that's my biggest fear - the almighty kick.

There's something about a horse that is so freeing & beautiful. I adore watching them run & attending horse racing, though I know it's quite controversial among horse lovers. I look forward to your book!
(Lizzie Bailey 11:54am October 15, 2012)
Rebecca/Ruth -- knowing some of the things you've done traveling...okay, so you had to walk over the gorge, I assume? Sounds like fun. :)

Clare -- Okay, skydiving is way beyond my comfort level! Good for you!

Elizabeth -- Yes, you always have to be careful around horses. They don't always mean to hurt you, but they are just so big! I'm glad you're willing to try again.
(Patricia Rosemoor 1:00pm October 15, 2012)
thanks for the chance, adding to my want to read list
(Debbi Shaw 1:07pm October 15, 2012)
My SIL keeps trying to get me on a horse. I just laugh and laugh.

Congrats on the book, Patricia! Sounds like a great read. Wishing you many happy sales!
(Terri Austin 1:25pm October 15, 2012)
Walking over the gorge was NOT fun. Something about that drop
off that really spooked me. I mean worse than going up in a
two man glider plane.
Rebecca
(Ruth Glick 1:27pm October 15, 2012)
I am really scared of heights. I took my daughter and granddaughter to an amusement park this summer and they had a ride that took you four stories in the air and dropped you. I was standing in line and watching everyone and knew I could not do it. My daughter was adamate she was making me do it since she made me do a water slide a few years back that really scared me. As we got closer to the line I couldn't overcome my fears and started to cry! My daughter told me to get out of the line if I was that scared. After the ride she said she wished she hadn't gone on it and I definitely would not have been able to! But I love scary stories and movies!! Funny!
(Teresa Sullivan 1:45pm October 15, 2012)
Debbi -- Hope you enjoy it.

Terri -- Stop laughing and try it! Just make sure they give you a calm, gentle horse. And yes, they do exist. Though, personally, I like the feisty ones. :)

Ruth -- I was just teasing. I can't say if I would try it or not since I've never walked a suspension bridge. My balance isn't the best. Unless I'm on horse, of course.

Teresa -- I'm scared of heights, too. Getting on a ladder to change a light bulb makes my stomach clench. And I've never taken the ladder up to the flat roof of my 2 flat, either. The thought of being up there makes my head spin. But years ago, in the Swiss Alps, two friends and I were having a picnic when a guy asked for our help -- they'd had a climbing accident and he had to get his friends off the mountain, but no car would stop to help him. We went out on a 6 foot wide ledge with at least a 1000 ft. drop. And bizarrely, the only thing that bothered me was whether or not we could really get the third guy back to the road alive when the fog descended and it started raining. Bizarre how one can ignore the dangers in a crisis situation.
(Patricia Rosemoor 1:54pm October 15, 2012)
I've read a lot of your books and have loved all of them. This one sounds really great. My fear has always been "bridges". You should have seen me the first time I went over the Seven Mile Bridge in the Keys. I found out that you can't close your eyes, hold your breath and hide your fear from others that far. That was back in the late 60's before they widen the bridge. After several trips I overcame a lot of the fear but still a new bridge thats very high & narrow I cringe. My family loves to tease me about it. However, I'm not afraid of heights. Stood at the edge of the Grand Canyon and loved it. I've been in the Alps and loved looking over the clifts. Just hate bridges. My mother told me that when I was about 6 I saw a car go off a bridge (Pensacola Bay Bridge). Car was stuck when they raised the bridge for a ship. I understand I saw it happen - I don't remember anything but that it was hot, I was thirsty & we were stuck on that bridge for hours. In the early 50's we didn't have AC and the bridge was too narrow to turn around on.
(Pat Moore 2:34pm October 15, 2012)
Your book sounds like one I would enjoy reading. Now as to your question, I have a problem with speaking before a crowd of people. Thanks goodness that's not required much at this stage of my life.
(Anna Speed 3:34pm October 15, 2012)
The only really scary thing I had was when I was riding a 10-Speed Bicicle and the brakes locked up and threww me over the handlebars chest first hitting the bricks. At 77 it was really scary! I really am looking forward to reading this book.
(George Zimmerman 4:05pm October 15, 2012)
When I was six, I went horseback riding; the horse saw another horse heading toward the stables and he BOLTED with me onboard....i fell sideways and held onto the reins ~ everyone was screaming at me to let go and fall which I did...it left me traumatized anti-horse for life!
(Susan Coster 4:20pm October 15, 2012)
LOVE YOUR BOOKS AND TO LOVE TO WIN
(Shelly Caggiano 5:25pm October 15, 2012)
Seven years ago I bought a young paint mare. We took her to a riding camp after I'd had her around 4 months. This one place on the trail has a very, very steep hill, someone from flatlands would call it a cliff, with stone steps and tree roots to go over on the way down. Little did I know, but the new saddle I bought didn't cinch down right. Halfway down the hill, I looked down at her ears, right beside of my knees! She's a wonderful horse, we just crept down slowly, with all my weight on her neck. One little bump-up from her rear and I would've sailed down that bluff!
I've never been afraid to go anywhere on her since, although I do make extra sure my cinch is tight.
Thanks for the giveaway.
(Karen Prentice 5:55pm October 15, 2012)
Pat -- you could just close your eyes over the 7 mile bridge...unless you're driving. Then I wouldn't suggest it :)

Anna -- a lot of people don't like addressing a crowd. I teach, and I can tell you that loosened me up talking before people I don't know pretty fast.

George -- that would be scary at any age! I hope you didn't get hurt!

Susan -- oh, so sorry about that fall. The incident where they carried me off the field -- I didn't let go, either, and was subsequently kicked in the head. Luckily, I was wearing a hard hat because I was working with my trainer on jumping.

Shelly -- Thanks and good luck!

Karen -- Sounds like you've had some interesting experiences. Serious riders probably usually do.
(Patricia Rosemoor 6:31pm October 15, 2012)
The first time I actually went horseback riding was at my uncle's ranch. I was 14. He owned several horses. My aunt put me on her huge horse named, "Black Beauty" and told me she was a nice horse. I rode all around the fenced in acreage with her and was really enjoying myself, until the horse saw my uncle at the gate and took off at a fast gallop with me shifting off to one side with the saddle. It looked like my leg was about to hit the fenceline as she took off, scaring the bejeezus out of me. When she halted abruptly, I fell to the ground with the saddle at her side, my one foot was caught in the stirrup. I wasn't intent on trying riding again after that, and went to riding his surrey cart pulled by his miniature pinto pony! Something a little safer and very cute. I still love horses, but would rather watch others ride them, since, I have permanent back injury problems from a motorcycle accident. Your book sounds like one I'd enjoy.
(Linda Luinstra 6:41pm October 15, 2012)
i would love to win your book , enjoy a little fear
(Kimberly Hoefs 9:46pm October 15, 2012)
Sounds great. Would love to win.
(Amy Milne 10:04pm October 15, 2012)
Linda -- Your girth wasn't tight enough. That happened to my husband once. I watched as he went sideways with the saddle. When you put the saddle on a horse, it often will puff with air so that the girth isn't too tight. So after you get on, you lift your leg and tighten the girth before setting out. Sorry you had a fall that spoiled riding for you. I was just nuts. I kept getting back on. :)

Kimberly and Amy, good luck. But know the winner will get a backlist book -- something I wrote for Harlequin Intrigue. But it will have horses.
(Patricia Rosemoor 12:32pm October 16, 2012)
I just started riding horses, did alittle when I was younger then got away from it. I met a new friends where I live now in north fla. and they all have horses so I asked a good friend to teach me to ride again...i'm having the best time ever a have made friends with his horses.
(Carole Fiore 5:57am October 16, 2012)
It's wonderful to read all these riding stories! I just wish some of them weren't about falls and injuries. But these things do happen so always wear a hard hat with the strap fastened down.
(Clare O'Beara 6:14am October 16, 2012)
Well I am still trying to conquer this fear every day of possibly being rapped again .
(Danielle McDonald 7:15am October 16, 2012)
My family owned a horse for many years, I was never thrown thank goodness, but my father and brother were. They both over came their fears and were able to ride again, but I on the other hand was scared for a long time to ride after they were thrown.
(Christine Mead 9:31am October 16, 2012)
Carole -- have fun!

Clare -- if I hadn't had such good times, I wouldn't have continued riding. The horse didn't literally throw me. The grass was wet, and she slipped and lost her footing. Pure accident. But the caution about the hard hat is right. It saved me.

Danielle -- good luck to you.

Christine -- good that you overcame the fear.
(Patricia Rosemoor 9:56am October 16, 2012)
I had a near drowning experience that made me never to go into the pool. It got to the point where I'm watching everybody having fun swimming in the pool (good grief, some of my friends are scuba-diving), that I decided I was going to learn how to swim and scuba-dive.

I wasn't in the best shape since I messed-up my knees, running on pavement instead of asphalt. I had to learn how to breathe the way swimmers do instead the way runners do.

I did learn to swim, however, I need to learn how to dive and I need to get over my fear of heights.

OK, I do have to admit, I have phobias coming from childhood traumas that I have incurred. But I am trying to get over them.
(Kai Wong 10:52pm October 16, 2012)
Kai -- good for you. Swimming is great for bad knees, if you didn't know that.
(Patricia Rosemoor 11:57am October 18, 2012)
I galloped once back to the stall when a horse was spooked by a pet lop-eared rabbit. Hanging onto the reins and staying seated was tough as I grit my teeth and hoped for the best. I still have a healthy respect for large animals.
(Alyson Widen 3:35pm October 19, 2012)
Registered users may leave comments.
Log in or register now!