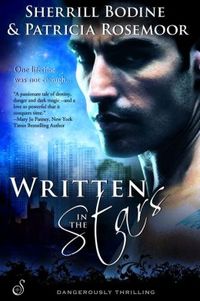 Purchase
Entangled
August 2013
On Sale: August 12, 2013
ISBN: 162266227X
EAN: 9781622662272
Kindle: B00E2Q43W4
e-Book
Add to Wish List

In 1601, Lady Elizabeth York's star-shaped birthmark proclaims her a child of magic. When she arrives at Dunham Castle to marry Carlyle, heir to the Duke of Lennox, she finds enchantment in the eyes and touch of Will Grey, the Duke's bastard son. Bewitched by Elizabeth, Will defies all for their love, and his jilted half-brother places a curse on them both.
Searching for a treasure ship sunk long ago, present-day marine archeologist Cordelia Ward is pursued romantically by both salvager Innis Foley and treasure hunter Morgan Murphy. She is haunted by a murderous nightmare where one man is the killer and the other the victim. But which man is her enemy--which one her soul mate? Can a journal that belonged to her ancestress, Lady Elizabeth York show her the answers...in time to save her true love?
Chased by evil, two women discover their own magic to fight a villain's curse on the Posey rings that draw them to the men they are destined to love. 
Comments
33 comments posted.
How lovely you both are. Taking adversities that might overwhelm others
and using them to enrich your lives.
(Susan Falkler 9:02pm August 18, 2013)
Sherill, I love your story about you and John, ya'll were certainly meant to be. Patricia, you and Edward just didn't have enough time together as you were certainly meant to be too. I love both your stories!
(Melanie Backus 9:03am August 19, 2013)
I truly believe, as you do, that our destiny is written in the stars as well. You both have amazing stories, and I take my hat off to you!! I'm sure that your memoir would be quite interesting, Sherill, considering the odds you were up against from the time you were born. It sounds like your Mother was similar to mine, Patricia, but I'm glad that you didn't listen to her. Unfortunately I listened to mine, although she gave me different advice, and I regret the decision I made to this day. Your story was wonderful, and I'm so sorry for your loss. I too, believe that we will see our loved ones in another life.
(Peggy Roberson 10:04am August 19, 2013)
That's a very atmospheric book cover, and it's by reading about subjects such as reincarnation that we can learn.
(Clare O'Beara 9:28am August 20, 2013)
I can always relate to a story that mentions my home state Michigan! This sounds like a very good read.
(Lynne Pearson 9:58am August 28, 2013)
thanks for this fascinating post and a wonderful peek into
this book.
(Sharon Berger 10:51am August 28, 2013)
So hope I when, this is my favorite Genre mixed with my 2nd favorite!! Thank you for the opportunity!!
(Marcelle Cole 11:09am August 28, 2013)
Good morning, ladies, and good luck to you all :)
(Patricia Rosemoor 11:17am August 28, 2013)
Oh my goodness!!! Destiny is the best. Sometimes I seriously have it happen to
me. It's really, really crazy.
(Jackie R 12:08pm August 28, 2013)
My mom said she knew my dad was the one and told her mother right after meeting him.
(Colleen Conklin 12:31pm August 28, 2013)
The stories you just shared gave me chills! I love hearing about destiny and true love. I would also love to read "Written In The Stars". It sounds like my kind of book!
(Heather Sterner 1:30pm August 28, 2013)
Sounds like a great read!
(Amanda Ray 3:02pm August 28, 2013)
Thank you for this great post and thank you for doing what you do.
(Melanie Backus 3:33pm August 28, 2013)
Sherrill and Patricia, I believe that that one look, one date can be all it takes.
I met my now husband our junior year in high school. We sat near each other
in chemistry and bumped into each other throughout school. His father died
that year and his family moved when school finished. We wrote two or three
times a year, but that is all. No dating, nothing more than casual friends in
school. Seven years later, he is in the Air Force stationed at the same base in
CA as my cousin's husband. I stopped by on my way home in NY State for a
months break after 2 1/2 years in the Peace Corps before going back to finish
the third year. My cousin invited him over for dinner, he took us all out to
dinner the next night, and came by to say good-bye when I left. He stopped
by my family's home for a couple hours on his way to his new assignment.
Five months later, he shows up in the village in the Philippines where I am
assigned and proposes. We never did date before that. I made him wait for
an answer until I got home a few months later and the wedding was delayed
for almost a year because he was sent to Vietnam. However, I don't think
there was ever any doubt in our minds after seeing each other the first time in
seven years that we were meant for each other. 42 years later we are still
going strong and looking forward to many more happy years together.
(Patricia Barraclough 3:56pm August 28, 2013)
Such nice comments from you all, and what an incredible surprise to hear your story Patricia. I just read it to Sherrill over the phone because she's not somewhere she can read it at the moment. Just know I'm smiling. :)
(Patricia Rosemoor 4:28pm August 28, 2013)
I so much enjoyed reading about you both on your blog---how wonderful and exciting. Wishing you both all the best that God has for you. Talk about exciting and thrilling, I do hope I win your book, would love to read it. Thank you so much for this chance to win.
(Esther Somorai 5:11pm August 28, 2013)
My husband and I dated for only 2 months before we were engaged and now have been together for 13 years. I think you just "know when you know"!
(Juli Lear 5:18pm August 28, 2013)
What great stories you have about how you knew who you were meant to be with.
(Maureen Emmons 5:47pm August 28, 2013)
This is all such fun. Sherrill's idea for our blog was a great one.
(Patricia Rosemoor 6:07pm August 28, 2013)
I enjoyed reading both your incredible stories. It seems that intuition lead you in the right direction. Written in the Stars sounds like an incredible book. I wish it was in print format (I don't have an e-reader). Is this a first for each of you writing a book together?
(Linda Luinstra 6:18pm August 28, 2013)
Hi, Linda -- it's the first book we wrote together, but we each have substantial backlist. You don't need a reader to read it. Amazon will let you read it "in the cloud," meaning on your computer. You can also download a Kindle App for your desktop if you prefer that.
(Patricia Rosemoor 6:58pm August 28, 2013)
Cool stories. I wish my brother would have something like that happen to him. He needs a good kick in the pants. I shouldn't talk. He is at least dating.
(Laura Gullickson 7:08pm August 28, 2013)
Sherrill and Patricia, I loved reading both of your posts! I believe in destiny,
also. My husband and I have known each other for nearly 23 years, but I
knew from the start that he was the man I would be with for the rest of my
life. I looked up the plot of your book, and it sounds fascinating! Thanks for
the chance to win!!!
(Linda Brennan 7:36pm August 28, 2013)
I love your stories, and I hope that I can find someone like that someday. :)
(Nicole Swirsley 8:23pm August 28, 2013)
I love the the idea of Destiny. To be frank, I saw the title Written in the Star and automatically, I was thinking of Aida, the musical. Yes, there is a song written by Elton John, "Written in the Star" in the musical. It's one of my favorite song.
(Kai Wong 8:45pm August 28, 2013)
Kai -- I saw Aida in Chicago before it went to Broadway. I don't, however, remember the song. Now I'm going to have to go find it and listen to it :)

Great how many of you believe in destiny & that you've experienced it. I hope everyone gets to at least once in her life.
(Patricia Rosemoor 9:12pm August 28, 2013)
Yes I believe in destiny it can be so compelling.
(Bonnie Capuano 9:12pm August 28, 2013)
I just love when you know, without a doubt, that an encounter is so right, so profound.
(Karen Blossom 9:28pm August 28, 2013)
Loved reading your "absolutely true stories".
(Sheila True 10:01pm August 28, 2013)
Wow, Congrats on your new book: WRITTEN IN THE STARS. Yes, I
too believe that danger and destiny and fate can play a big
role in our love life. Congrats to both of You with the new
book and it sounds like a fantastic book to win and read
this summer. Thank You very much. Cecilia CECE
(Cecilia Dunbar Hernandez 10:15pm August 28, 2013)
Thanks for the peek into your lives. I love time travel and reincarnation stories. I'm looking forward to reading yours.
(Amy Kincade 11:05pm August 28, 2013)
Thank you all soooooo much for sharing YOUR stories with us!!! Truly LOVED writing this book and hope you all enjoy reading it!!!
xo sherrill
(Sherrill Bodine 11:20am August 29, 2013)
Thank you for sharing such a personal story.
(Mary Preston 9:58pm August 29, 2013)
Registered users may leave comments.
Log in or register now!