Purchase
Nobody likes a loose end
A Magical Dressmaking Mystery
Obsidian
October 2012
On Sale: October 2, 2012
Featuring: Dan Lee Chrisson; Harlow Jane Cassidy
320 pages
ISBN: 0451238249
EAN: 9780451238245
Kindle: B0081KZ3N0
Paperback / e-Book
Add to Wish List

Mystery Cozy | Mystery Amateur Sleuth
Bliss, Texas, is gearing up for its annual Winter Wonderland festival, but when a mysterious Scrooge ends the merriment with murder, it'll take more than a ghost from Christmas past to set things right.
Designing a holiday fashion show set in the town's most prominent historic mansion seems like a job tailor made for dressmaker Harlow Jane Cassidy. But with the mansion's restoration still in progress and threatening weather on the horizon, she's feeling on pins and needles more than reveling in holiday cheer.
Having volunteered to play Santa in this year's festival, Dan Lee Chrisson was ready to move on after his divorce—until Bliss became his final resting place. Discovering his body puts Harlow at the scene of the crime. She'll need plenty of help from friends and even her late great-grandmother's spirited sleuthing if she's to have a ghost of a chance of catching a killer who's just jumped to the top of the naughty list…
INCLUDES SEWING TIPS
Magical Dressmaking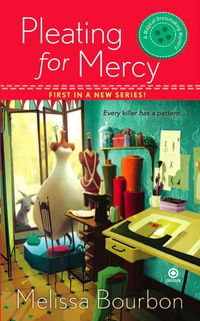 Pleating for Mercy
#1.0
Amazon.com | BN.com | | |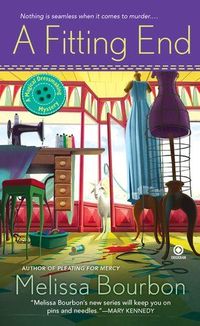 A Fitting End
#2.0
Amazon.com | BN.com | | |

Deadly Patterns
#3.0
Amazon.com | BN.com | | |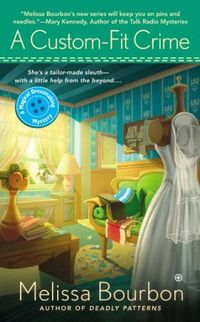 A Custom-Fit Crime
#4.0
Amazon.com | BN.com | | |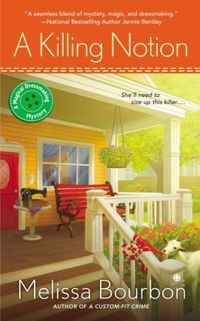 A Killing Notion
#5.0
Amazon.com | BN.com | | |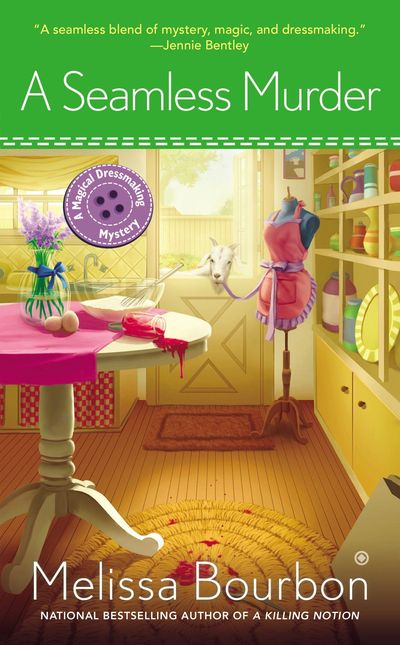 A Seamless Murder
#6.0
Amazon.com | BN.com | | |
Comments
42 comments posted.
Re: Deadly Patterns

Thanks for the recipe for caramel corn. My favorite holiday treat is homemade fudge. Or it could be sugar cookies with a chocolate kiss in the center. I'll have to make them both this year and decide once and for all.
(Kathleen Yohanna 4:36am December 15, 2012)
My all time fav holiday treat....those ice cream snowman. Lame I know. ;)
(Angi Irwin 5:33am December 15, 2012)
I love baking cookies for the family...
(Bonnie Capuano 9:11am December 15, 2012)
Every Christmas Eve we have lasagna for dinner. I've been watching my carbs and I'm drooling already!
(Monica Vargo 9:35am December 15, 2012)
I love Eggs Benedict which is our traditional Christmas morning breakfast. As a sweet, I think it would have to be Bourbon Balls which we make every year as a give away. YUM!!
(Beth Charette 9:36am December 15, 2012)
My kids love peanut blossums for Christmas! Thanks for the great recipe!
(Kathy Martocci 11:38am December 15, 2012)
I, too, like to make caramel corn, but I make it in the
microwave. It's easier. Thanks for the contest.
(Mary Hay 11:53am December 15, 2012)
I usually make a sweet potato casserole topped with marshmallows for our family Christmas dinner.
(Anna Speed 5:38pm December 15, 2012)
My grandmother's homemade fudge. I also like the green wreaths made with
corn flakes, green food coloring, marshmallow cream and red hots. Oh, and
lace cookies, too!
(Shannon Scott 6:14pm December 15, 2012)
I use the same recipe and think of my dad whenever I make it he could never get enough!!
(MaryEllen Hanneman 6:17pm December 15, 2012)
My oldest son makes my Aunty Ruth's famous chocolate carmel pecan
toffee coolies. She taught him to make them and he is the only person she
gave the recipe to. They are a lot of work and calories, so he only makes
them at Christmas just like she did.
(Ann Sheiring 6:33pm December 15, 2012)
My favorite holiday treat is mince meat pie and fruit cake--yum yum
(Shirley Younger 6:42pm December 15, 2012)
My Mother always made a Burnt Sugar cake. It was so good!!!
Blessings,
Marjorie
(Marjorie Carmony 7:15pm December 15, 2012)
holiday cookies here. thanks forthis chance
(Debbi Shaw 7:25pm December 15, 2012)
My favorite holiday treat is my great grandmother's fruitcake
recipe. We make it right after Thanksgiving and then it is
wrapped with rum soaked towels changed out every week. I absolutely love it. I have even managed to convert many
people into fruitcake fans. Merry Christmas!
(Judith Cauthan 7:55pm December 15, 2012)
I come from a family full of wonderful cooks so it's hard to narrow it down. But...my sister Terry's chocolate fudge is absolutely incredible!! Thanks for sharing the caramel corn recipe and for the giveaway!
(Michele Hayes 8:55pm December 15, 2012)
My all-time favorite Christmas treat are my Mother's Christmas cookies!! It's a Polish cookie that's shaped like a crescent roll, and she was known for them every year. She passed away 10 years ago, and I'm the only daughter out of the 3 of us who picked up the slack, and makes them every year. That's because I love them so much, and want to keep her legacy alive!! Now I'm known for my Christmas cookies, and will be making them next week, to pass some along to my dearest friends, since I live too far away from my family. Have a very Merry Christmas, and a Wonderful New Year!!
(Peggy Roberson 9:50pm December 15, 2012)
i love my grandma's rice chex and nuts crunch..not xmas without it ..love your cover..sounds like a great read....
(Kimberly Hoefs 10:00pm December 15, 2012)
I'm one of those strange people, I love fruitcake. Thanks for the recipe. Would love to win your book.
(Linda Hall 11:14pm December 15, 2012)
My mother always made angel food cake for Christmas Eve. A tradition with love.
(Jane Komppa 11:50pm December 15, 2012)
I love mincemeat pie....that's the only time we ever baked it. How about the
recipe for the egg bake....I've never heard of it. Have a wonderful Christmas.
(Rowena Huser 9:42am December 16, 2012)
I love homemade fudge. yummy
(Rita Wray 10:22am December 16, 2012)
My grandmother's Snickerdoodles and my grandfather's Pecan Pie!!!
(Kelli Jo Calvert 1:16pm December 16, 2012)
Thanks so much for sharing the caramel corn recipe, will
certainly give it a try. My favorite holiday treat is a thin
and crisp scandinavian gingersnap type of cookie.
(G. Bisbjerg 1:42pm December 16, 2012)
Hi, Melissa!! It's me again, and I thought about more food for Christmas!! Since it's my favorite Holiday, I love to cook, and cook mostly ethnic dishes. Being Polish, I love having a nice spiral-sliced ham with brown sugar glaze for starters. Then I cook up some Polish Sausage with home made sauerkraut. I save the water that the sausage cooked in to make some Borscht, the mushroom soup which is a delicacy this time of year. I also make my special potato salad to go with the ham. Sometimes I like to make what was called "hobo potatoes" in my family. They're very easy to make. You slice up potatoes like you would scallop potato thickness, and layer them, along with slices of onion, and dabs of butter or margarine, salt and peppper. I also like to put on some dried parsley. Just make sure you have plenty of butter!! Anyway, you cover them when you're done with the layers, and put them in a 350 degree oven for an hour or so, until the potatoes are soft, and starting to turn brown. You can even uncover them for 15 minutes to a half hour at the end. Very easy and tasty!! I make mine in a 9 X 13 pan, because they go fast, and leftovers are great, if you have any!! Those items came to mind, so I wanted to include them, on top of the different cookies that I bake for the Holidays. Have a wonderful Christmas, and a Happy New Year!! Can't wait to read your book after the Holidays!!
(Peggy Roberson 2:19pm December 16, 2012)
I love Chocolate Fudge!!
(Theresa Norris 3:01pm December 16, 2012)
There are so many favorite treats during the holiday season---but I think my favorite is divinity with pecans.
(Sue Farrell 3:05pm December 16, 2012)
Shortbread is my favourite treat.
(Cheryl McEwen 7:57pm December 16, 2012)
I love anything that has caramel on it, from popcorn, nuts, and apples.
(Kai Wong 9:45pm December 16, 2012)
My cousin's homemade Peking dumplings!
(Mary C 10:05pm December 16, 2012)
Easy 15-minute cookies - Pre-heat oven to 350 deg. F. then take 1 quick bread mix (any flavor), mix in 1 stick of melted butter and one egg. Shape into 1 inch balls and flatten on a non-stick pan or a regular pan sprayed with non-stick spray. I use the flat bottom of a drinking glass dipped in sugar to do it (or a fork - like I do with Peanut Butter cookies). Bake for 8 minutes and remove from oven - they may not appear done, but trust me they are. They become the BEST, quickest cookies you'll ever make.
(Donna Holmberg 10:31pm December 16, 2012)
Sausage and cheese balls!
(Martha Lawson 10:45pm December 16, 2012)
I do love the chocolate fudge we make.
(Mary Preston 10:52pm December 16, 2012)
Fudge and cornflake candy are at the top of my list! Appetizer favorite is
the BBQ little smokies:)
(Nicole Nobles 9:58am December 17, 2012)
I make my own mince pies - full sized pies too - and I add thick-cut orange marmalade to the mincemeat, stirring it in a bowl to mix in well. This is a wonderful tangy change. Gorgeous with whipped cream. Once I managed to find a jar of vegetarian mincemeat for a veggie friend, the suet was replaced, so even veggies can eat this.
I love craft-themed mystery books and when I've read them I pass them on to my mother who will probably make up all the patterns!
(Clare O'Beara 10:50am December 17, 2012)
I like fruitcake
(Sandy Giden 2:22pm December 17, 2012)
My favorite holiday treat is chocolate truffles.
(Bonnie H 4:42pm December 17, 2012)
My favourite holiday treat is shortbread.
(Cheryl McEwen 5:23pm December 17, 2012)
Christmas cookies are my favorite
(Maureen Emmons 5:27pm December 17, 2012)
christmas cookies! :)
Love them!
(May Pau 6:28pm December 17, 2012)
My favorite holiday treats to make are date fingers, iced cut-out sugar cookies, pecan pie minis (made in mini muffin tins), candy cane cookies, and chocolate fudge. I'm going to make your caramel corn this year for sure! Also, love making strawberry or cherry cheesecake. So-o good!
Am loving your cover of your book...brings back all the memories of my years of sewing from the age of 12. I loved making anything and everything and loved the fabric shoppe located a couple blocks from my house that let me charge my purchases. It worked out great for me! Would love to read this book very much!
(Linda Luinstra 6:29pm December 17, 2012)
i love all kind of christmas cookies and believe it or not fruit cake but it has to have nuts
(Kathy Weber 8:32pm December 18, 2012)
Registered users may leave comments.
Log in or register now!