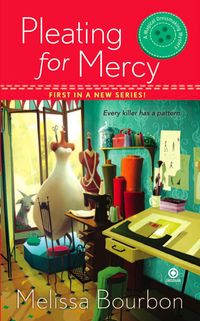 Purchase
Every killer has a pattern
A Magical Dressmaking Mystery #1
NAL
August 2011
On Sale: August 2, 2011
Featuring: Loretta Mae Cassidy; Harlow Jane Cassidy; Will Flores
320 pages
ISBN: 0451234367
EAN: 9780451234360
Kindle: B004R1QQKQ
Paperback / e-Book
Add to Wish List

When her great-grandmother passes away, Harlow Jean Cassidy leaves her job as a Manhattan fashion designer and moves back to Bliss, Texas. But when she opens a dressmaking boutique in the turn-of-the-century farmhouse she inherited, Harlow senses an inexplicable "presence". Her old friend Josie orders a gown for her upcoming wedding, but when Josie's boss turns up dead, Harlow has to find the killer-with a little help from beyond.
Magical Dressmaking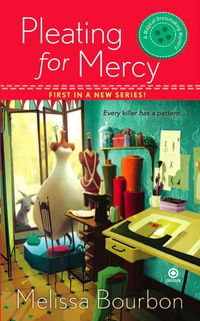 Pleating for Mercy
#1.0
Amazon.com | BN.com | | |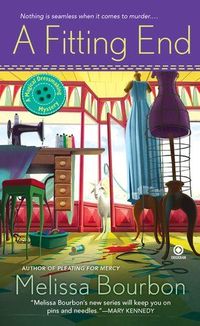 A Fitting End
#2.0
Amazon.com | BN.com | | |

Deadly Patterns
#3.0
Amazon.com | BN.com | | |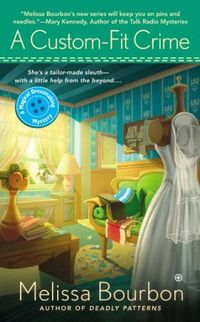 A Custom-Fit Crime
#4.0
Amazon.com | BN.com | | |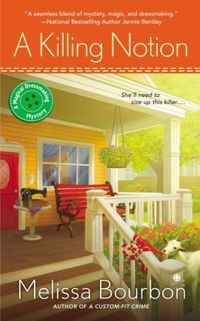 A Killing Notion
#5.0
Amazon.com | BN.com | | |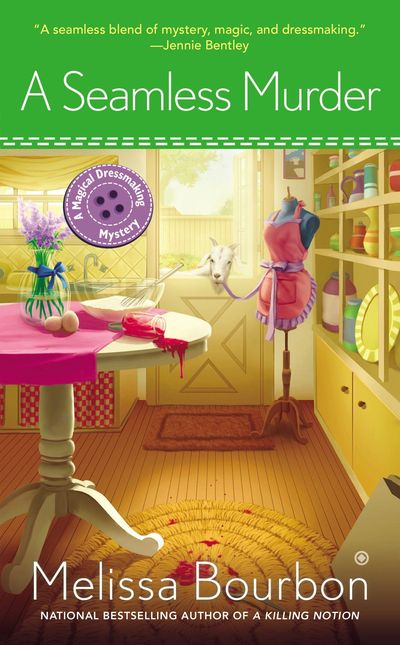 A Seamless Murder
#6.0
Amazon.com | BN.com | | |
Comments
59 comments posted.
3 books being given away to 3 different commenters! What's your luxury hobby?
(Misa Ramirez 11:50am August 5, 2011)
My luxury hobby is reading. It really makes my day to read whatever I can get my hands on.
(Cheryl English 12:38pm August 5, 2011)
A luxury time spent, with feet up a nice cup of tea and a fabulous book....with no place to go.
(Barbara Ryan 12:40pm August 5, 2011)
Reading and buying books is definitely my luxury hobby. My collection is about 3000 books
(Cheryl Ricin 12:41pm August 5, 2011)
I enjoy crosstitching.
(Robin McKay 12:41pm August 5, 2011)
My luxury hobby is also reading. My other luxury 'hobby' is travel and volunteer service. I love learning about other people, their cultures and traditions and love having the opportunity to share with and learn from them.
(Holly Caulfield 12:42pm August 5, 2011)
My luxury for time is quilting and cross stitch and other crafts that allow tbe creative side of me to flourish! I just wish I had more time!
(Marguerite Guinn 12:55pm August 5, 2011)
My luxury hobby is reading... I was never the 'crafty' person, although I certainly admire what they can accomplish. My sewing was limited to HomeEc class in 8th grade with the daughter of the HomeEc teacher... She was matching plaids for a lined suit & I was hemming tea towels and not doing a good job at that!! Nice people, but boy did I feel outclassed at the time!
(Cate Sparks 1:00pm August 5, 2011)
My favorite luxury is reading. My husband and I also like to watch BBC
mystery videos and I love to do jigsaw puzzles at the same time. Just can't sit
still and do nothing while watching TV or a video. I also learned to sew as a
child and ended up making all of my family's clothes for years. Then, the
children started school and I went back to work. Unfortunately, the sewing
since then has been minimal. However, I have done numerous hand crafts
over the years as well. Keep the hands moving or they will seize up on you!
;) Your book sounds delightful and I do look forward to reading it. Thanks
for sharing.
Connie Fischer
[email protected]
(Connie Fischer 1:10pm August 5, 2011)
Hi Melissa! I am so excited about this new series and this contest! Thanks so much for offering such a great contest to your fans. I, too, was taught to sew by my mom at a very early age and have loved it ever since. My first major sewing project was also a dress...my pride and joy..LOL. I really have two favorite hobbies...reading and sewing. Not only am I a "Book-a-Holic" but also a "Fabric-a-Holic" and "Pattern-a-Holic". (All of which I enjoy sharing with others.) Needless to say, I have boxes of all of these, especially books that I take to people who are unable to get out and about to get their own to read. Most of my 'library' consists of books given to me or those purchased at yard sales for 5-25 cents. (I am on a limited income so New books are not an option). It would be so exciting to win a copy of your first book in this new and fun sounding series. I have both fingers and toes crossed that I will be one of the Lucky ones. HaHaHa! Thanks again for the chance to win one of your books. GOOD LUCK EVERYONE!!
(Cheri Minott 1:11pm August 5, 2011)
My luxury pastime is reading, finding beautiful herbal teas, foot soaks and going for walks in the park. I find the sound of water is especially rejuvenating whether in nature or the fountains at the mall.
(Alyson Widen 1:28pm August 5, 2011)
My first luxury hobby is traveling, preferably back to Europe! My second one is - wait for it - SEWING!! I spent four years working for a major fabric store chain back in the days when they really had fabric to sell (not like now, where the local store for that same chain is three-quarters crafts and one-quarter fabric!), and had myself quite the collection of fabric which, unfortunately, got damaged in moving and had to be discarded.

The book sounds great!

Later,

Lynn
(Lynn Rettig 1:30pm August 5, 2011)
Reading. Period.... lol.
(Michele Powell 1:57pm August 5, 2011)
I think every woman needs to have a luxury pastime. It helps to keep her sane!! Mine is knitting and crocheting. I love to make things for other people, and of course throw a few things in there for myself as well. I also volunteer my time once a week, helping to teach at a knitting group, which is a lot of fun. I do other crafts as well, when I have the time, but my life is very busy, and with reading and my other obligations, it's hard to fit everything in. I'm still figuring out how you can get books written with 5 kids!! I'm just grateful you find the time. Congratulations on your latest release. It sounds like the perfect read for me, because I do know how to sew as well, even though I'm a bit rusty at it. My Singer is around 30 years old.
(Peggy Roberson 2:11pm August 5, 2011)
Actually, my luxury is spending QUALITY time with family and friends. With today's hectic world and everyone I know just trying to make ends meet it's very rare that we actually get to sit and enjoy eachother's company. Sometimes it seems we're lucky to get in a quick phone call to say "hi".
(Rachel G 2:13pm August 5, 2011)
my luxury hobby is quilting. I make a few charity quilts a year. second to that is reading!
(Deborah Rudd 2:20pm August 5, 2011)
My luxury pasttime is bicycle riding. I try to ride at least 5 times a week.
(Shirley Younger 2:45pm August 5, 2011)
I always loved sewing so much when I learned how in high school in my Home Economics class that I taught two neighbor girls who attended Catholic schools and didn't get this opportunity in their schools. We had great times together sewing shorts, dresses and skirts and spending all our babysitting monies at the neighborhood fabric store, called the "Cinderella Shoppe". It was the highlight of our summers and weekends. When I married, I made all my clothes for my secretarial job in the office. I saved a lot doing this. Today, I enjoy various craft projects such as making Christmas ornaments, crocheting, and of course reading lots of good books. I've always loved giving my projects away to family and friends as gifts and know they're loved and appreciated--when they are asking me to make them more!
(Linda Luinstra 2:56pm August 5, 2011)
Thanks for stopping by, everyone! I'm glad you are intrigued by the book. Wish
I had more to give away!
(Misa Ramirez 3:17pm August 5, 2011)
My luxury pasttime next to reading is entering sweepstakes. I have won a lot of small prizes. Your book sounds great, I'm looking forward to reading it!
(Cheryl Lynne 3:20pm August 5, 2011)
Your new book looks great! My luxury pastime is reading! I am always in awe of people who can sew well. I can mend, but that's about it!
(Julie Holden 4:02pm August 5, 2011)
My luxury hobby is buying half the stuff I need for some craft project and then abandoning it.
(Lisa Elwood 4:31pm August 5, 2011)
Love that title!
Blessings,
Marjorie
(Marjorie Carmony 4:51pm August 5, 2011)
My luxuries are quilting while watching my favorite shows, especially my soaps. But in the evening curled up either on the sofa or plumped up in bed, reading is the best. I get lost in my books. I hear nor see anything else. My ESCAPE! Can't wait for this book.
(Constance Biller 5:24pm August 5, 2011)
Reading! I've got more books than I have space for them.
(Tara Smith 5:25pm August 5, 2011)
My 3 luxury hobbies are reading and golfing. Reading in the winter, golfing in the summer.
(Sue Farrell 5:34pm August 5, 2011)
My hobby is reading all the way! Its my favorite thing to do. I also do some quilting but its been a while since I have done that.
(Gail Hurt 5:40pm August 5, 2011)
I love to read about all your luxury hobbies! Golf is something my son recently
started playing, and I admit, I'm tempted to try!
(Misa Ramirez 5:44pm August 5, 2011)
My hobby is reading, and I have books all over the house.
(Wilma Frana 6:00pm August 5, 2011)
I LOVE TO READ AND I'M IN IT TO WIN IT!
(Silvana Moscato 6:46pm August 5, 2011)
I have several luxury hobbies. Riding my horse, riding with my husband on his Harley, reading-just got a kindle and love it! Scrapbooking is a passion and I have just started making beaded jewelry. Now if there were only more hours in each day!
(Jody Hollenbeck 8:26pm August 5, 2011)
I so want to read this one! This is my kind of sewing:)
(Patricia Carson 8:29pm August 5, 2011)
My problem is I have too many hobbies! Quilting, painting, remodeling the
house and now carving! Reading is more than a hobby, it's my nightly
ritual! Words with friends has definitely moved up on my list as well! Love
your writing!
(Kym Roberts 8:52pm August 5, 2011)
That's an easy one. I love to read and this book is just the type I enjoy. I sure hope I win one of the copies.
(Anna Speed 8:58pm August 5, 2011)
Well I have a few - books, always books. I buy way too many. More than I can read but I can't help it lol. Cats - I help ferals and keep way too many. And a friend and I visit the casino's once in a while and have a ball playing the slots even though we shouldn't lol. Your book sounds like a really fun read!!
(Jeanne Sheats 9:20pm August 5, 2011)
Southern fiction is my fav, hands down!
(Susan Coster 9:35pm August 5, 2011)
I love to garden but with the heat and kids growing and getting into school activities it is harder to do. So I try to cook, read and sew more. I can't wait to read this book.
(Christine Arcidiacono 9:44pm August 5, 2011)
Reading is my luxury reading. It makes a great escape and introduces me to many great characters.
(Na S 10:16pm August 5, 2011)
My luxury is collecting books that I love to read. Thanks for
giving me a chance to win your wonderful contest.
(Linda Hall 10:49pm August 5, 2011)
Reading is my luxury reading. It's like taking a small vacation
and oh!so much cheaper.
(Lisa Richards 10:56pm August 5, 2011)
My luxury past time is reading blogs and entering blog contests. It is sort of becoming an addiction! I should probably take up quilting again, though.
(Jennifer Beyer 11:30pm August 5, 2011)
i love to read all book and any kind i can get my hands on
then i do pen palling and then sew and make stuff for them for the holidays
(Desiree Reilly 11:55pm August 5, 2011)
I don't know if it's a luxury past-time, but I love to knit. Reading of course.
(Mary Preston 1:11am August 6, 2011)
Congratulations and wishes for success.
Well, finally a book I can--at least could--relate to, domestically speaking. I loved sewing when I was young and made some clothes from bits and pieces of other things. I was and still am terrible at cooking, hence most of my meals are frozen ones. Unfortunately, I developed a painful condition in my hands and haven't been able to sew for a long time now, though I brought my Pfaff, which I bought in Germany, back with me.
(Sigrun Schulz 2:09am August 6, 2011)
When everyone has gone to bed and the house gets quiet, I enjoy reading blogs or watching my favorite shows on-line. I am NOT the controller of the controller so I do miss a lot of my favorite shows. Good luck with your new book!
(Kathleen Yohanna 4:35am August 6, 2011)
Reading... when everyone has slept... the house is clean....etc.
(May Pau 2:06pm August 6, 2011)
A clean house... now that's a luxury I can't seem to realize!
(Misa Ramirez 3:21pm August 6, 2011)
Lisa Elwood, that's funny! I resemble that. :)
(Misa Ramirez 3:22pm August 6, 2011)
Thank you, Cheri! I'm hope you love the series!
(Misa Ramirez 3:24pm August 6, 2011)
Wish you all could win copies! I do hope you'll give this book a try, even if you
don't win. It's been a blast to write!
(Misa Ramirez 3:25pm August 6, 2011)
I did really good at sewing when my kids were little but it has been many, many years since I have done any. This books sounds like a good one; to add to my hobby of readying!!!!
(Barbara Studer 4:22pm August 6, 2011)
Reading, writing, collecting all kinds of stuff.. books, GWTW, fairies,
antiques, crystals, scarves, ... I have not reached the hoarders line but
I'm sure I could cross it.
(Carla Carlson 12:11pm August 7, 2011)
I would say reading is my luxury whenever I get some time.
(Maureen Emmons 7:59am August 7, 2011)
Reading, cooking, baking, painting, sewing, quilting, knitting, crocheting and gardening, to name a few. I love doing them all.
(Debbie Penny 9:55am August 7, 2011)
READ, READ, READ. Just nothing else like it!
(Constance Biller 4:46pm August 7, 2011)
Luxury is anytime away from work & family for me, I usually spend it reading or browsing racks. My favorite is sitting at the bookstore with a great cup of coffee & a great read.
(Marcelle Cole 2:45pm August 8, 2011)
I love reading and movies! I love dancing but am not able to dance like I used to!
(Brenda Rupp 9:17pm August 28, 2011)
My luxury hobbies are drawing,(mostly faces). And that goes
without saying that I love reading, mostly suspenses, romance
and non-fictions. Also, I enjoy playing some video games from
time to time. Thank you for reading, and your books.
Judith Venne
(Judith Venne 5:04pm February 10, 2012)
My luxury is crocheting.
(Debra Guyette 6:06am December 27, 2013)
Registered users may leave comments.
Log in or register now!