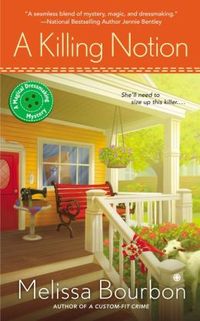 Purchase
Harlow Jane Cassidy is swamped with homecoming couture requests. If only she didn?t have to help solve a murder, she might get the gowns off the dress forms....
Magical Dressmaking Mysteries #5
NAL
April 2014
On Sale: April 1, 2014
Featuring: Harlow Jane Cassidy; Will Flores; Loretta Mae (Meemaw) Cassidy
320 pages
ISBN: 0451417208
EAN: 9780451417206
Kindle: B00F9EZBXS
Paperback / e-Book
Add to Wish List

Harlow Jane Cassidy is swamped with homecoming couture requests. If only she didn't have to help solve a murder, she might get the gowns off the dress forms....
Harlow is doing everything she can to expand her dressmaking business, Buttons & Bows, without letting clients know about her secret charm. When she has a chance to create homecoming dresses with a local charity and handmade mums for several high school girls--including Gracie, whose father, Will, has mended Harlow's heart--she is ready to use her magical talents for a great cause.
But when Gracie's date for the dance is accused of murder, Harlow knows things won't be back on course until she helps Gracie clear the football player's name. If Harlow can't patch up this mess before the big game, her business and her love life might be permanently benched.
INCLUDES SEWING TIPS
Magical Dressmaking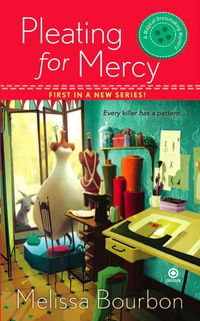 Pleating for Mercy
#1.0
Amazon.com | BN.com | | |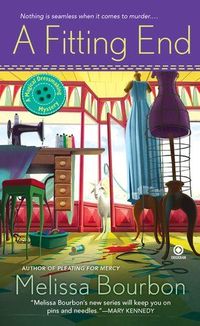 A Fitting End
#2.0
Amazon.com | BN.com | | |

Deadly Patterns
#3.0
Amazon.com | BN.com | | |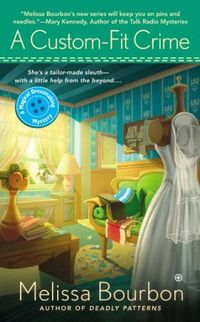 A Custom-Fit Crime
#4.0
Amazon.com | BN.com | | |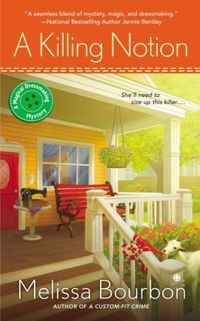 A Killing Notion
#5.0
Amazon.com | BN.com | | |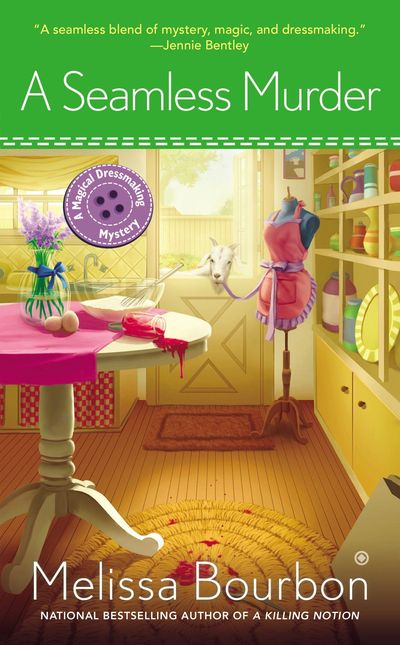 A Seamless Murder
#6.0
Amazon.com | BN.com | | |
Comments
25 comments posted.
Re: A Killing Notion

I like just about any kind of mystery as long as it doesn't have a lot of blood and gore.
(Sue Farrell 12:05pm April 1, 2014)
Mysteries are my favorite genre. I really like them with lots
of crafty hooks. I am not really into romance. You are a new
author to me and am really excited to read your books.
Especially the dressmaking series.
(Denise Austin 12:52pm April 1, 2014)
As far as mysteries go, any type is usually good, but when you add a little bit of humor to the book, it breaks up the intensity of the plot, and gives it a bit of fresh air. Sometimes the plot gets so thick, that you need a bit of a distraction, so that you can get a second breath to continue on, and a bit of humor does the trick!! Thank you for coming here today and explaining a little about your book. It's always nice to learn a little bit about what makes the Author tick, and to learn a little bit about the background of your characters. I'm anxious to read your book, and this insight will make reading your book that much more enjoyable now!! The cover is beautifully done. Congratulations!!
(Peggy Roberson 12:52pm April 1, 2014)
This book sounds like my type of story I want to read
(Jeri Dickinson 4:05pm April 1, 2014)
I like the story line of this book, can't wait to read it
(Jeri Dickinson 4:07pm April 1, 2014)
Can't wait to read this story.
(Jeri Dickinson 4:08pm April 1, 2014)
I like mysteries the best of all the genres. This sounds like a friendly sort of book.
(Vennie Martinisi 4:18pm April 1, 2014)
I like when I'm reading a book and don't know its a mystery but, of course, turns out to be one...one that comes to mind is Julie Kibler's Calling Me Home.
(Susan Coster 5:31pm April 1, 2014)
I'm rather eclectic, it depends on my mood. While I prefer
lighter, funny mysteries, I also adore Agatha Christie and
have probably read her entire catalog. Grew up on Nancy
Drew, still remember being a late thumb sucker and my mother
bribed me to stop sucking my thumb with a Nancy Drew book.
I've even gotten sucked into John Grisham's novels at times.
Paranormal is one my recent passions, but I always have a
different rotation of genres going on my kindle. And let's
not forget the In Death series. Probably my most favorite
thing that Nora Roberts has ever done.
(Marcia Berbeza 10:01pm April 1, 2014)
How do I like my mysteries? I read one recently that I
thought I had it figured out but ended up totally surprised
by who did it. I like when there are hints but not blatant
clues. Funny situations, romance, great character, and the
main conflict are what makes the best mysteries for me.
(Tina Ullrich 10:27pm April 1, 2014)
Your book sounds great. I enjoy reading mysteries that have some crafty hooks, humor, and romance.
(Kathy Morrison 9:16am April 2, 2014)
I like fun mysteries and I really like the cooking ones for some reason.
(Pam Howell 9:47am April 2, 2014)
They say "variety is the spice of life" and I find that true in my reading tastes - I like all sorts, but especially "cozy" mysteries. Your series both sound wonderful and I'm sorry to say I haven't read any of them. But having read your blog today, I will be going out in search of them because I am totally intrigued. Thanks for the chance to win a copy of your book.
(Nancy Reynolds 9:50am April 2, 2014)
I love mysteries and look forward to reading this book! Thanks so much!!
(Bonnie Capuano 9:56am April 2, 2014)
I enjoy various types of books, but especially like to settle down with a good mystery.
(Anna Speed 12:06pm April 2, 2014)
It never hurts to get a little romance with your mystery! My favorite were the old gothic stories.
(Sandy Fielder 1:03pm April 2, 2014)
Your book sounds delightful! I would love to start reading a new mystery series.
(Judi Estrin 8:17pm April 2, 2014)
I loved every single word
you wrote in your blog.
Simply can't wait to get
hold of the book and you
don't need to think much
what to write in your
wonderful blog
(Sukriti Goyal 2:43pm April 8, 2014)
I love cozy mysteries and have added your A Magical Dressmaking mystery series to my TBR list. Thanks for sharing and thanks for the great giveaway.
(Bonnie H 1:12pm April 28, 2014)
Would love to ready your books. First I love mysteries
and love humor added in.
(Laurie Nutter 12:33pm July 11, 2014)
I am absolutely thrilled that Lucy Valentine is back! I like all of your series, but Lucy is one of my favorite series of all time.
(Elizabeth Kelly 9:38pm July 14, 2014)
What fun interviews! I love reading this stuff. Thank you all!
(Mare Fairchild 10:23am July 31, 2014)
Nothing better than combining food and mystery.
(Charline Bonham 9:19pm August 28, 2014)
Interesting--ghost in the cooking school?
(Ronna Lord 1:56pm September 30, 2014)
I see that you believe in the same necessity for fried chicken that we do.
My mom found an old cast iron skillet BURRIED in her back yard in
Tennessee. Figured it was from Civil War Days. We all share by that frying
pan for the best fried chicken ever!! [email protected](dot)com
(Ronna Lord 3:42pm November 14, 2014)
Registered users may leave comments.
Log in or register now!