"A fun read, and the historical tie-in with Butch Cassidy was a kick."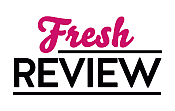 Reviewed by Min Jung
Posted July 12, 2011

Harlow Cassidy is the protagonist of this new cosy series. She's a fashion designer and a descendant of Butch Cassidy. Since the death of her great-grandmother, she has left her life in Manhattan and moved back to her hometown of Bliss, Texas. In Bliss, the women of the Cassidy family are infamous for their various talents - Harlow's great-grandma could get whatever she wanted, her grandmother is a goat-whisperer and her mom has an extremely green thumb. What the townsfolk of Bliss don't know is that this is all because Butch Cassidy once made a wish that his descendants would live a charmed life. Unfortunately, Harlow fears the charm may have stopped at her generation.
Harlow is still settling in to her new life in Bliss when she gets her first client, Josie. Josie is a childhood friend who is getting married and needs not only her gown designed and made, but those of her bridesmaids, as the local bridal gown company has gone out of business. But a few days later, Josie's boss Nell is mysteriously murdered right outside of Harlow's store, and Josie quickly becomes a suspect. When this happens, Josie turns to Harlow for help and asks her to look into things and help her get off the hook and off the suspect list.
At first, there's a dearth of suspects and motives, until a sequence of events leads Harlow to find a plethora of both. But who actually did it? And will Harlow's sleuthing interfere with her day job? And are all those mysteriously sounds in Harlow's house (formerly her great-grandmother's house) really just pipes and floorboards acting up, or are they something a bit more meaningful?
This book was a fun read, and the historical tie-in with Butch Cassidy was a kick, as well. As the daughter of a sewing teacher, I found the dressmaking tips at the end of the book to be completely true and helpful, and I found Harlow's character to be compelling and relatable as a down-to-earth designer and seamstress. The one thing that I didn't understand was why Josie would turn to Harlow and ask her to investigate. While they had a relationship as children and teenagers, it isn't as if Harlow had been known as someone involved in investigations or had a parent in the police force -- even if she was a naturally nosy person, this would have made more sense to me.
Overall, I enjoyed this book and I will look forward to the next book in the series.
SUMMARY
When her great-grandmother passes away, Harlow Jean Cassidy leaves her job as a Manhattan fashion designer and moves back to Bliss, Texas. But when she opens a dressmaking boutique in the turn-of-the-century farmhouse she inherited, Harlow senses an inexplicable "presence". Her old friend Josie orders a gown for her upcoming wedding, but when Josie's boss turns up dead, Harlow has to find the killer-with a little help from beyond.
---
What do you think about this review?
Comments
No comments posted.

Registered users may leave comments.
Log in or register now!