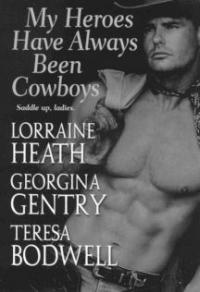 Purchase
Kensington
March 2006
288 pages
ISBN: 0758213018
Trade Size
Add to Wish List

The Reluctant Hero
by: Lorraine Heath
She was a dime novelist searching for a hero.
He was a man who didn't believe in being a hero.
Excerpt:
If he'd ever crossed paths with this lady, he would have remembered. Not that she had an unforgettable face, but her spirit intrigued him. Not many women stood before him as boldly as she did. The doc said it was Matt's perpetual scowl that kept them away. He tended to think it was his reputation for being a man without feelings, emotions, or dreams. It was easier to face dying if a man wasn't fond of anything he stood to lose.
The Great Cowboy Race
by Georgina Gentry
Boston-bred heiress Henrietta never imagined she would race a horse one thousand miles across open land disguised as a boy. But then, she never believed her parents would arrange a marriage for her she would have to run away to escape. However, there's not escape from her toughest competition, expert rider and champion wrangler Comanche Jones. She needs that prize money--almost as much as she finds herself wanting him. . .
Comments
No comments posted.

Registered users may leave comments.
Log in or register now!