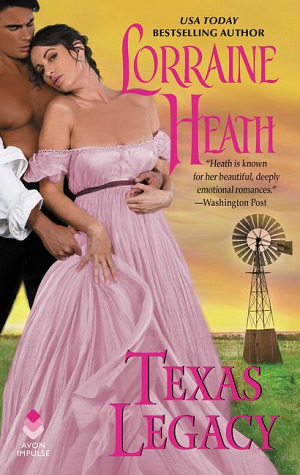 Purchase
Texas Trilogy 3.5
Avon Impulse
January 2019
On Sale: January 15, 2019
Featuring: Faith Leigh; Rawley Cooper
ISBN: 006285609X
EAN: 9780062856098
Kindle: B078QY5GF2
Paperback / e-Book
Add to Wish List

Romance Historical | Romance Western
For as long as he can remember, Rawley Cooper has loved Faith Leigh. But the cruelty of his childhood haunts him and he knows he's undeserving of Faith. When she comes to him on the night of her nineteenth birthday, they both give into temptation. But the searing kiss reaffirms what he's always known: he can't have a lifetime of her in his arms. To protect his heart, he packs his things and heads west.
Faith has always adored the boy her parents took in and raised. But she's not certain she can ever forgive him for riding out of her life just when she needed him the most. When an urgent telegram forces him to return six years later, Rawley discovers Faith is now a woman to be reckoned with.
As old feelings are stirred back to life and new passions take hold, they both must confront secrets from their past or risk losing a legacy of love.
Comments
19 comments posted.
Re: Texas Legacy

I especially loved the heroes of Lorraine Heath's Hellions of
Havisham series. I can't wait to meet the men of her Texas
Trilogy!
(Kt C 8:55am January 16, 2019)
I am always happy to see secondary characters get their own stories... a big fan of Vivian Arend's characters and break off series!
(Colleen Conklin 11:49am January 16, 2019)
I enjoy reading series with recurring characters.
(Melanie Rosen 12:14pm January 16, 2019)
Lorraine Heath always writes interesting primary and secondary characters.
(Kim C 6:13pm January 16, 2019)
I always enjoy a story as is. There have been a few
secondary ones I was interested in but it isn't my norm for
lighter reads. My favorite secondary was a very bad guy
named Charlie in a series by Callie Hart called The Blood
and Roses series who ends up dying in the end by the main
character. I would have enjoyed a book about him and his
past to figure out why he was so messed up.
(Candy Voisine 6:20pm January 16, 2019)
oh my goodness,those books sound very good
(Vickie Couturier 9:39pm January 16, 2019)
I was stunned when I saw Texas Legacy yesterday! This is one of my
absolute favorite series.
(Jonetta (Ejaygirl) Allen 10:32pm January 16, 2019)
I recently read Amy E. Reichert's The Coincidence of
Coconut Cake. The heroine runs her restaurant with a
pastry chef and a sous chef(?), Harley and Sue were the
names, I think. I would love to read the story for Harley
and Sue.
(G. Bisbjerg 11:49pm January 16, 2019)
Yes, I enjoy finding a secondary character become the major one in another book. It's like finding out more about an old friend.
(Anna Speed 12:55pm January 17, 2019)
I am getting the stories I have wanted for side characters. Linda Broday had
women hiding in a canyon in her Men Of Legend series. She has now started a
new series that will give some of these women their HEA. Their situations are
so dire because their families have committed them to an asylum even though
there is nothing really wrong with them. They have escaped and must hide like
outlaws to keep from being sent back.
I look forward to new Lorraine Heath western set books. I have enjoyed her
books for many years.
(Patricia Barraclough 2:26am January 17, 2019)
I love to read and get lost in a good book.
(Cindy Martin 11:35pm January 17, 2019)
Reading a series where each book shares a character's story
is what keeps me reading.
(Jaye Smith 5:47am January 18, 2019)
Lorraine Heath;Sounds great. Thanks for this opportunity.
(Nancy Luebke 3:51pm January 18, 2019)
Happy Friday friends
(Emily Stemp 8:07pm January 18, 2019)
love series, they keep you hooked, ready for the next
(Isabella Wilson 1:23am January 19, 2019)
I like reading a series with no more than 4 in the series.
(Joy Isley 3:12pm January 19, 2019)
Love reading books, thanks for the chance.
(Timothy Killoran 8:10am January 20, 2019)
great prize would love to win thanks
(Susan Gannon 10:34am January 20, 2019)
I love seeing the books which are great their nice covers
(Pam Sims 12:39pm January 21, 2019)
Registered users may leave comments.
Log in or register now!