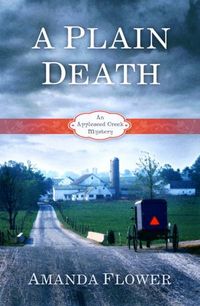 Purchase
Appleseed Creek Mystery #1
B&H Publishing Group
July 2012
On Sale: July 1, 2012
Featuring: Chloe Humphrey; Timothy
336 pages
ISBN: 1433676974
EAN: 9781433676970
Kindle: B008922T7I
Trade Size / e-Book
Add to Wish List

Inspirational Amish | Inspirational Mystery | Mystery
Welcome to Appleseed Creek, the heart of Ohio's Amish Country, where life is not as serene as it seems.
While her Cleveland friends relocated to Southern California and Italy, 24-year-old computer whiz Chloe Humphrey moves with some uncertainty to Appleseed Creek to direct technology services at a nearby college. Her first acquaintance is Becky, an ex-Amish teenager looking for a new home.
While driving Chloe's car, Becky collides with a buggy, killing an Amish elder. But what looks like an accident is soon labeled murder when police discover the car's cut brake line.
Now, Chloe must take on the role of amateur sleuth to discover who the real intended victim was before the murderer makes a second attempt. Becky's handsome Amish-turned-Mennonite brother, Timothy, a local carpenter, comes in handy along the way. With God's help, they'll solve the mystery that's rocking this small community.
Comments
36 comments posted.
Re: A Plain Death

I believe this book will be great! I do feel that Tim and Chloe will get together and find out who sabotaged her car even though Becky borrowed it, then follow up with a romantic ending.
(Theresa Smith 5:10pm April 9, 2012)
When God has plans for us He lets us know in no uncertain terms. God bless you on your journey. The book sounds great too.
(Kathleen Yohanna 12:52pm April 14, 2012)
this book looks really good would love to win it thanks
(Denise Smith 3:53am April 14, 2012)
Nicole sounds like one smart cookie! I love Amish stories and can't wait to read yours.
(Karen Gervasi 8:04am April 14, 2012)
I would love to read this book...thanks so much for the chance to win it!!
(Bonnie Capuano 8:48am April 14, 2012)
What a great way to meet ur agent! I would very much like to win this
book! I've been impatiently waiting for our library to get it. Thank u for the
opportunity!
(Valerie Consoer 9:30am April 14, 2012)
Great story. I am always inspired hearing how people get their literary start.
(Pam Howell 9:42am April 14, 2012)
That is a great story!! I can't wait to read your books...
(Michelle Dellagnese 10:15am April 14, 2012)
I love murder mysteries
(Dawn Staniszeski 10:27am April 14, 2012)
So want to get my hands on this book!
(Angela k 10:53am April 14, 2012)
What a wonderful story. Congrats on the Agatha nomination.
(G S Moch 11:22am April 14, 2012)
Love your story! I like the title of this book, it sounds great.

wfnren(at)aol(dot)com
(Wendy Newcomb 11:45am April 14, 2012)
Congrats on all! You have the right attitude and it will take you far. Looking for the positive and turning hurdles into opportunities. Good for you!
Good luck and happy writing!
(Tracie Travis 12:23pm April 14, 2012)
It's always interesting to hear stories from behind the scenes.
(Shirley Nienkark 12:31pm April 14, 2012)
How wonderful that you recognized God's hand in your life.
Blessings,
Marjorie
(Marjorie Carmony 12:45pm April 14, 2012)
Wow! Sometimes God's plans take a leap of faith and a little guts. Not courage, guts. I don't know if I would have had the gut to tell her I just happened to be in Florida for a week and I would like to get together. Congrats on having guts and getting published!
(Jennifer Beyer 12:57pm April 14, 2012)
Having faith in yourself is the most difficult but belief in a higher power makes it a little easier.
(MaryEllen Hanneman 1:14pm April 14, 2012)
That's a great story. Whenever something bad happens to me, I have learned to be patient, that's there's usually something else going on. Something I can either learn from, or there's an opportunity opening up that I wouldn't have considered otherwise.
(Kathleen Conner 2:06pm April 14, 2012)
This sounds like a great book. I like the crossover of 2 book genre also. That is the type I am always trying to find.
(Roseann Moss 2:14pm April 14, 2012)
this story sounds great. I'd love to read it and winning it
is even better.
(Mary Hay 2:26pm April 14, 2012)
Your book sounds very interesting.Thanks for giving me a chance to win it.
(Linda Hall 2:31pm April 14, 2012)
Sounds like a fun read!
(Darci Paice 2:35pm April 14, 2012)
I think it was an inspirational story. Many thanks.
(Elaine Seymour 2:37pm April 14, 2012)
The book sounds very interesting. I also think it is wonderful getting to know how a writer gets their start
and the excitment in their voice when they write about it!
Keep up the good works! (or writing shall I say)
(Ann Thaxton 2:38pm April 14, 2012)
Somehow bad things can turn good---but it also sounds like you put a lot of work into making your writing very good, too.
(Sue Farrell 4:25pm April 14, 2012)
Sometimes it's all about timing, being in the right place at the right time. You and Nicole being in Florida, your getting the courage to email her, meeting up and having lunch together, signing you and giving good advice to run with, Amish stories to incorporate as subject matter into your mystery writing. Love reading how this all came to be for you, and can't wait to read your books which sound so very good! Your faith in yourself and enthusiasm to do what you love brings you the success you deserve!
(Linda Luinstra 5:47pm April 14, 2012)
I admire and respect all the hard work authors must do to put together a good read and there are so many!!!!!! Congrads!!!!
(Joanne Bozik 6:37pm April 14, 2012)
I believe that when someone has a gift, angels watch over them, and open doors for them when the timing is right. First we have to know what the gift is. Amanda knew what her gift was. As for the trip, it got changed for a reason. There were more important things for Amanda to do, like start writing books!! I'm thrilled that things went the way she wanted them to, and I'm very anxious to read them. I'm also excited for her getting the nomination on her book!! The cover of this book is very well done. I love the quaint and homey feel to it.
(Peggy Roberson 6:51pm April 14, 2012)
Thank You, Amanda for sharing your journey in getting published. I would love to write a book but not knowing what to do or how it is done, is a scary step for me. I'm always at what do I do next or what if I can't do it. By sharing your journey, it is good to know that I'm not the only one that feel that way.

Thanks for sharing!!!
(Kai Wong 10:03pm April 14, 2012)
The way opened, as Quakers say, but you bravely reached out and took advantage of the opportunities before you - good for you! Looking forward to reading the books!
(Beth Fuller 10:08pm April 14, 2012)
Thank you for sharing. This was just wonderful. I love that you were continually surprised.
(Mary Preston 12:17pm April 15, 2012)
Congratulations on your talent and on getting an agent. That must be a big load off your mind. But you probably know who holds your todays and your tomorrows in his hands. Isn't that a wonderfully reassuring thought, even if we don't always remember right away when adversity rather than serendipity strike? God bless you in your writing.
(Sigrun Schulz 4:19am April 15, 2012)
I believe that when under pressure, the brain kicks into action and you're the most creative because there's nothing else you can truly depend on. I'm glad you had the urge to get on paper those thoughts and truned them into a gripping story.
(Alyson Widen 4:37pm April 15, 2012)
That's Awesome Amanda. Not just one but 2 series, Wow. Congratulations and can't wait to read "Murder in a Basket" which I already have on my wish list.
(Brenda Hill 5:03pm April 15, 2012)
That is wonderful that things worked out so well.
(Maureen Emmons 5:14pm April 15, 2012)
This is wonderful and congratulations for you and your book. I think you will go a long way in the writing of your books. Sound like a great book here. Would love to read it.
(Diane Castiglione 2:02pm April 16, 2012)
Registered users may leave comments.
Log in or register now!