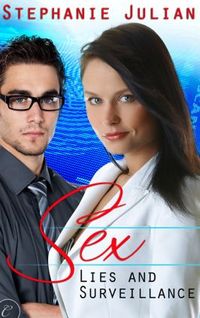 Purchase
Carina Press
January 2012
On Sale: January 16, 2012
Featuring: Janey DeMarco; Mal Laughlin
ISBN: 142689306X
EAN: 9781426893063
Kindle: B00699MAH2
e-Book
Add to Wish List

Janey DeMarco would love to have a sex life—and she has a serious crush on the new guy in her office. As manager for her family's P.I. firm, she knows an office romance would end in disaster. Not only are her parents former spies, but her older brothers are tall, dark and overly protective. Still, a little sex would go a long way to reducing her stress levels, and the man is hot...
NSA operative Mal Laughlin has been sent undercover to find a link between the DeMarcos and the gun smugglers who killed his partner. Unfortunately, the only evidence points to the woman who's making him hot, hard and ready—Janey.
Convinced Mal is hiding something, Janey's determined to find out what. Can she do that while keeping her own secrets? Janey and Mal plot a course of seduction to uncover the truth about each other but when they're thrown together on a dangerous assignment, sensual meltdown is imminent and secrets are about to be revealed.
Comments
47 comments posted.
Re: Sex, Lies and Surveillance

This sounds like it has many layers weaved into a story that
would interest me.
(Cindy Olp 12:25pm January 19, 2012)
I can't go past Maxwell Smart. Such a bumbling lovable spy.

SEX, LIES & SURVEILLANCE looks amazing. Thank you for the excerpt.
(Mary Preston 12:45pm January 19, 2012)
My favorite fictional spy is Jason Bourne. He's an alpha and very resourceful.
(Kai Wong 12:55pm January 19, 2012)
Loves the excerpt. Intriquing beginning. Congratulations on an interesting storyline.
(Gladys Paradowski 3:51am January 19, 2012)
Of ouurse I meant "Loved the excerpt."
(Gladys Paradowski 3:52am January 19, 2012)
Boy,I bet Mel will be banging his head on the desk many more times before this story is over. Good luck to him!
Blessings,
Marjorie
(Marjorie Carmony 6:35am January 19, 2012)
MY FAVORITE SPY..BARBARA BAIN IN "MISSION IMPOSSIBLE"..I AM IN IT TO WIN IT!
(Silvana Moscato 7:32am January 19, 2012)
Wow, Stephanie- this book sounds so fun! I'm adding it to my TBR list
right now. It seems to have all the elements of a great read. :)
My favorite spy character... Hmm. Well, someone's already mentioned
Maxwell Smart. I just love the movie Get Smart with Steve Carell and
Anne Hathaway. He is completely hysterical, yet he is also a good spy
and I love the romance that happens too. Can't judge a book by it's cover!
I guess he'd be my favorite.
Good luck with your new book, and thanks for the chance to win!
(Debbie Burdeen 7:49am January 19, 2012)
I am a James Bond fan...the old version with Sean Connery.
(Robin McKay 8:44am January 19, 2012)
Bond ... James Bond.
(Pam Howell 9:51am January 19, 2012)
Sounds like a fun read!
(Jan Terry 9:52am January 19, 2012)
Gotta go with Mata Hari..but lets not forget Julia Child also...But the best looking Dean Martin as "Matt Helm"
(Dawn Staniszeski 9:57am January 19, 2012)
James Bond of course.
(Annetta Stolpmann 10:01am January 19, 2012)
Thanks for the great excerpt! This book looks haawt!!!! Adding
to my wishlist :)
(Erin Fender 10:34am January 19, 2012)
My favorite spys were Kelly Robinson and Alexander Scott from
I Spy from 1965. This sounds like a fun and interesting book.
(Joanne Balinski 11:00am January 19, 2012)
Bond...James Bond.
(G. Bisbjerg 11:07am January 19, 2012)
sounds like a fun read - and I would love to win a copy. Best of luck with it!
(Nancy Reynolds 11:36am January 19, 2012)
Bond...James Bond. Thank you for a chance to win your book.
(Linda Hall 11:55am January 19, 2012)
Can it just be Daniel Craig, as Bond, as Bloomkist...I do enjoy the Sigma
Force novels by Rollins.
(Carla Carlson 12:04pm January 19, 2012)
not original..but james bond
(Mal Kaplan 12:19pm January 19, 2012)
I don't know, I think I may have a new favorite! Mal!
(Kelli Jo Calvert 12:29pm January 19, 2012)
Can't pick just one - Love James Bond, Jason Bourne is
excellent, so many others, would love to add these characters
to my favorites list.
(Diane Sallans 12:42pm January 19, 2012)
James Bond rolls on the tongue of everyone when that question is asked, but there are everyday heroes that have written books, or there are books that are written about them. I have heard that the Ludlum series i.e. The Bourne Identity is very good. I'm a little behind on my reading. There is also a book out that I am interested in reading. It is called - A Time to Betray by Rezy Kahilli, and it's about a man from Iran who was in the Iranian Guard who was a double-agent, and spied for them and reported to the CIA as well. I've heard it's a very good book, and will bring tears to your eyes as well. He now lives in California. I'm sure there are many others, but as I said, I am behind in my reading, as in other things at the moment. I promise not to do that with your book!!
(Peggy Roberson 12:44pm January 19, 2012)
My vote goes to Flint (or maybe it's just that I love James
Coburn when he plays Flint? :D)
(Ilona Fenton 12:48pm January 19, 2012)
Spy stories are a lot of fun and James Bond is definitely up there. There have been other spy stories but I can't recall their names, all I know is a sense of humor and some smarts can make the characters more appealing.
(Na S 1:13pm January 19, 2012)
I never really thought about having a fav spy... at this point I am not sure who to say is my fav...
(Colleen Conklin 1:15pm January 19, 2012)
Hmm, I don't really read a lot of spy stories, but that
excerpt intrigued me right from the start! Actually the only
spy I know is James Bond... I have read other spy stories but
they didn't really make a big impression on me!
(Victoria Teoh 1:49pm January 19, 2012)
Hmmm who is my favorite spy? Jason Bourne or James Bond? Bourne for skills and Bond for style.
(Stacie Deramo 1:58pm January 19, 2012)
That excerpt was just priceless, Stephanie. As for favorite spies, mine are Jason Bourne and Sydney Bristow.
(Cathy MacDonald 2:24pm January 19, 2012)
My favorite spy is one who is pretty sneaky while looking good and unassuming.
(Alyson Widen 3:06pm January 19, 2012)
Barbara Felton in the first Get Smart (Agent 99?).
(Sandra Spilecki 3:13pm January 19, 2012)
James Bond, no matter how dated, will be the ultimate spy to me. (The Sean Connery version)
(Anne Muller 3:31pm January 19, 2012)
This book sounds great!
My favourite spy is James Bond.
(Cheryl McEwen 4:43pm January 19, 2012)
My favorite spy, I would have to say, was Don Adams on the "Get Smart" TV series (this dates me), but he was so funny, to the point of hysterical, and loved Barbara Feldon, too. Your book intrigues me and love a spy story with a bit of humor thrown in! Would love to own this book!
(Linda Luinstra 5:38pm January 19, 2012)
Hi Stephanie! SEX, LIES AND SURVEILLANCE sounds like a must read. As far as a favorite spy goes, I have 3 that have already been named: Maxwell Smart, James Bond, and Jason Bourne. Maxwell because he was funny, James because he is sexy and smooth, and Jason because he is so intense and doesn't know what is going on in his life.
(Cathy Phillips 6:09pm January 19, 2012)
Enjoy watching spy movies and reading spy novels. My favorites were The Man From U.N.C.L.E. (United Network Command for Law & Enforcement) with Robert Vaughn as Napoleon Solo. Also, really enjoyed Maxwell Smart with Don Adams and James Bond, especially those with Sean Connery.
(Rich Cook 6:22pm January 19, 2012)
Bond, James Bond! The older verisions cause the new ones are kind of bad.
(Jennifer Beyer 8:16pm January 19, 2012)
Harriet The Spy is my favorite childhood spy and George Smiley in John le Carre's "Tinker,Tailor,Soldier,Spy" is my favorite adult spy. Loved the excerpt soooo much!
(Joanne Hicks 8:44pm January 19, 2012)
My favorite spy is Annie Walker from Covert Affairs. I really like the cover.
(Lisa Kendall 9:27pm January 19, 2012)
Sounds like a great book, will definitely have to put it on
my reading list.
(Lynn Paterson 10:10pm January 19, 2012)
My favorite spy would have to be Jason Bourne, yumm-o!
Good luck and happy writing!
(Tracie Travis 11:45pm January 19, 2012)
Hi! Thanks for having the contest. I would have to agree with several others...Bourne and Bond (at least those are the ones that come to mind at the moment). Your book sounds fantastic! I haven't read many books of this type, as the first few pages did not catch my attention. Not so with yours....just reading that short excerpt, and I am "hooked"! I do think, perhaps, Mal Laughlin will be MY favorite one soon. LOL Would LOVE to win your book!! Good Luck to everyone... Toodles, Uekiya
(Cheri Minott 4:11am January 20, 2012)
My favorite spy---man, James Bond, the classic Sean Connery one---woman, Annie Walker, she's just so new and fresh.
(Sue Farrell 10:58am January 20, 2012)
I liked the Avengers and Ilya from the Man from Uncle
(Lisa Elwood 1:37pm January 20, 2012)
It was hard to find a great spy that wasn't already mentioned. I really love the James Bond movies with Sean Connery. How about Cameron Diaz in Charlie's Angels. Does that count?
(Kathleen Yohanna 5:03pm January 21, 2012)
Another James Bond fan here, especially Sean Connery!
(Jeanne Sheats 9:15pm January 21, 2012)
Wow, all good suggestions but no one mentioned Michael from La Femme Nikita! Not the new version on The CW but the one by USA Network. Roy Dupuis still makes me swoon.
(Stephanie Julian 9:32am January 22, 2012)
Registered users may leave comments.
Log in or register now!