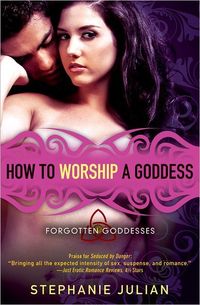 Purchase
Forgotten Goddesses #2
Sourcebooks
December 2011
On Sale: December 1, 2011
Featuring: John Stevenson; Lucy
384 pages
ISBN: 1402251505
EAN: 9781402251504
Kindle: B005WJJMVC
Paperback / e-Book
Add to Wish List

HE'S EXACTLY WHAT SHE'S ALWAYS WANTED, AND SHE UNLEASHES HIM LIKE A FORCE OF NATURE...
Lucy was once the beloved Goddess of the Moon, and she could have any man she wanted. But these days, the goddesses of the Etruscan pantheon are all but forgotten. The only rituals she enjoys now are the local hockey games, where one ferociously handsome player still inflames her divine blood...
Brandon Stevenson is one hundred percent focused on the game, until he looks up and sees a celestial beauty sitting in the third row. A man could surely fall hard for a distraction like that...
Forgotten Goddesses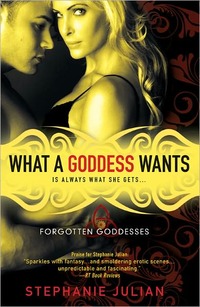 What A Goddess Wants
#1.0
Amazon.com | BN.com | | |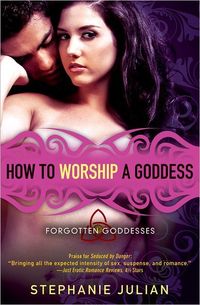 How To Worship A Goddess
#2.0
Amazon.com | BN.com | | |

Goddess in the Middle
#3.0
Amazon.com | BN.com | | |
Comments
36 comments posted.
I can not wait for this book to be released. It looks to be even better than the first one in the series, and that one was outstanding...!
(Mickey McCall 1:05am November 26, 2011)
First, I totally agree with you about winter...and who doesn't love a hockey player? I watch the Blackhawks every chance I get!!!
(Dawn Staniszeski 9:22am December 13, 2011)
Being a lifelong Red Wing lover, I believe that a hockey player has a special skill with their hands!! Because they have to be so skillful with their hockey sticks on the ice, the way they handle them, it takes a special skill with the use of their hands and arms - hence my answer. I feel the same way about the cold weather, although it affects me healthwise. I love to look at the snow, and where I live, I get lake-effect snow, which gives me a bit more than in the city. When it's hot outside, I'm definately in my element, and can endure what my husband needs an air conditioner for!! I can't wait to read your book. I will be in my element, from the sound of it. Have a Merry Christmas, and a Very Happy New Year!!
(Peggy Roberson 9:40am December 13, 2011)
I sort of love the cold. When it is a sweltering 90+ degrees with high humidity, even shorts and a tank top feel stuffy. But in the winter I can always add more layering and feel snug like a rabbit must feel with its fur. Plus afterwards there is the hot chocolate and fire place that makes it worth it.
(Pam Howell 10:00am December 13, 2011)
To me a hot hockey player would have all his own teeth, but from what I read, that's not too likely. ;-)
(Anne Muller 10:59am December 13, 2011)
I'm more of a basketball fan myself---so I dream of lusting after point guards.
(Sue Farrell 11:24am December 13, 2011)
Hot hockey players, hmmmm...Over the years, I have seen a few of them without their uniforms. The uniforms designed to challenge females imaginations! haha But I have seen a few of them. Those pictures tell me they possess all I need them to! LOLOL I love stories of stubborn determined proud men tracking down that woman! haha
(Lisa Hutson 11:25am December 13, 2011)
I'm with Anne, I'd like him to have teeth!
(Lisa Elwood 11:46am December 13, 2011)
I think a hockey player would definately have endurance. And how sweet is that?!
(Patti Paonessa 11:59am December 13, 2011)
I agree that a hockey player has to have all his teeth. Gaps in a smile are just not sexy. I also agree with the cold comments. Living here in the north, I am used to it. That doesn't mean that I wouldn't be really happy if it snowed in the mountains and stayed nice and dry here in the valley. Fat chance! So I will curl up in front of the window, watch the dogs play in the snow, and read my book which is guaranteed to keep me warm! Of course wandering off to a Spokane Chiefs hockey game always keeps me warm. I can holler and scream with the best of them!
(Angee Bartlett 12:43pm December 13, 2011)
Oh like the others stated I want a hockey player with all of his teeth...
(Colleen Conklin 12:50pm December 13, 2011)
It's fun to learn about what inspired the book. Admit that I don't know much about hockey.
(G. Bisbjerg 1:44pm December 13, 2011)
Yes, the perfect hockey player would possess all his teeth. We are talking romantic fantasy here. Good heroes have all their teeth and most of their hair.

Thanks for the laugh ladies. And thanks for stopping by.
(Stephanie Julian 1:49pm December 13, 2011)
Definitely not a snow girl, though I love being inside and cozy on a cold day.

I agree, teeth is essential, lol.
(Cathy MacDonald 2:19pm December 13, 2011)
I think a hot hockey player should be graceful and be able to keep you warm in winter.
(Tamara Burks 3:23pm December 13, 2011)
I HATE THE SNOW AND COLD..AND TOOTHLESS MAY HAVE IT'S ADVANTAGES!
(Silvana Moscato 3:34pm December 13, 2011)
Big Red Wings fan... Seriously, to me, they are like super heros without faults... :) So no secrets that I can think of... :)
(May Pau 3:44pm December 13, 2011)
Growing up in Minnesota, I did a lot of ice skating and spent many hours on the ice in freezing temperatures. Whenever I wanted a break I'd skate to the hockey rink behind the main skating rink and watch the boys play hockey. I enjoyed it watching them play this rough sport, since I went to school with a few of the players. They move so fast on the ice and are having a great time! Maybe, I thought they looked hot or cute in their uniforms while playing the game (not sure, being this was when I was in 4th through 9th grades)! Liked the action and danger involved. Remember cuts, but not any loss of teeth. I was definitely a snow girl and loved winter very much.
(Linda Luinstra 3:49pm December 13, 2011)
Thanks for lovely post! I love winter... as long as I have nowhere to go and lots of books to read ;)
(Erin Fender 4:25pm December 13, 2011)
I agree that it's nice if a hockey player has all his teeth so he can have a sassy grin. He also needs to be good with his hands so he can hold his woman. I don't particularly like summer or winter. Give me spring and fall, please.
(Cathy Phillips 5:19pm December 13, 2011)
Winter is great for hockey and tobogganing. Never played this sport but enjoy watching it being played. Don't always enjoy shoveling all the snow when it's over 6" all at once--that's for the birds (great for snowmen)!lol
(Rich Cook 5:36pm December 13, 2011)
I am more of a baseball player than hockey but whatever player, having teeth is definitely a must
(Shirley Younger 5:45pm December 13, 2011)
I'm with you. I hate the cold too!
(Lisa Garrett 5:57pm December 13, 2011)
I don't like winter and I've never really gotten into hockey, but what fascinates me is the subject of forgotten goddesses. I love mythology and I love reading different books that incorporate that theme.
(Tabitha Monroe 6:49pm December 13, 2011)
I'm from St. Louis and love the Blues! We go to as many games as possible and take our 10 year old twin boys with us. We have gone to many autograph signings and I'm always so impressed how nice and polite all the big, tough hockey players are. We have a picture of T.J. Oshie just beaming at our twins when they walked up to ask him for an autograph. Hockey players are the best!
(Renee Pajda 7:15pm December 13, 2011)
I use to love winter, but after I injured my back several years ago, I would perfer the the tropical breeze off the Virgin Islands or a nice warm breeze coming off the NC beaches. Hockey, football, basketball, baseball, and most competive sports require skilled hands, as do the hands of a farmer. How to worship a goddess would require knowing the heart and desires of the goddess! Remember let your fingers do the walking, let the goddess do the talking, and your heaven will explode shedding light on your goddess's beauty. From a man's perspective. I'm sure my wife would enjoy the book because I already treat her like a goddess.
(David Christian 8:17pm December 13, 2011)
I must say that I agree with you about the cold weather and the snow. The only advantage of winter is I love to curl up with a good book. I do not know anything about hockey and I would rather read a good book than to watch sports. It is interesting to learn where the inspiration came from for your book. It sounds like a great read.
(Mary Christian 8:32pm December 13, 2011)
I understand how watching hockey players can make the
cold seem hot. I live where spring season occurs for the
baseball teams and those views are magnificent, thank
goodness for cold drinks and sunglasses.
(Carla Carlson 8:35pm December 13, 2011)
I like watching it snow, but I just hate shoveling it. That's when hot coco and reading are a comfort.
(Deb Pelletier 10:10pm December 13, 2011)
I never got interested in Hockey but when my son was in
college he was a fanatic about the Raleigh team. My sport is
baseball. Now I can holler with the best of themj.
(Lisa Richards 3:53am December 14, 2011)
I would imagine a hockey player being sexily aggressive and
powerful. I need that in a man - my personality is strong and
I'm difficult to bend!
(Angeles W 3:59am December 14, 2011)
One secret? I don't really like hockey. Well, I did see one game last year--the last semi-final game between the Bruins and the Lightning: no fighting, no roughness, no penalties, wonderful. But that was a huge exception.
Second secret? Fall is my favorite season, but I don't mind a cold winter, and have experienced some windy -40 ones. I used to live in Winnipeg, MB and walking more than 2 miles home from school in winter certainly posed major challenges.
Third secret? I love my 3 nephews who were/are hockey players and they were brought up in a gentlemanly fashion by my sister, not so much by my brother-in-law, and have won awards for their gentlemanliness.
So I'd definitely like a gentlemanly hockey player...if there are any.
(Sigrun Schulz 8:34pm December 14, 2011)
A hockey player would have good reflexes and endurance.
(Mary C 10:29pm December 14, 2011)
Maine winters can be beautiful and challenging but I do love
the state in general. Because winter is a major part of
Maine weather, then I guess I do like winter. LOL Would
enjoy it more if the cold didn't bother me so much but would
much rather have the 4 seasons rather than to live where it
is so warm/hot you go from air-conditioned house to air-
conditioned car to air-conditioned store and back again. NOT
for me! I want to be outside in the fresh air! Hmmm, hockey
player would need a competitive nature without being
violent, fair minded (win or loose, playing the game is the
goal), respect of others (men and women - on the ice as
well as off),a Gentleman, have good health and stamina,
great personality (get along well with others - be it
fellow players, opposing teams, family members or people in
general) Looks are not the top priority (but teeth would be
nice LOL).
Hope you and yours have a Wonderful Holiday season!!
Best Wishes,
Uekiya
(Cheri Minott 12:08pm December 15, 2011)
It will truly be a joy to read your book "How to Worship a Goddess" according to my wife and daughter. I guess it will be a family experience. My daughter is married.
(David Christian 9:00pm December 15, 2011)
My two sons played youth hockey and still have all their parts and looked like Michelin men or linebackers with the amount of safety equipment worn. We have plenty of books on hockey players and one had a quote that he travelled light and only packed a toothbrush and no suitcase. I'd like to get my hands on your story and see another version of hockey.
(Alyson Widen 5:15pm December 17, 2011)
Registered users may leave comments.
Log in or register now!