Stephanie Julian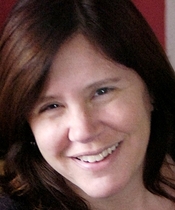 Blogging at Fresh Fiction
Stephanie Julian | Are Two Really Better Than One?
October 1, 2014
Peanut butter cups usually come in pairs. Why? Who knows but when you open that package, you can't eat just one. You have to Read More...
Stephanie Julian | The Fantasy of the MĂ©nage
July 27, 2012
In reality, living in a ménage sounds almost like a nightmare. Two men to pick up after, two men to cater to, two men Read More...
Stephanie Julian | Peek into SEX, LIES & SURVEILLANCE
January 19, 2012
NSA field agent Mal Laughlin is a man with a mission: Bring down DeMarco Investigations for playing a role in the death of his partner Read More...
Stephanie Julian | Cold Weather Fantasies ... and Hockey
December 13, 2011
As the nights get longer and the temperature starts to hit freezing more often than not, I'm happy to be ensconced in my office Read More...
Stephanie Julian | Juggling Balls and Carpet Sweeping
July 28, 2011
When I first started writing towards publication, I had two sons under the age of three. During the day, I was working as a freelance Read More...
Stephanie Julian | A Writer's List of Thanks
November 10, 2008
Since November is the month when we give thanks for being lucky enough to live in our great country—and since I figure I've Read More...
I'm an avid reader, who had a book-a-day habit until I realized I not only wanted to read books but write them, too.
Romance has always been my first love, the hotter the better. I started reading romance in seventh grade when I discovered Harlequin Presents before graduating to Bertrice Small and Kathleen Woodiwiss. I spent most biology classes with a romance hidden inside my textbook.
After graduating from Penn State with an English degree (and parents who never once said (but had to be thinking) "What the hell are you going to do with an English degree?"), I took a job at a newspaper because the only thing I wanted to do was write and they were going to pay me to do it. And I needed the job. Covering municipal government meetings gave me plenty of time to think about exactly what I wanted to write. For me there was really no choice. It was romance all the way.
So, about 10 years ago, I decided to rekindle my childhood dream of writing romance, joined Romance Writers of America and Valley Forge Romance Writers and set about becoming published.
So, here I am, finally.
Log In to see more information about Stephanie Julian
Log in or register now!
Series
Forgotten Goddesses | An Indecent Affair
Books:
Strings Attached, November 2015
Salon Games
e-Book
An Indecent Affair Part 4, September 2014
An Indecent Affair Part 4
e-Book
Tall, Dark and Paranormal, September 2014
e-Book
An Indecent Affair Part 3, August 2014
An Indecent Affair Part 3
e-Book
Over Exposed, July 2014
Salon Games #3
Paperback / e-Book
An Indecent Affair Part 2, June 2014
An Indecent Affair Part 2
e-Book
An Indecent Affair Part 1, June 2014
Indecent Affair Part 1
e-Book
One Night Only... An Erotic Romance Anthology, May 2014
e-Book
An Indecent Proposition, December 2013
e-Book
No Reservations, September 2013
Trade Size / e-Book
By Private Invitation, January 2013
Salon Games
Paperback / e-Book
Goddess in the Middle, July 2012
Forgotten Goddesses #3
Paperback / e-Book
Sex, Lies and Surveillance, January 2012
e-Book
How To Worship A Goddess, December 2011
Forgotten Goddesses #2
Paperback / e-Book
Spell Bound, September 2011
e-Book
Grace in Moonlight, July 2011
Lucani Lovers #5
e-Book
What A Goddess Wants, July 2011
Forgotten Goddesses #1
Paperback
Size Matters, September 2010
e-Book
Seduced and Enchanted, November 2008
Magical Seduction #4
e-Book
Seduced and Ensnared, September 2008
Magical Seduction #3
e-Book
Seduced in Shadow, July 2008
Magical Seduction #2
e-Book
Seduced by Magic, April 2008
Magical Seduction #1
e-Book