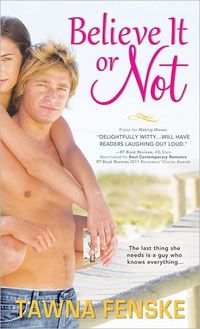 Purchase
Sourcebooks Casablanca
March 2012
On Sale: March 1, 2012
Featuring: Violet McGinn; Drew Watson
384 pages
ISBN: 140225718X
EAN: 9781402257186
Kindle: B006YF9ZTW
Paperback / e-Book
Add to Wish List

Romance Paranormal | Romance Contemporary
Do you believe in...accounting?
Numbers never lie, so Violet McGinn found safe haven in the most boring profession she could find. Until her renowned psychic mother lands in the hospital and Violet has to run her business. Now you can have your taxes filed and your aura read, in one convenient location.
Do you believe in...music?
Drew Watson is the jaded owner of the local hot spot next door, and doesn't need a single thing except a good crowd to dance to what he's spinning on Saturday night.
Do you believe in...love?
The only thing Violet and Drew seem to have in common is that neither believes in that psychic hoo—hah. Except Drew seems to play exactly the right song at exactly the right time. And truth be told, it makes Violet's heart dance just a little ...
Comments
24 comments posted.
I'd love to read Believe it or not. Thanks for the drawing.
(Mary Hay 3:24pm March 22, 2012)
I have a feeling that I'm going to adore your book!! Names usually don't have much of an affect on me, unless they don't match up with the story line. Because I didn't expect this question out of the blue, I really can't think of a name as an example, but I have read books that made me scratch my head and wonder what the author was thinking when they came up with the name. You had a very delightful post, and I really want to read your book!! I'm sure that your background helps a lot with some of the characters and story lines. Congratulations on your book!!
(Peggy Roberson 3:34pm March 22, 2012)
Anyone who starts "noodling" a story shouldn't have a problem with a name for the hero. HA!
Blessings,
Marjorie
(Marjorie Carmony 3:35pm March 22, 2012)
Characters names have to fit--if they don't I can't finish the story.
(Sandra Spilecki 4:24pm March 22, 2012)
I always enjoy finding out what the characters names are in the book I'm going to read, because I look forward to seeing new and different names that authors use for their stories and how they fit the characters in the story. This story sounds like a funny romance from what I've read so far with strippers, psychics, free spirits, and an accountant. I look forward to reading it--just picked it up at our library....but would love to win and own my own copy!
(Linda Luinstra 5:05pm March 22, 2012)
I like unique but not weird names.
(Lori Belcher 5:19pm March 22, 2012)
I love that you talk about how you named your characters. Some
people don't get that, name is so important. I mean, who wants
a big stud named Norman.
(Lori Lopez 5:36pm March 22, 2012)
I don't think there has ever been a time that I abhorred a name that it changed the way I read a book. There have been a couple that didn't seem right for the character, but after getting further into the story, I just accept the name as I become more familiar reading it again. The name doesn't ruin the story.
(Rich Cook 5:47pm March 22, 2012)
A different name does not ruin the story for me. I would love to win and read your book. Thanks
(Linda Hall 6:12pm March 22, 2012)
I don't have many names that bother me. My only problem is when there are names that are similar and then I start getting confused.
(Maureen Emmons 6:17pm March 22, 2012)
Some names just bring back too many memories - for example Rhett and Scarlett - it would be hard for me to see them being used as characters that were wussy or dorky. Now Tawna would be a great name for a sex-crazed tawdry secretary! Have you ever given that any thought??
(Karen Lawson 6:19pm March 22, 2012)
I love when there is meaning behind a name in a book - it makes it much more personable ~
(Stacy Novack 6:22pm March 22, 2012)
i love the names and sounds like a great book
(Jennifer Beck 7:51pm March 22, 2012)
I like names to fit the characters.
(Cheryl McEwen 8:26pm March 22, 2012)
Names are big for me. I like creativity. I don't like names that make a character sound like my grandmother (or grandfather) or are too common.
Good luck and happy writing!
(Tracie Travis 8:28pm March 22, 2012)
Character names aren't a big deal to me as long as I can
pronounce it. It's great though when after reading a book
that a name perfectly fits the character.
(Jan D 8:36pm March 22, 2012)
Accountant,strippers & psychics Oh My. This book sounds like it has the right amount of mix to make you keep turning the pages. I believe most of the time names fit the person or perhaps the person will grow to fit the name. Names are important in a story because when I imagine the character and set the scene I want to say "Yep, that's him". We have some really good ones in our family and the men DO fit the names. I will be reading your work. Thank you.
(Margie Gagarin 9:10pm March 22, 2012)
Enjoyed reading about your process for naminh your characters. Book sounds lovely!
(Mary C 9:20pm March 22, 2012)
I have loved and will always love the name Acheron. No author other than Sherrilyn Kenyon should ever use it. It is a very strong name. I Hate (with a capital H) the weird names that I can't pronounce.
(Jennifer Beyer 10:01pm March 22, 2012)
Character names... their have been a few that I was not a fan of, but it did not stop me from enjoying the character's journey... found some I had never heard of before, some that are very interesting, etc...
(Colleen Conklin 11:02pm March 22, 2012)
Violet sounds like my kind of person. I'll readily admit I love it when secondary characters have such wonderfully fun sounding names, and when they hold ideas like names are too confining.
(Lisa Kendall 12:12pm March 23, 2012)
I can definitely use something a little off the wall right now. And I love the names, especially Moonbeam et al. I'm ok with Andy as well as Drew, though one Andy I know always misnamed me deliberately until I started calling him Andrea. I love Violet's name; along with snowdrops, forsythia's and red poppies, they're among my favorite flowers.
(Sigrun Schulz 2:40am March 23, 2012)
Oh, yes. I forgot about the accounting. I used to do that and I had enough fun moments to cause diversions from boredom, as when my boss told me, "So what if it's off by $1. Who cares?" Well, I did. And a good thing too. I think that was the year we had a government audit.
(Sigrun Schulz 2:46am March 23, 2012)
I really enjoy reading humorous books. There is too much angst in real life, so I don't enjoy reading about it.
(Molly Wilsbacher 8:14am March 23, 2012)
Registered users may leave comments.
Log in or register now!