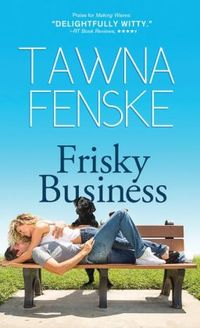 Purchase
Sourcebooks Casablanca
May 2014
On Sale: May 6, 2014
Featuring: William Barclay; Marley Cartman
352 pages
ISBN: 1402293151
EAN: 9781402293153
Kindle: B00HUTVG9I
Paperback / e-Book
Add to Wish List

She's looking for something bigger than his bank account...
No more rich men for Marley Cartman. Absolutely not. Thanks to her dad, her ex-fiancé, and the overbearing donors she schmoozes for a living, she's had more than her fill. From now on, she wants blue-collar men with dirt under their fingernails. But when Marley makes a break to handle donor relations for a wildlife sanctuary, she finds herself drawn to the annoyingly charming—and disturbingly wealthy—chairman of the board. Judging by his hipster T-shirts, motley assortment of canine companions, and penchant for shaking up stuffy board meetings, you'd never guess that William Barclay the Fifth is a brilliantly successful businessman. Will has good reason to be leery of scheming women, and as he and Marley butt heads over the wisdom of bringing grumpy badgers to charity events, he can't help but wonder if his new donor relations coordinator is hiding something other than a perfect figure beneath that designer suit…
Comments
22 comments posted.
Re: Frisky Business

Bad dates? Sorry, I don't have any experience.
I met my husband on a blind date. We have been married 34 years.
Love the cover of your book and serial bad daters are fun to read.
Does that sound awful of me??
(Lisa Hutson 12:21pm May 15, 2014)
I love the totally honest conversation. Congratulations on the wedding.
(Pam Howell 7:55am May 15, 2014)
I really enjoyed your posting, and have to congratulate both
of you on your upcoming nuptuals!! It looks like you'll
have a wonderful life together, and I, for one, am truly
happy for both of you!! Your book sounds like a really fun
read, and I could use something uplifting to read right now,
after just losing my Dad a little over 2 weeks ago!! The
cover is absolutely adorable as well!! Congratulations on
what I'm sure is going to be a very popular book as well!!
(Peggy Roberson 9:22am May 15, 2014)
I love your happily ever after story. Congratulations on your
wedding.
(Jen Barnard 9:56am May 15, 2014)
aww how nice that your life has a romantic happy ending!!
Book sounds good too!
(Joanne Schultz 12:14pm May 15, 2014)
You brought the "Wine", I brought the "Vodka"! Congrats on
the wedding. As for your question of BAD DATES, I don't
know one person that has not had them. I have had my fair
share, however, I have taken them with a grain of salt as
the person that mad it a bad date was the one losing. I
would usually just cut my loses early and I always drive
myself so I have a way home. That is the key, having a way
home. I am a consummate flirt so I can always get over the
BAD date part and make it better.
(Tina Ullrich 12:16pm May 15, 2014)
Your true life story could be a romance novel. How cute!
(Jordan Grubich 1:51pm May 15, 2014)
The book sounds great and congrats
(Jeri Dickinson 3:16pm May 15, 2014)
Bad dates? The divorced guy who said, on our first date, when I was 19 or
so, that he thought he could fall in love with me. He just met me, and we
only spent maybe an hour together at the time he said that. You thought
guys could make skid marks running? Oh yeah! I ran and didn't look back!
Lol
(Michelle Schafer 5:16pm May 15, 2014)
AWWW What a sweet story. You are definitely right about the
whole knowing your faults being a big plus in having a
successful relationship. I can't imagine getting into a
relationship where I had to change the guy for happiness. I
dated a guy once who was constantly trying to change me. It
didn't work. :-)
(Glenda Martillotti 10:52pm May 15, 2014)
Loved your HEA life story! Glad you are able to talk and laugh and love! Great dialogue.

I'd love to read your romantic comedy FRISKY BUSINESS! Marley and Will's HEA story. I need some laughter in my life!
(Laurie Gommermann 7:14am May 16, 2014)
i love reading romance comedy`s i have had alot of bad dates
before meeting my husband
(Denise Smith 10:31am May 16, 2014)
awesome - romantic comedies are cool, and Frisky Business is certainly no exception, I am sure! :-)
(Felicia Ciaudelli 10:55am May 16, 2014)
This sounds really good thanks
penney
(Penney Wilfort 11:26am May 16, 2014)
As a dog lover, I'd enjoy this book!
(Richard Proctor 11:48am May 16, 2014)
The best blind date that I ever went on was a set up by my
sister, with my now hubby. I always tell her that it was the
best thing that she ever did for me! We'll be married 7 years
in October!
(Maria Proctor 11:58am May 16, 2014)
a must read
(Tina Lechuga 1:04pm May 16, 2014)
No bad dates....met my hubby at 17 yrs old and we will be celebrating our 25th wedding anniversary in 11 days! :)

What a great story with you and your fiance! Up front honesty always works out best! Congrats on the upcoming wedding!
(Sue Galuska 1:07pm May 16, 2014)
I can't wait to read this!
(Michelle Brown 1:38pm May 16, 2014)
I met my Honey 55 years ago and we were married in 1961.
I've not dated since those days, except for our "date nights."
(Patricia Cochran 5:41pm May 16, 2014)
Love your story. Thanks for sharing!
(Denise Austin 6:13pm May 16, 2014)
Your story sounds great. Look forward to reading it. Also thanks for sharing your real story. Congratulations on your upcoming wedding.
(Carol Woodruff 7:58pm May 19, 2014)
Registered users may leave comments.
Log in or register now!