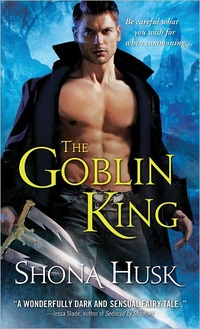 Purchase
Be careful what you wish for when summoning...
Shadowlands #1
Sourcebooks Casablanca
October 2011
On Sale: October 1, 2011
Featuring: Eliza Coulter; Roan
368 pages
ISBN: 1402259859
EAN: 9781402259852
Kindle: B005EU50BK
Paperback / e-Book
Add to Wish List

Once Upon a Time...
A man was cursed to the Shadowlands, his heart replaced with a cold lump of gold. In legends, he became known as... The Goblin King.
For a favored few he will grant a wish. Yet, desperately clinging to his waning human soul, his one own desire remains unfulfilled... A Willing Queen.
But who would consent to move from the modern-day world into the realm of nightmares? No matter how intoxicating his touch, no matter how deep his valor, loving him is dangerous. And the one woman who might dare to try could also destroy forever his chance at a ... Happily Ever After.
Shadowlands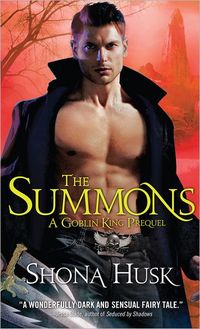 The Summons
#0.0
Kindle | BN.com | | |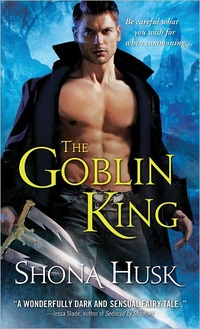 The Goblin King
#1.0
Amazon.com | BN.com | | |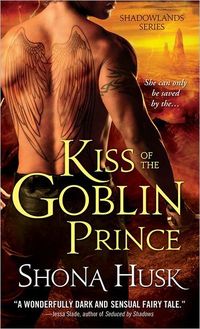 Kiss Of The Goblin Prince
#2.0
Amazon.com | BN.com | | |
Comments
33 comments posted.
Re: The Goblin King

I loved the movie, Tristan and Isolade which was one of my very favorites. Who wouldn't enjoy a movie with a romantic hero involving battles, swords, and danger to be with their lover? Viewing a movie or reading a book is an inspiration because of the depths main character goes through to obtain his desires in his life. Love your book title you arrived at through all your ideas and look forward to reading it!
(Linda Luinstra 6:25pm October 5, 2011)
I am cannot wait to read this book! It sounds really interesting!
(Jessica Whitfield 12:21pm October 6, 2011)
What inspires me? A beautiful day,a great song and good friends.
(Deb Pelletier 1:11am October 6, 2011)
omg i want your book so bad it sounds amazing i love romances like this and id love to win i want this book sooooooooo bad :) plz pick me
(Christina Williamson 1:23am October 6, 2011)
well, I must say that the idea of the Goblin King does intrigue me.

The question of what inspires me is not an easy one to answer. It's a lot little things woven together in a complex pattern, that sometimes do not seem to have any outward connection, but still give me that little ding ding ding in the back of my mind that brings forth ideas, yes, usually at 2:00 or 3:00 in the morning. That crow feather outside my door in the morning, the creepy feeling that I am being watched as I walk through the woods, the frog that hopped itself into the house, the strange dream, The odd comment the lady at the store said that was later echoed by a two year old child. All of a sudden the hairs stand up on the back of your neck, and you understand something you didn't understand before.
(Heidi Durham 4:08am October 6, 2011)
My inspiration in life is my husband, followed by my family, specially my parents, and my students.
(Diane Brixius 6:44am October 6, 2011)
the book sounds interesting
(Pam Howell 8:33am October 6, 2011)
I tend to be inspired by real people doing real life things.
A tired mother pushing herself to finish shopping (if she
can do it, so can i); A brave father shoe shopping with his
16 year old daughter (that's what I call love); or even my
7 year old niece trying to convince me why she needs $1000
for her birthday (that was just funny).
(Tanja Haack 8:45am October 6, 2011)
This sounds like my sort of story, thank you for sharing how it came about.
(Barbara Hanson 8:48am October 6, 2011)
I'm inspired by other people - doing everyday things - they give me ideas and encouragement.
(Beth Elder 9:52am October 6, 2011)
My inspiration is my mother. She always has a talent with reading and writing. It is one of my abilities as well. I love to read and write it is a strong passion of mine. The book the goblin king sounds to be a very interesting read.
(Anthonia Sharp 10:08am October 6, 2011)
What inspires me is the cover of The Goblin King...Wow!!!
(Renee Pajda 10:14am October 6, 2011)
Many things inspire me...nature, my family & cats, something I have read. Most of the items I create are useful & I like to give them as gifts. Your book sounds fantastic. I love everything Celtic.
(Beverly Beltz 10:57am October 6, 2011)
This book sounds GREAT and when I hear Goblin King I think of the movie The Labyrinth which was a favorite of my when I was younger. Thanks for sharing!
(Holly Collins 11:41am October 6, 2011)
There are two things that inspire me the most - a quiet house and music!! When I have that combination, I'm at my best. It's when I'm the most creative, or when I can get the most work done. I get put in a better frame of mind. I love everything about your book from the cover right down to the story line, and can't wait to get my hands on it!! I'm so glad that you had to get up with the baby, but sorry that you had to lose a little sleep over it. They always say that things happen for a reason, and I think that good things will happen to you because of it.
(Peggy Roberson 12:04pm October 6, 2011)
Thanks for the great post and giveaway! Can't wait to read this!

I'm not a very creative person, so nothing really inspires me to create. However, I can be a motivated person, and that can be spurred on by a things that need to be done ie cleaning. I hate putting things off ;)
(Erin Fender 12:43pm October 6, 2011)
i love the cover, it's gorgeous and the book sounds wonderful. i can't wait to read it.

trvlagnt1t@yahoo.com
(Tammy Ramey 3:02pm October 6, 2011)
It sounds like a great read. Would love to have the book.
(Christine Schultz 3:58pm October 6, 2011)
what Inspires me?
what does it take to get my creative jucies flowing or what does it take just to get me out of the door on a bad day?
i would say that waking up every morning and realizing that i am luky to be alive and healthy
(Alexis Payne 4:10pm October 6, 2011)
I get inspired by others---and seeing how fortunate I am
(Shirley Younger 6:02pm October 6, 2011)
What inspires me? That beautiful cover featuring Paul Marron
- WHOA!!!! Yep, I'm feeling all kinds of inspired.
Seriously, I never would have thought goblins could be
romantic but this sure has changed my mind!
(Cynthia Netherton 6:22pm October 6, 2011)
Roan...such a strong, romantic name with a cover shot to match, the name born by a cursed king who can be saved by a courageous woman.....what a creative way to celebrate that morning, Shona Husk! For the rest of us readers, you have provided perfect dream inspiration!
(Carla Schuller 7:26pm October 6, 2011)
I just saw this book on Smart Bitches Trashy Books. I am so glad that I found this post tongiht. Definitely going on my wish list. Thanks for the giveaway.
(Jennifer Beyer 10:29pm October 6, 2011)
Book sounds great, can't wait to read it.
(Amy Milne 10:33pm October 6, 2011)
That is quite the imagination you have. I am a reader and love hearing about the inspiration for a book. The Goblin King sounds particularly appealing to me since I am a sucker for a Beauty and the Beast type of romance.
(G. Bisbjerg 12:10pm October 7, 2011)
I find inspiration everywhere - nature, photography, crafts, books, movies, and just people watching.. I also find it in dreams, be nighttime or daydreams. I think creativity grows with outlets allowing further inspiration to enter.
By and by, Clive Owen makes great inspiration as does the story of Tristan and Isolde, but I love the fact that I am not the only Disney person out there, I also know every line in Beauty and the Beast (my favorite song is Something There from the movie - too cute). You have shared your inspiration wonderfully and make The Goblin King a must read, I hope to see more blogs by you.
(Carla Carlson 12:59pm October 7, 2011)
I love knowing the background of a story it makes the read that much more interesting and personal.
(Darci Paice 2:02am October 7, 2011)
Ah, speaking of Roman Britain, I started reading "Outcast" by Rosemary Sutcliff yesterday and it began in Roman Britain and has progressed to Rome where our hero is now a slave. Since I began rereading some of her books this year, I've definitely become much more familiar with that time, reading up on it in Wikipedia and other sites on the Internet. No things that go bump in the night in her books, just a lot of historical fiction--my favorite type of book.

And speaking of King Arthur, in Canada on our CBC network we have "Camelot" as a weekly series this year. I still haven't been able to catch it but anything Arthurian is also in my collection of books.
(Sigrun Schulz 4:25am October 7, 2011)
Read your free story, Soul Song, and knew I wanted to read The Goblin King. Glad I found you.
(Dolores Feagin 11:25am October 7, 2011)
Mostly I'm inspired by overheard conversations, so you need to watch your words around me, because I may hold onto them for awhile and fit them in dialogue between characters.
(Alyson Widen 5:50pm October 7, 2011)
I watched a true-story movie entitled, "Soul Surfer" last night (a new movie). It's about a young girl that loves to surf and it's her life, until while surfing with friends she loses one of her arms when a shark leaps up beside her and bites it off. She nearly loses her life and is discouraged that she'll never be able to surf again or have a boyfriend and friends because of her appearance. However in her depression, she volunteers to help with a group during a tsunami and finds others have it much worse than she does and finds the strength and courage to pursue her dreams in National Surfing competitions. She wins awards, has thousands of friends and a tremendous outpouring of fan mail and does more volunteer work. She really inspired me, because you realize if you think you have it tough, someone else always has it much worse, and if you don't give up and apply yourself as she did, you'll succeed in your hopes and dreams and be happy. Books, movies, the beauty of the outdoor natural landscapes, as well as viewing people's artistic abilities in paintings and craftworks have always been an inspiration to me.
(Linda Luinstra 5:51pm October 7, 2011)
This is just the kind of book I enjoy reading.
(Diane Sadler 9:03pm October 7, 2011)
I loved the free prequel, and I'm frustrated that The Goblin King isn't in my local Barnes & Noble. I'd love to win a copy!
(Jenny Schwartzberg 10:10pm October 11, 2011)
Registered users may leave comments.
Log in or register now!