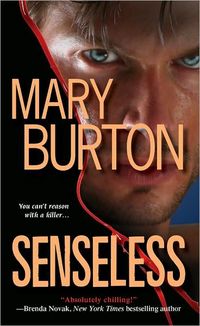 Purchase
You can't reason with a killer...
Kensington Zebra
January 2011
On Sale: January 4, 2011
Featuring: Deacon Garrison; Eva Rayburn
416 pages
ISBN: 1420110195
EAN: 9781420110197
Kindle: B0046ZRVRU
Mass Market Paperback / e-Book
Add to Wish List

Every Serial Killer Knows. . .
The vicious burns scarring the victims' flesh reveal the agony of their last moments. Each woman was branded with a star, then stabbed through the heart. With every death, a vengeful killer finds a brief, blissful moment of calm. But soon it's time for the bloodshed to start again…
The Perfect Time. . .
Ten years ago, Eva Rayburn and her sorority sisters were celebrating the end of the school year. That party turned into a nightmare Eva can't forget. Now she's trying to start over in her Virginia hometown, but a new nightmare has begun. Every victim is linked to her. And Detective Deacon Garrison isn't sure whether this mysterious woman needs investigating—or protecting…
To Make His Mark
Only Eva's death will bring peace. Only her tortured screams will silence the rage that has been building for ten long years. Because what started that night at the sorority can never be stopped—not until the last victim has been marked for death…
Comments
11 comments posted.
Re: Senseless

Love your playlist.
(Vikki Parman 12:00pm January 7, 2011)
Yellow Submarine - The Beatles reminds me of anything 60's.
(Sue Farrell 12:21pm January 7, 2011)
When you've read so many books, sometimes the characters tend to intertwine. My music likes vary from classical to easy listening lite rock. You can forget about rap, though. lol Anyway, Scheherezade will whisk me away to any book with an Arabian theme to it. I can picture myself tormenting my lover for 1001 nights. lol That piece takes me back to my high school days when I played the cello, and I've always loved the piece. There are songs by Michael Buble that could be used in any number of romance novels, for sure! He does have a smooth way with his voice and words. Misery by Coldplay could be used in some romances as well, but the names of the books escape me. I have read so many over the years. My tastes are ecclectic, as are my tastes in books. It depends on my mood at the time. One day I may be in the mood for a dripping romance, the next time I might want a light-hearted comedy or a crime novel. On that note, perhaps I should be listening to the song Unwriten. lol
(Peggy Roberson 12:31pm January 7, 2011)
I love music...always something for whatever mood I am in! Never thought of a song or songs connecting to a character though...
(Colleen Conklin 12:38pm January 7, 2011)
I have never connected a particular song to a book or character even.
(Mary Preston 3:33pm January 7, 2011)
Congrats on the new release. I've never associated a song with a particular book, but some of my favorites are U2's "With or Without You," and The Verve's "Bittersweet Symphony."
(Jane Cheung 3:52pm January 7, 2011)
I'm not a music person; even when driving I usually have an audio book on.
(Diane Sadler 7:30pm January 7, 2011)
I've never connected a book with a song. I love Katy Perry, I might see a singer as someone described in a book, but not the other way around. ~ : )
(Brenda Rupp 7:40pm January 7, 2011)
Songs tend to "get" to me, too. I like plenty of oldies because I think of where I was when I first heard them. I also like to hear what I call "my song" like the ones from first dates and other interesting experiences. Coldplay, Duffy and Nickelback are some of the tunes I listen to.
(Alyson Widen 8:51pm January 7, 2011)
music can definitly effect the mood!
(Diane Sallans 9:27pm January 7, 2011)
When I read it wouldn't matter if ACDC was blasting through the
house, if it's a good book it takes me places that I've yet to
imagine.
(Lisa Richards 12:10pm January 9, 2011)
Registered users may leave comments.
Log in or register now!