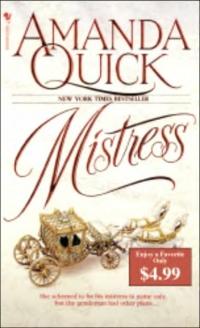 Purchase
Originally published in hardcover in 07/94)
Bantam
November 2005
Featuring: Marcus Valerius Cloud, Earl of Masters; Iphiginia Bright
384 pages
ISBN: 0553588656
EAN: 9780553588651
Paperback (reprint)
Add to Wish List

After a year of grand adventures touring the classical ruins of Italy and Greece, Iphiginia Bright returned to England to discover that the real excitement was at home. It seems that her Aunt Zoe has fallen victim to a sinister blackmailer and only Iphiginia can hope to stop the culprit before he can do more harm. Her plan is inspired: Imitating history's most legendary beauties— Cleopatra, Helen of Troy, Aphrodite—the former schoolmistress will remake herself, and descend upon London Society as the dazzling mistress of Marcus Valerius Cloud, the infamous Earl of Masters. Rumors hint that the Earl has disappeared at the blackmailer's hands, and by posing as his unknown mistress, Iphiginia is convinced she can ferret out the villain.
Overnight, Iphiginia is transformed into a vision with a host of eager admirers, including one she does not expect — the Earl of Masters himself, who strides into a shimmering ballroom one evening to coolly reclaim his "mistress".
He is everything they say he is... arrogant, attractive, devastatingly seductive, and Iphiginia can't help but be enthralled. But when Marcus agrees to play along with her charade, she doesn't know that the determined earl has plans of his own: to tease and tempt her, until the beautiful deceiver becomes more than his mistress in name only.
Comments
21 comments posted.
Re: Mistress

I think we read the same book - read one some timew ago that had a Steve and Stephen in it and thought the same thing - why put names in that would be confusing to readers?

I DO NOT deface books, turn down pages, lay them down somewhere open to the page I happen to be reading or anything of that nature.

Loaned some books out about 35 years ago and either did not get them back or got them back in poor condition - which made me start recording who borrowed them and only allowing a select few borrow my books.

Like you, I shorten or "nickname" or "alias" some cahracters names when too long or unable to pronounce, comprehend them.
(Mj Chesick 11:13am May 16, 2009)
That is surprising! I hadn't ever thought about name pronunciation. In fact, I'm sure I've read books where I haven't pronounced a name the way the author meant it to be, but who would know the difference!
(LuAnn Morgan 11:35am May 16, 2009)
I agree with you about names sometimes being too hard to pronounce. I find myself just reading over the name. I recently was reading the start of a new series by a new author to me and couldn't keep track of the names. But I kept plugging through till I read the book, then went on to read the next book and it all made sense then. All the names started making sense. By the time I got into the later books in the series I felt like I was part of the families in the book.
(Judy Anderson 11:55am May 16, 2009)
I agree with mj tjat characters with very similar names are confusing - especially if one is the hero and the other is the villan! The only books I mark were school books and my Sudoku books! :>)
(Karin Tillotson 12:05pm May 16, 2009)
The only time a character's name bothers me is if a hero's name happens to be the same as an ex of mine. Then I will, when the hero does something particularly wonderful, snort and say "Yeah, right." :)

I never defile books outside of school books (I still have many of the novels I read for high school and college--such a hoot to read the notes). I must have 50 bookmarks so that no page ever has to be dog-eared. My mother, to whom I loan many books, is terrible with them, though. Spines come back broken, many pages are dog-eared, there are crumbs in the pages, covers may be ripped. Ugh, but what can you do?
(Michelle St. James 12:10pm May 16, 2009)
If I can't pronouce a name, I just say it the way that's easiest for me. As long as the storyline has my interest it doesn't matter how to pronouce a name. I also use book marks for my place in a book I'm reading!
(JoAnn White 1:35pm May 16, 2009)
Too many characters and names difficult to cipher gives the idea of head-hopping its name.
If there are a lot of characters to keep track of, I love having a character sketch at the beginning of the book to keep them straight.
(Alyson Widen 2:04pm May 16, 2009)
I don't let a lead characters name stop me from reading. I might get a little obsessive in the first chapter if there is no hint on how it's supposed to be pronounced, but I usually come up with my own pronounciation and move on. I will admit that I like somewhat uniques names, especially if they fit the character. If there are two many characters to keep track of (with no hint character tree handly provided by the author in the front of the book) I tend to pay attention to the ones I think are the most important and let the rest go. It may sound blase, but when the story's main characters are good, I tend to only focus on them anyway. It's only when I am desperately searching for something to like about a book that I pay attention to the other secondary (or even third) characters. My sister-in-law is excellent at remembering characters so that if she is reading a series she can tell me that such a character appeared in book ten first appeared in book two in the first chapter.
I used to never break a spine, but with age and after I found myself twice re-reading a book I had read before, I do one crack in the spine as a signal to myself that the book has been read. I used to consider it a sin if a book was abused in any way, but after I got my puppies and caught them ripping up a book in the yard they had sneaked off my night stand, I had to prioritize things (after the screaming stopped)- I still consider it a sin to maul a book,but have learned to hide all my books I really care about in my closet with the door closed.
(Sara Edmonds 3:00pm May 16, 2009)
I have to agree that too many characters can get confusing or distracting although I love good secondary characters! For my DH if there are over 4 or 5 that is too many! I think I can comfortably handle matbe 10! I can't think of any names that have bothered me.
(Martha Eskuchen 3:54pm May 16, 2009)
I also shorten difficult names to something easy for me to pronounce.

It drives me crazy when I come across names that I don't know how to pronounce. It happens a lot with Gaelic names. I wish the author would put a section in the back of the book showing how the names are pronounced or work it into the story in some way. Sometimes they put in glossaries but usually don't include pronunciation.

The other problem is with audiobooks when the name is pronounced one way in one book but the next book in the series the narrator uses a different pronounciation...argh!
(Michelle K 4:29pm May 16, 2009)
I don't mind odd-to-pronounce names as long as they don't go overboard on the consonants and apostrophes. Though having conversations with someone when the two of you pronounce the names differently is a bit awkward. I'm okay with a bazillion characters.

Writing in a book like that? Oh no no no, that's so not okay. I can't even write in textbooks. :)
(Jacqueline Lam 4:38pm May 16, 2009)
Ok...I don't like strange and hard to pronounce names. I was thrilled when Harry Potter came to the large screen so I could hear how to
pronounce the names.

I agree with Michelle, I don't like when audio books switch narrators not so much because of the change in how they pronounce words,
but because I get used to hearing the characters in one voice, and I don't like hearing them in a new one!
(Sandi Shilhanek 6:24pm May 16, 2009)
OK I don't believe the way the name is pronounced is a problem; it's whatever I think the pronunciation is. However having too many characters can become a problem if they all have an important role, ut I haven't had that problem yet
(Diane Sadler 6:53pm May 16, 2009)
I don't mind having an abundance of characters as long as they lend some substance to the plot. Oddly spelled and unusual names, on the other hand, do cause some frustration, especially when trying to discuss a book with another person.

I must admit to being a non-fiction book defiler:( When I am reading for personal growth or training information it is much easier for me to keep my thoughts organized by highlighting passages and making margin notes.
(Bonnie Hogue 8:41pm May 16, 2009)
When will people learn to take gentle
care of books? We have people bring
books back after the FIRST checkout
and they are destroyed. One boy
brought back 2 ruined books - one
had the spine broken and ripped and
about 20 pages were out. Several
people have brought their books in
soaking wet. What really gets me is
they get put out when you charge
them for the damage. We can't afford
to buy the book once, let alone replace
it.
I usually don't have too much trouble
following characters, but I remember
one book where I had to put
everything on paper to keep the
characters and their relationships
straight. It won't keep me from
reading the book, but it does make it
less enjoyable.
(Patricia Barraclough 9:15pm May 16, 2009)
You know what. I've never even considered this question before. I guess, I'd have to say, that a character's name does not deter me from reading a book. I can't say I'm always crazy for the author's name choices, but if the story is good and the characters are well developed then why should I care what they are named? KWIM?
(Rebekah Crain 2:10am May 17, 2009)
I just thought of another issue with character names. When an author uses two very similar names for two characters in the same book, I get confused sometimes on who is who. I'd rather see totally different names unless similar names are integral to the storyline.
(Michelle K 3:58pm May 17, 2009)
I ALWAYS use a book mark and since I make them I always have an amble supply.

Taught my children to respect books or any other item that was the property of someone else.
(Ruth Chesick 5:38pm May 17, 2009)
I have never seen my own name as a charcater in a romance book ,would love too,but everyone comments it 's an old lady's name, I love my name and do not consider it an old lady's name, I think it could be used in a romance
(Agatha Townsend 7:02pm May 17, 2009)
Some of my favorite books have had many characters in them, so that doesn't bother me. Having a name I struggle with or can't pronounce doesn't bother me much, because I come up with my own pronunciation of it. But my curiosity (good thing I'm not a cat) sometimes gets the best of me wondering the correct pronunciation!
(Kelli Jo Calvert 5:18pm May 18, 2009)
Hard to pronouce names don't stop me from buying or reading a book if it's a good story.

One book I couldn't read because of names, first my ex husbands name is David and my boyfriends name is Spencer, the story in the book was well written and good as far as I could manage but the hero's name was David and the heroine's name was Spencer. I did fine until the first kiss and yuck no matter what I tried I could not get past the picture of my ex and my boyfriend in a liplock I had to put it down.
(Barbara Baugh 8:13am May 20, 2009)
Registered users may leave comments.
Log in or register now!