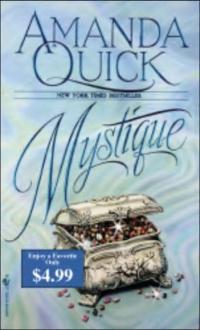 Purchase
Originally published in hardcover in 07/95
Bantam
November 2005
Featuring: Lady Alice; Hugh the Relentless
352 pages
ISBN: 0553588664
Paperback (reprint)
Add to Wish List

In the shadows of the great hall, Lady Alice approached the fearsome warrior who had swept into Lingwood Manor like a storm. Dark and forbidding, with hair as black as midnight and eyes of molten amber, Hugh the Relentless seemed aptly named. Yet to Alice, adept at driving off suitors and handling her insufferable relatives, Sir Hugh was not someone to dread but the answer to her dreams. She knew he had come for the mysterious green crystal, knew he would be greatly displeased to learn that it was no longer in her possession. Yet Alice was certain that if she approached him logically, Sir Hugh, like any other man, could be coaxed into a deal that would benefit them both. Her proposition was a simple one: in return for a dowry large enough to free Alice and her brother from the grasp of their conniving uncle, she would lend her powers of detection to Sir Hugh's knightly skills and together they would recover his treasured stone. For over a sennight Hugh had searched for the crystal that was the last of the ancient Stones of Scarcliffe - and the vital key to the mastery of his new manor - only to find that it had once more been snatched away...only to find himself challenged by the most unusual female in all of Christendom. Sensible but unrepentant, and with a tongue as sharp as a dagger, the flame-haired beauty filled him with fury...and reluctant fascination. As she boldly met his gaze, it hardly mattered that she longed to spend her days studying natural philosophy, or that she found the thought of entering a convent far more alluring than marriage. Hugh knew he had found the wife who could help him put his manor to rights. So he accepted her terms, with one alteration: Alice must agree to a temporary betrothal and spend the winter in Hugh's great stone fortress, Scarcliffe Keep. The bargain is struck and the adventure begins for this unlikely pair of practical lady and battle-hardened warlord. Yet even as Hugh searches for a means to bind Alice to his side forever.
Comments
No comments posted.

Registered users may leave comments.
Log in or register now!