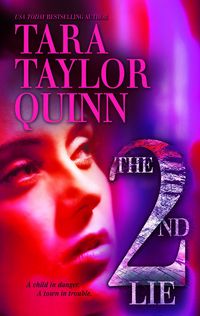 Purchase
The Chapman Files #2
MIRA
October 2010
On Sale: October 1, 2010
Featuring: Kelly Chapman; Kyle Evans; Samantha Jones
ISBN: 0778328384
EAN: 9780778328384
Paperback
Add to Wish List

People in Chandler, Ohio, say it's small-town America at its best.
They say big-city problems don't happen here. They're wrong.
That's why psychologist Kelly Chapman is so concerned about 14-year-old Maggie Winston. She's a straight A student who's developed a sudden interest in an older man. A man she knows only as Mac.
Deputy Samantha Jones, Kelly's longtime friend, is worried, too. She has been ever since a respected local businessman killed his wife and then himself. Since one kid was caught selling drugs to another. Since the discovery of a mysterious chemical dump on Kyle Evans's farm. Kyle, her former fiancé and current lover...
Are all these things connected? That's what Sam and Kelly are beginning to think. And that means someone in Chandler is lying.
Comments
14 comments posted.
Re: The 2nd Lie

Glad to hear your hand is okay! Sounds like you had enough adrenalin going on that you didn't feel it for a while! I finished The Second Lie, the one who did it was who I thought it was! Loved the book Tara...I'm ready for the next one.
(Darla Ray 1:42pm October 8, 2010)
Ouch, Tara! I bet that really hurt! I am glad that your hand is doing better now. Sometimes things happen to get our attention, make us slow down, and appreciate what and who we have in our lives. I am so glad that you have a "man of my dreams" in your life.
(Cheryl Castings 2:01pm October 8, 2010)
What a disaster. I figure something was trying to tell you to pay attention to your surroundings and prepare for the unexpected. I hope you're on the mend and that your hand isn't going to predict the weather like a barometer for storms.
(Alyson Widen 5:43pm October 8, 2010)
I was certainly feeling for you through your drama.
(Mary Preston 6:36pm October 8, 2010)
Ouch I know it's been said but we all hope that you will have a speedy recovery.
(Vickie Hightower 8:39pm October 8, 2010)
Accidents are always painful and pains in the butt as they interfere in our lives! I hope you heal soon.
(Brenda Rupp 9:56pm October 8, 2010)
The fight against Domestic Abuse is
most important. The number of men,
women, and children who die each
year from it can not be tolerated. If
you know someone who is in an
abusive situation, encourage them to
get help. It isn't easy and it takes
time, but better to try than let
something happen to them. If you
suspect abuse, report it to the
authorities.
(Patricia Barraclough 10:03pm October 8, 2010)
How scary -- and painful-- that must
have been! But isn't it amazing
somehow that when you least want it
(but most need it), life finds a way to
slow you down a bit.....
Hopefully by now you are feeling
much, much better!!
(Lynda Kachurek 10:07pm October 8, 2010)
Tara -- Please take the time to have your hand looked at!! I injured my hand and wrist over 20 years ago, and it's still giving me trouble!! I had it looked at, and the injury I suffered was worse than I thought it was in the beginning. Your cause is noble, but your health is just as important to spread that cause.
(Peggy Roberson 10:44pm October 8, 2010)
sometimes we are TOLD to slow down and take it easy!!!
(Barbara Studer 12:28pm October 9, 2010)
Glad to see the typing is working! I have never been able to type that many words a minute! Stay well! Started the new book!
(Leeanne Williams 9:00pm October 9, 2010)
I love to read her books.
(Gloria Walshver 9:48pm October 9, 2010)
Darla,

I'm glad you liked the book. I can't wait for you to read The Third Secret. It takes things one step further...
(Tara Taylor Quinn 9:48am October 10, 2010)
Everyone,

Thanks for your concern. The hand is doing much better! It doesn't hurt at all any more when I use it. Only if I touch it! And the color has yellowed. I'm watching the original injury area as that still hurts and will have it looked at if it continues.

And I took the whole day off yesterday. Wasn't easy, but I made myself stay away from work. Mostly. I was only at the computer once!

Patricia,

Your words on domesitc abuse are so critical. So many people still carry the burden of shame and silence. Because the abuser convinces the victim that the abuse is the victim's fault. Hard to believe from the outside looking in, but it happens all the time.
(Tara Taylor Quinn 9:53am October 10, 2010)
Registered users may leave comments.
Log in or register now!